Nebraska Football Hall of Fame
July 27, 2017
Kelsay, Taylor captain 2017 Nebraska Hall of Fame class
One of the most prolific passers in Husker history and one of the most disruptive defenders in the dominant Blackshirt defenses of the 1990s lead the 2017 Nebraska Football Hall of Fame class.
Zac Taylor, a Husker co-captain and the 2006 Big 12 Offensive Player of the Year, shattered Nebraska passing records in his two seasons with the Huskers in 2005 and 2006. NU's first 3,000-yard passer in a season is now entering his sixth season as an NFL assistant coach.
Chad Kelsay, a Husker co-captain as a senior rush end for the Blackshirts in 1998, was a menacing force on Coach Charlie McBride's defensive front. Kelsay helped the Huskers to a pair of conference and national titles (1995, 1997). The first-team All-Big 12 performer on the field was also a two-time CoSIDA Academic All-American.
Joining Kelsay and Taylor in the group of four Husker Hall of Famers, are offensive linemen Donnie McGhee and Randy Theiss. McGhee was an All-Big Eight guard on Nebraska's first national championship team under Coach Bob Devaney in 1970. Theiss was a rare three-year starter on the O-line for the Huskers in the early 1980s, earning third-team All-America honors as a starter in 1982. He helped the O-line pave the way for the 1982 Huskers to lead the nation in scoring, total offense and rushing. Theiss was also a two-time CoSIDA Academic All-American.
Wayne State All-American Brad Ottis adds an impressive state college presence to the 2017 induction class. Ottis produced arguably the best season by a defensive player in Wildcat history as a senior in 1993, when he earned All-America honors from his defensive end spot with 14 sacks and 124 yards in losses. He led Wayne State to a 9-1 record in 1993, before being chosen in the second round of the 1994 NFL Draft. He went on to play 81 games in the NFL.
The Hall also will recognize Tom and Rhonda Peed of Lincoln with its Clarence E. Swanson Meritorious Service Award. Long-time Nebraska Athletic Department administrators Chris Anderson and Pat Logsdon will be honored with the Lyell Bremser Special Merit Awards.
The Nebraska Football Hall of Fame is sponsored by the Nebraska Chapter of the National Football Foundation and College Football Hall of Fame. The College Football Hall of Fame opened its headquarters in Atlanta in 2014.
Prior to 2015, players must have been either an All-American or first-team all-conference selection to make the Nebraska Football Hall of Fame ballot. Beginning in 2015, Huskers who earned second-team all-conference honors dating back to the expansion of the Big Eight to the Big 12 (1996) and now the 14-team Big Ten, will be eligible. Players are not eligible for the ballot until after a 10-year waiting period from the end of their collegiate careers. Major national award winners earn automatic induction. Active NFL players are not on the ballot.
This year's Nebraska Football Hall of Fame class will celebrate together with an induction dinner on the University of Nebraska campus on Friday, Sept. 15. The class will be introduced prior to Nebraska's football game with Northern Illinois at Memorial Stadium on Saturday, Sept. 16.
The 2017 Inductees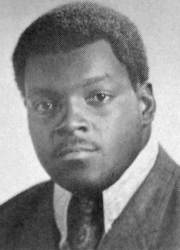 Donnie McGhee (1968-69-70) - A first-team All-Big Eight offensive lineman, Donnie McGhee was a three-year letterman for the Huskers. McGhee weighed nearly 300 pounds early in his Husker career, but shed weight and showed exceptional agility in paving the way as a strong run blocker and pass protector for the Big Red. In his only year as a starter, the 6-foot-2, 255-pounder earned All-Big Eight honors from the Omaha World-Herald while helping the Huskers to their first national title under Coach Bob Devaney. With McGhee helping the Husker offensive line from the guard position, Nebraska rolled up 410.6 yards per game in total offense, including 223.8 on the ground and 186.8 through the air to average 35.7 points per game. McGhee went on to earn his bachelor's degree as an elementary education and teaching major at Nebraska in 1971. He earned his master's degree in personnel management from Central Michigan University in 1982, and currently works as a manager at Honda of America in Urbana, Ohio. He and his wife, Ruby, have a daughter, Donna, and a son, Roland. McGhee, who graduated from Northwestern High School in Flint, Mich., was inducted into the Greater Flint African American Sports Hall of Fame in 2009.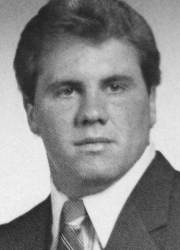 Randy Theiss (1980-81-82) - A rare three-year starter on the Nebraska offensive line in the early 1980s, Randy Theiss (pronounced TICE) was an AP third-team All-America offensive tackle as a senior in 1982. The 6-3, 256-pounder out of Lindbergh High School in St. Louis was a first-team All-Big Eight choice as a senior, after claiming second-team all-conference accolades as a junior. Theiss helped the Huskers lead the nation in total offense (518.6 yards per game), rushing offense (394.3 ypg) and scoring with 41.1 points per game in 1982. The Huskers also ranked second nationally in rushing offense with 330.5 yards per game in 1981. Theiss started for Nebraska's Freshman Team in 1978, before redshirting in 1979. He earned a starting job on the O-line as a sophomore in 1980. In addition to his success on the field, Theiss stood out in the classroom by earning first-team CoSIDA Academic All-America honors as a junior in 1981. He added second-team Academic All-America recognition as a senior in 1982. Theiss earned his bachelor's degree in business administration from Nebraska in 1983. He is currently the managing director of institutional municipal sales with Piper Jaffray in Minneapolis.
Chad Kelsay (1995-96-97-98) - A rush end on Nebraska's 1995 and 1997 national championship teams for Coach Tom Osborne, Chad Kelsay (pronounced KELL-see) was a co-captain of the 1998 Huskers led by Frank Solich. Kelsay earned first-team All-Big 12 honors as a senior from the Kansas City Star, while adding second-team accolades from the conference coaches and media. He was also a star in the classroom, capturing first-team CoSIDA Academic All-America honors as a senior in 1998, after earning second-team Academic All-America recognition as a junior. On the field, Kelsay appeared in 46 games with 22 starts in his career. He finished with 149 tackles, including 27 tackles for loss and 12.5 sacks, while forcing five fumbles and making three recoveries. He added 38 quarterback hurries, seven pass breakups and one interception as one of the leaders of outstanding Blackshirt units led by Defensive Coordinator Charlie McBride. Those defenses helped the Huskers roll to a 45-6 record during Kelsay's four years in Lincoln, while claiming a pair of conference and national titles. Kelsay, a 6-foot-3, 250-pounder from Auburn, Neb., was chosen in the seventh round of the 1999 NFL Draft by the Pittsburgh Steelers. He spent the 1999 season with the Steelers before playing with the St. Louis Rams in 2000. As a senior, Kelsey moved to right rush end and started all 12 games opposite Mike Rucker as the book ends of a dominant defensive line. Kelsey finished with 72 tackles as a senior, including 14 for loss with five sacks. He added 13 quarterback hurries, while notching the only interception of his career against Washington. He was the 1998 Nebraska Lifter of the Year. Kelsay earned his bachelor's degree as a finance major at Nebraska in May of 1999. He is currently the vice president of sales for Truck Center Companies in Omaha.
Zac Taylor (2005-06) - One of the most prolific passers in Nebraska football history, Zac Taylor capped his Husker career by being named the Big 12 Offensive Player of the Year while earning first-team all-conference honors in 2006. The two-year letterman from Norman, Okla., was also voted a team co-captain as a senior. Taylor, who ranks third in Husker history with 5,850 passing yards despite playing just two seasons at quarterback for the Big Red, completed 470-of-821 passes with 45 career touchdowns. As a senior, Taylor threw for a then-record 3,197 yards while completing 233-of-391 passes. He also threw for a record 26 touchdowns in 2006. He was the first Husker in history to throw for 3,000 yards in a season. As a junior, Taylor threw for 2,653 yards, including a then-Nebraska record 431 yards in a double-overtime win over Iowa State. Overall, Taylor started 26 consecutive games as NU's quarterback to close his career. He also led the Huskers to the Big 12 North Division title in 2006. Taylor came to Nebraska after earning second-team NJCAA All-America honors while leading Butler County Community College in El Dorado, Kan., to the national championship game. The 6-foot-2, 210-pounder out of Norman High School began his collegiate career at Wake Forest, redshirting as a freshman in 2002 before serving in a backup role in 2003. Taylor earned his bachelor's degree from Nebraska in May of 2007. He spent time with the Tampa Bay Buccaneers, and spent the 2007 CFL season with the Winnipeg Blue Bombers. From 2008 to 2011, Taylor worked as a graduate assistant at Texas A&M, before serving as an assistant quarterbacks coach with the Miami Dolphins. He was promoted to quarterbacks coach for the Dolphins from 2013 to 2015, where he also served as offensive coordinator in 2015. He moved to Cincinnati in 2016, working as an offensive coordinator and quarterbacks coach. He will spend the 2017 season with the Los Angeles Rams as an assistant wide receivers coach. Taylor and his wife, Sarah Sherman, have three children, Brooks, Luke and Emma Claire.
2017 Hall of Famer from the State College Ranks
Brad Ottis (Wayne State, 1990-91-92-93) - Brad Ottis (pronounced AH-tiss) was arguably the most dominant defensive player to ever play football for Wayne State. The All-American defensive end finished his Wildcat career as the school's all-time leader with 45 sacks among his 217 tackles. As a junior in 1992, Ottis registered a staggering 17 sacks for 132 yards lost among his 57 total tackles. He added 14 more sacks for 124 yards lost among his career-high 82 tackles as a senior, despite facing constant double teams. With Ottis leading the defense for Coach Dennis Wagner, and quarterback Brett Salisbury and receiver Byron Chamberlain leading the offense, the Wildcats produced the best season in school history with a 9-1 record in 1993. Ottis earned All-America honors after being selected as the defensive captain of the Omaha World-Herald's All-Nebraska NCAA Division II football team, before being invited to play in the Blue-Gray All-Star Classic on Christmas Day. He also played in the Senior Bowl. Ottis was selected by the Los Angeles Rams in the second round of the 1994 NFL Draft (56th overall pick), seven picks after former Husker Toby Wright went to the Rams. After playing 13 games in Los Angeles, Ottis moved with the Rams to St. Louis in 1995. In 1996, he was a member of the Arizona Cardinals, making one start and totaling 24 tackles. He spent five seasons with the Cardinals, culminating with 11 starts and a career-high 38 tackles in 2000. He played in 81 career NFL games with 23 starts. The Fremont Bergan graduate who was born in Wahoo was inducted into the Wayne State Athletics Hall of Fame in 2001. Ottis returned to the Midwest following his NFL career to play with the Sioux City Bandits in the professional indoor football league for several years. He currently resides in Norfolk and serves as a volunteer assistant coach at Wayne State.
Source: Nebraska Athletics