COVERAGE
Stats & recap
Huskers Fall to Tennessee in Nashville: Nebraska fell behind 14-0 midway through the first half and was unable to recover in a 38-24 loss to Tennessee in the Music City Bowl.
Tennessee quarterback Josh Dobbs completed 23 of 38 passes for 291 yards and a touchdown while adding 11 carries for 118 yards and three rushing touchdowns. He finished with 409 total yards.
Nebraska's Ryker Fyfe, who drew the start in place of injured four-year starting QB Tommie Armstrong Jr., answered with 243 yards on 17-of-36 passing. He threw a pair of touchdown passes Brandon Reilly, who finished with four catches for 98 yards.
Omaha World-Herald*
Lincoln Journal Star*
More Neb. sources
Huskers Illustrated
HuskerOnline
Huskers.com
Daily Nebraskan
Opponent sources
Knoxville News Sentinel
The Tennesseean
Chattanooga Times Free Press
Tennessee Athletics
More sources
Associated Press
BTN.com
Land of 10
Pro Football Focus
SEC Country
Sports Xchange
Photos/Audio/Video
Photos
Audio
Video
Pregame links & info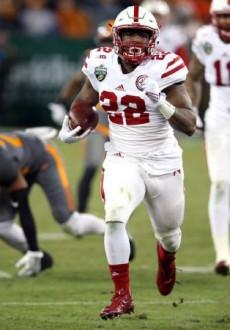 Photo courtesy of Huskers.com
Devine Ozigbo sets up Nebraska's second TD with a 42-yard run.
COMMENTARY
Heady
"

The Huskers at least came back and made it a game. And for that, you have to give them some credit."

Chris Heady
Land of 10
Carriker
"

The trenches is what stuck out to me."

Adam Carriker
Former Husker
Adams
"

Friday's Music City Bowl provided another Big Ten West opponent. The Vols did the rest."

John Adams
Knoxville News Sentinel
Ostendorf
"

At some point ... Tennessee has to turn the positive momentum from winning a bowl game into actual on-field results the next season."

Greg Ostendorf
ESPN
Callahan
"

This may have been one of the worst displays of tackling we've seen from Nebraska all season."

Sean Callahan
HuskerOnline
Sipple
"

For too much of this loss ... the Huskers didn't play with enough tenacity."

Steven M. Sipple*
Lincoln Journal Star
Stryker
"

There's no escaping the fact that the Big Red is weak up front on both sides of the ball"

Tad Stryker
HuskerMax
Shatel
"

Tennessee's defense gave up 420 yards rushing to Missouri in November. ... And the Huskers go for 2.2 yards per rush against these guys?"

Tom Shatel*
Omaha World-Herald
Vogel
"

This was the end of year two under Riley, but year three feels like a sort of rebirth."

Brandon Vogel
Hail Varsity


---
* Article may require subscription
---