COVERAGE
Stats & recap
Gutsy Armstrong, Resilient Blackshirts Lead Huskers to Victory:
Tommy Armstrong Jr. threw two touchdown passes and ran for the game winner midway through the fourth quarter as No. 21 Nebraska rallied from a 17-10 halftime deficit for a 24-17 victory over Minnesota
Armstrong's 13-yard TD run with 7:17 left in the game capped a 13-play, 91-yard drive.
Defensive backs Kieron Williams and Aaron Williams teamed for the game's biggest defensive play to secure the win in the final two minutes. With Minnesota knocking on the door with 1st-and-10 at the NU 17, Aaron Williams deflected a Mitch Leidner pass, and the ball ricocheted into the waiting arms of Kieron Williams at the Nebraska 2.
Full Huskers.com recap
Omaha World-Herald*
Lincoln Journal Star*
More Neb. sources
Grand Island Independent
Hail Varsity
Huskers Illustrated
HuskerOnline
Huskers.com
Corn Nation
Opponent sources
St. Paul Pioneer Press
Minneapolis Star Tribune
Fox Sports North
Gopher 247
Minnesota Athletics
Daily Gopher
National sources
Associated Press
Land of 10
Sports Xchange
Reuters
Photos/Audio/Video
Photos
Audio
Video
Pregame links & info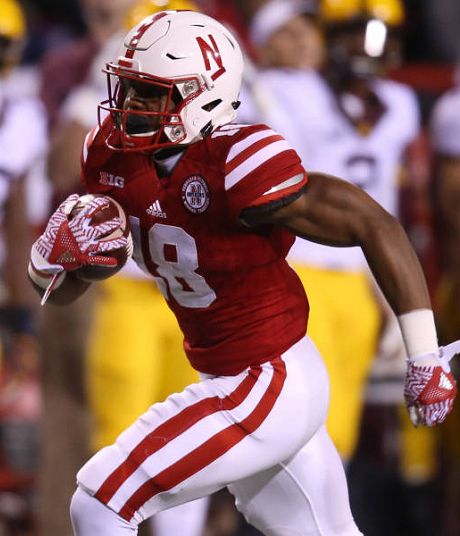 Photo courtesy of Huskers.com
Tre Bryant heads for the end zone after receiving a fourth-down pass from Tommy Armstrong.
COMMENTARY
Keeler
"

Tommy always gets back up. So do these Huskers. Even if it's with a limp."

Sean Keeler
Land of 10
Vogel
"

Just enough seems to be the theme of this second Riley squad at Nebraska."

Brandon Vogel
Hail Varsity
Sipple
"

The coach was right. His team had a mental hurdle to clear, and the Huskers soared over it even with senior quarter­back Tommy Armstrong unable to finish."

Steven M. Sipple*
Lincoln Journal Star
Scoggins
"

With the game up for grabs, one team played like a contender, one team didn't. Simple as that."

ChipScoggins
Minneapolis Star Tribune
Stryker
"

Nebraska does not defeat Minnesota without Armstrong, plain and simple."

Tad Stryker
HuskerMax
Chatelain
"

The Blackshirts made their own luck Saturday. In the process, they may have saved their season."

Dirk Chatelain*
Omaha World-Herald
Hamar
"

The Huskers needed a shot of confidence and they got it. And the fact that it was a tough win was actually a good thing."

Bob Hamar*
Grand Island Independent
Shatel
"

Armstrong has left his impact indelibly on Nebraska football. And it's not about accuracy or arm strength or the stuff you measure. It's about the stuff you can't. Heart."

Tom Shatel*
Omaha World-Herald
Carriker
"

The fact of the matter is Tommy's the difference between a win and a loss in this football game."


---
* Article may require subscription
---