COVERAGE
Stats & recap
Huskers Fall in Overtime:
Wisconsin's Dare Ogunbowale scored on an 11-yard run in overtime, and No. 11 Wisconsin held on to beat No. 7 Nebraska 23-17 to hand the Cornhuskers their first loss of the season.
The Badgers stopped Nebraska on fourth-and-8 from the 23 when defensive back D'Cota Dixon swatted away a pass in the end zone from Tommy Armstrong Jr. intended for Stanley Morgan Jr.
Nebraska came back from a 10-point deficit in the fourth quarter. Drew Brown's 35-yard field goal with 3:43 left tied it at 17.
Full Huskers.com recap
Omaha World-Herald*
Lincoln Journal Star*
More Neb. sources
Grand Island Independent
Daily Nebraskan
Hail Varsity
HuskerOnline
Huskers Illustrated
Corn Nation
Opponent sources
Wisconsin State Journal
Milwaukee Journal Sentinel
Wisconsin Athletics
Badger Herald
Bucky's 5th Quarter
National sources
Associated Press
Land of 10
ESPN.com
SI.com
CBSSports.com
Photos/Audio/Video
Photos
Audio
Video
Pregame links & info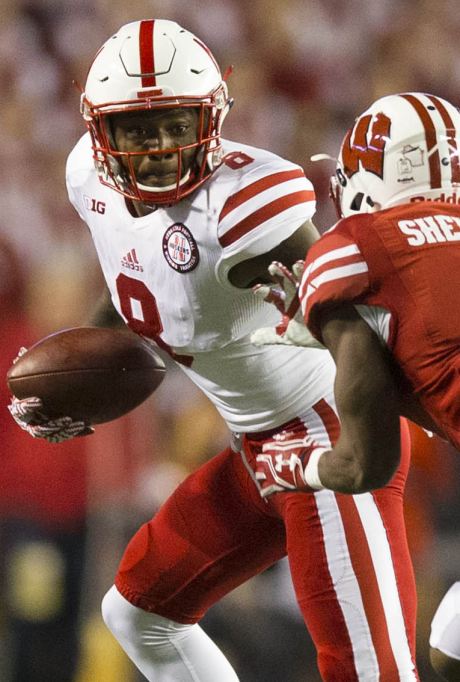 Jeff Hanisch-USA TODAY Sports
Stanley Morgan tries to elude Wisconsin cornerback Sojourn Shelton.
COMMENTARY
Vogel
"

If nothing else, Nebraska proved it belonged."

Brandon Vogel
Hail Varsity
Sipple
"

Wisconsin left the door open in OT, but Nebraska wasn't quite ready to push through."

Steven M. Sipple*
Lincoln Journal Star
Chatelain
"

The Huskers got beat, but they aren't broken or bitter. They're itching to get back in the arena."

Dirk Chatelain*
Omaha World-Herald
Shatel
"

This was a blown chance, a missed opportunity. But it made you think there will be more opportunities ahead."

Tom Shatel*
Omaha World-Herald
Hamar
"

And now we know more about these Huskers. They're pretty good. They just weren't quite good enough on this night."

Bob Hamar*
Grand Island Independent
Stryker
"

It was the Husker defense who shone brightest on this night, keeping NU in the game with a creditable effort."

Tad Stryker
HuskerMax
Oates
"

What ensued showed how evenly matched the teams are and how much promise the rivalry holds."

Tom Oates
Wisconsin State Journal
Keeler
"

[The Huskers] proved, when backed in a corner, that they can take a punch. And, more to the point, that they're sure as hell not done swinging yet."

Sean Keeler
Land of 10
Rosenthal
"

Suffice it to say, heads won't be hanging around North Stadium this week."

Brian Rosenthal
Huskers.com
Callahan
"

You sensed the belief from the players that they can play with anyone."

Sean Callahan
HuskerOnline
Barfknecht
"

We still don't know for sure how the West will be won – or by who."

Lee Barfknecht*
Omaha World-Herald


---
* Article may require subscription
---