COVERAGE
Stats & recap
Armstrong, Huskers dump Ducks:
A gritty performance by Tommy Armstrong Jr., a divine second half by Devine Ozigbo and some big-time stops by Nebraska's Blackshirt defense gave the Huskers a 35-32 win over No. 21 Oregon.
In an entertaining back-and-forth game that offered a little bit of everything, Nebraska rallied from a 13-point second-quarter deficit to take a 28-20 lead in the third quarter. Oregon bounced back with back-to-back scores to take a 32-28 edge, before Armstrong's fourth-quarter heroics.
Full Huskers.com recap
Postgame notes
Quotes: Helfrich | Riley
Omaha World-Herald*
Lincoln Journal Star*
More Neb. sources
Grand Island Independent
Hail Varsity
Huskers Illustrated
KMTV
More Neb. sources
Huskers.com
HuskerOnline
Daily Nebraskan
Nebraska Radio Network
Natl. & opponent sources
Associated Press
USA Today
ESPN.com
Land of 10
Oregon Athletics
Opponent sources
The Oregonian
Eugene Register-Guard*
Salem Statesman Journal
Addicted to Quack
Photos/Audio/Video
Photos
Audio
Video
Pregame links & info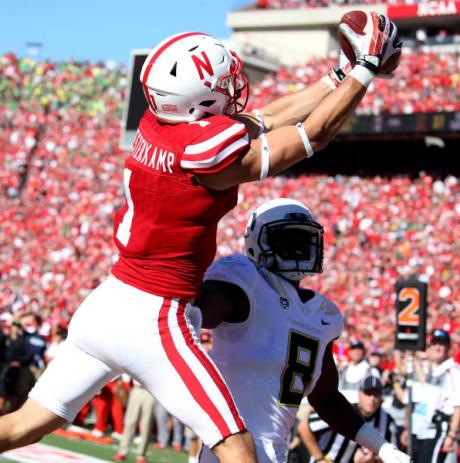 Photo courtesy of Huskers.com
Jordan Westerkamp pulls in a touchdown pass with 5 seconds left in the first half.
COMMENTARY
Canzano
"

Saturday was about Riley finally beating Oregon. ... But also, it was about the multitude of ways that Oregon has stopped being Oregon."

John Canzano
The Oregonian
Dienhart
"

Are we jumping to conclusions? Perhaps. But, on this day, the possibilities seem endless for the Cornhuskers and their rabid fan base."

Tom Dienhart
BTN.com
Myerberg
"

Call this a barometer for Nebraska's progress, or a checkup on the program's mental health – a between-the-ears test. The Cornhuskers passed."

Paul Myerberg
USA Today
Stryker
"

A program that had developed a gruesome habit of beating itself with turnovers and untimely penalties, played a cleaner game."

Tad Stryker
HuskerMax
Callahan
"

The most impressive accomplishment by NU's special teams was stopping the Ducks on 4-of-5 two-point conversion plays."

Sean Callahan
HuskerOnline
Chatelain
"

Banker only rushed three defenders on the BYU Hail Mary and lost because of it. This time he trusted his secondary."

Dirk Chatelain*
Omaha World-Herald
Shatel
"

Was the Oregon State good guy overmatched on this stage? On the biggest stage of his Nebraska career, the answer was a resounding 'No.' "

Tom Shatel*
Omaha World-Herald
Sipple
"

Players gain belief in each other, and in their coaches, by closing out wins like this."

Steven M. Sipple*
Lincoln Journal Star
York
"

Is the win over Oregon the trigger to bring back the toughness, together­ness and cohesion that was inherent in the Huskers' fabled Pipeline?"

Randy York
Huskers.com
Vogel
"

It was a little of the new wave that allowed Nebraska to go old school in the second half. Ironic, huh? Spreading Oregon out to run it?"

Brandon Vogel
Hail Varsity
Martini
"

The Ducks, on both sides of the ball, played well enough to win in a very tough environment. It's a shame that the coaching staff wasn't disciplined."

Pete Martini
Salem Statesman Journal
Woody
"

At fault was some poor extra-point strategy after scoring touchdowns, 13 penalties and terrible clock management in the last 90 seconds of the first half."

Ken Woody*
Eugene Register-Guard


---
* Article may require subscription
---