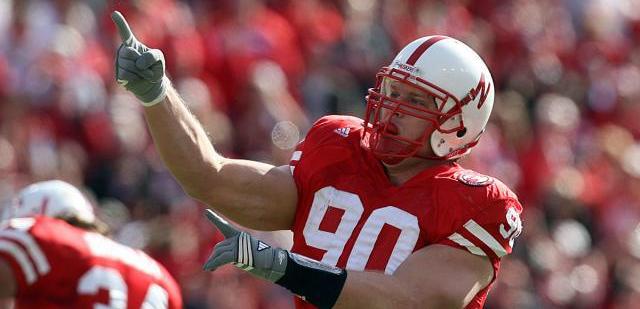 Adam Carriker: Southern Miss game reaction
https://www.facebook.com/OfficialAdamCarriker?fref=ts
https://twitter.com/AdamCarriker94
I get the feeling Husker Nation is very uneasy right now. We're 2-2, which isn't up to our normal expectations, but it also doesn't affect our Big 10 conference standings...yet.
2-2 isn't good for us, but it's also not horrifically horrible either. In 1981 the Huskers started off 1-2 & finished with a final record of 9-3, with a close loss to eventual national champion Clemson in the Orange Bowl. People were upset with Tom Osborne after their 1-2 start, just like people are upset with Mike Riley after the 2-2 start this year. You can however argue that Nebraska played number 3 Penn St. & number 19 Florida St. in their non-conference that year, so their schedule was tougher. While yesterday, the Huskers had to hold on to beat Southern Miss. It also doesn't help appearances that BYU was dismantled by Michigan this past weekend. I think BYU just ran out of gas after playing against us, Boise St, UCLA & Michigan all in a row. I did however state before the game Saturday, that Southern Miss is a decent team & the game will be closer than people think. I predicted 34-21. Heres are some observations I made yesterday & during our non-conference play this year.
1- The passing game is our strength right now. I continue to like what I see out of Tommy Armstrong. He's the clear leader of the team & has developed into our best player. Yesterday he was 19-29 (65.5%) with 368 yards, 2 TD, 1 INT & 1 great hurdle. He rushed for 63 yards & averaged 9 yards per carry. I enjoy watching him run with the football. It's one of his strengths & as long as he's smart about it, it's another weapon for our offense & another headache for defensive coordinators. We really need De'Mornay Pierson-El to get healthy. He's our most explosive player. He can provide the big play & home run threat that our offense seems to be lacking right now. He's a great return man & would be perfect for the jet sweeps & screen plays that Mike Riley likes to run. I think we'll have a lot of weapons on the perimeter once we get him back, just wish it would be sooner. Jordan Westerkamp is a very good return man & our second biggest offensive weapon right now. He's like the Nebraska version of Wes Welker, except he has a better mustache.
2- We're still a decent running team, but our running game needs a more explosive pop. We gained 242 yards on the ground, but it took almost 40 carries & our 2 longest runs were by our QB & fullback. We're able to run the ball & we need to keep pounding the rock, but it's not what we do best right now. We're a better passing team right now. That's a compliment to Armstrong, but should be a challenge to the running backs & offensive line. Terrell Newby does a decent job, but hasn't been able to break long runs. I'm curious why Mikale Wilbon doesn't get more carries. He looked good in the 1st game. But, I know from experience that sometimes a player looks good & fans want him to play more, but usually there's a behind the scenes reason why he's not getting the playing time. Mikale is a young back, maybe he's not good at pass protection or picking up blitzes. I have not heard anything like that, but that could be a possibility & is very common for young running backs. But we do know one thing for sure, ladies & gentleman we've found a fullback. Watching Andy Janovich on Saturday reminded me of watching Cory Schlesinger or one of the Makovicka brothers. Old school, blue collar, smash mouth football, that's what I like to see.
3- Our pass defense isn't very good. The pass rush (except Freedom Akinmoladun) hasn't been up to expectations. Especially since the defensive line was supposed to be the strength of the defense. One thing the coaches can do on 3rd down if they aren't crazy about blitzing, is take our best pass rusher(s) (it appears to be Akinmoladun) & line him up 1 on 1 with the opposing teams worst offensive linemen, wherever he or they may be at. If it's 3rd & 4 or longer, don't worry about the run & just let your best pass rusher(s) do what he/they does best, against your opponents weakest link. That way you get more affective pass rush, without making it harder on the converge in the back end. I'm going to shock you with this one, but the cornerbacks are struggling. We have statistically the worst ranked pass defense in the nation. This is the 5th game in a row dating back to last year we've given up over 300 yards passing to our opponent. We've played 3 teams this year, where I've heard going into the game that they have some speed. This is college football, people are going to have speed. Outside of Miami, I have a tough time believing that South Alabama, BYU & Southern Miss all have so much speed that our secondary can't keep up with them. I've played with some great cornerbacks & they've told me, playing corner is as much about having confidence & a short memory, as having a fast 40 yard dash & good vertical jump. Our secondary needs to get back to the fundamentals, work on their technique & grow some hair on their chest. I say that with love, because success on a football field isn't about always being successful, it's about overcoming unavoidable adversity.
4- The Blackshirts have been good at stopping the run most of the time this year. The tackling as an overall whole has improved as well. I didn't comment on the much improved tackling the 1st couple of games, because tackling is a week in & week out endeavor that is all about consistency. The tackling was good early on, but has fallen off & hasn't been up to snuff lately, especially in the secondary. The true test will be against Big 10 opponents like Wisconsin & Minnesota that like to pound the ball. But we do know, when everyone is healthy this defense is capable of tackling well. Which brings me to my next point, we just need guys to get healthy. When Southern Miss made their comeback yesterday, it was later in the game. The lack of depth because of injuries (especially at linebacker) & illnesses on the team may have contributed to that.
5- I'm really glad Drew Brown suited up on Saturday. The offense gained 610 yards yesterday, but struggled to consistently put the ball in the end zone on. This resulted in Drew Brown tying an NCAA record by making 5 field goals in the 1st half. He missed a 51 harder later in the game (tough to complain about) & had a 29 yard attempt blocked. That could be the protections fault or it could be on the kicker for kicking the ball to too low. What I do know is he's come a long way since the BYU game, when he missed 2 kicks he should have made. After that I was wondering if we were going to be able to make field goals this year. I don't say this often about kickers, but he's a big reason why we won the game on Saturday & his improvement already this year is noticeable. That's what I call growing hair on your chest. (Again, I say that with love. Nicely done, Drew.)
6- Several people left Memorial Stadium yesterday acting like we had just lost. The sky is not falling. We knew we most likely are a ways away from the national title. Everything that matters most, starts this week when we open Big 10 conference play against Illinois. The Huskers definitely need to improve in some areas, but they have some definite strengths as well. Like I've said before, the division is wide open with no clear front runner. I believe we'll have the advantage at QB in most of our remaining games & our run defense is strong. QB is the most important position on the field & everybody in our division wants to run the ball first. I think 8-4 is a very likely record heading into the bowl game. Whether that happens & whether that gets us into the Big 10 title game, I don't know. But we're not Chicken Little & the sky is not falling.
Since I'm posting these game reactions every week I was thinking about giving them a name or a title. I'm thinking, "The Carriker Chronicles." Let me know if you guys like it or have other ideas. As always, I love to hear your feedback & thoughts on how you think the Huskers are doing as well. I'll post my reaction to the upcoming Illinois game one week from tonight, at 7pm CT on Sunday night, as I always do. I've enjoyed posting my game reactions each & every week so far, and I will continue to do so every Sunday night at 7pm throughout the rest of the season. So until next week...Go Big Red! GBR