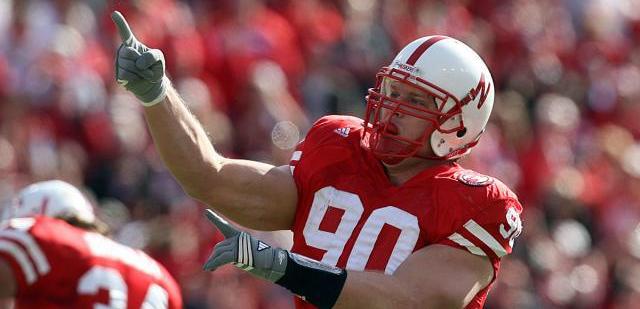 Adam Carriker: Miami game reaction
https://www.facebook.com/OfficialAdamCarriker?fref=ts
https://twitter.com/AdamCarriker94
After the #Miami game, as a former player, I was frustrated & proud of #Nebraska at the same time. We were outplayed at times during the game, but in the end we were 2 evenly matched teams. I feel better about the #Huskers now, than I did even before the game. Before the game there were so many question marks about the team. What we learned Saturday is there is still a ways to go & room for improvement. We also learned that this team will not go down without a fight. At times during the game I thought we were in for another embarrassment on national television, but as I sit here writing this now, I think those days are going to are going to be much more few & far between going forward. #Mike Riley clearly has a team that believes in him & is willing to fight for him. He's also shown a good ability to make halftime & in game adjustments as well. Here are my 6 take aways from the game:
1- #TommyArmstrong. He's growing up right before our very eyes. I'll talk about the negatives first, because while there's room for improvement, I'm more excited about Tommy after Saturday than I am anything else. His completion percentage was about 47% & he had 3 interceptions, including his last throw in overtime. His quarterback rating was 55.7, which isn't great. Now that we've got that out of the way, let's talk about the positives. He showed heart & a great competitive edge throughout the entire game. The announcers counted 7 drops during the game I believe, I actually counted 9. A drop is a judgement call & can be subjective as well. Most of his throws were right where they needed to be. Time & time again he got out of trouble & made plays with his legs to help the offense. The running game was ok, but not great on Saturday. With the Huskers playing from behind most of the game, & outside of #JordanWesterkamp not much happening offensively, it felt to me like Armstrong was doing his best to carry the team & put them on his back. I loved it. Thats what you want from your quarterback, who is also clearly emerging as a team leader. If a few more of his passes were caught instead of dropped, I have not doubt the outcome of that game is different. He still has a lot to learn, especially in this new offense. But, he's proving himself to be someone that #HuskerNation can count on to win us football games, instead of just hoping he can mange the game.
2- Speed. Miami just looked faster all around than we did. They may have the faster athletes on the team, but they also looked more energized & excited to play, especially in the beginning than we did. The heat may have also played a factor & trust me, I understand how heat & humidity can affect a player. Every year since my freshman season in college, all the way to my last year in the NFL, the first thing I would do when the schedule came out was look for 2 things. Do we have any games in extreme heart, & do we play any games at altitude? Nothing makes a player more tired than those 2 things. That being said, the reason I would do that is so I could prepare for those games. There are things you can do to prepare for both. For example, there is a breathing machine that simulates breathing at altitude. The coaching staff should also rotate guys more often than usual as well. Heat is still heat & you can only do so much, but it just looked to me like the guys were either flat or exhausted at the start of the game. I hope they weren't flat. As far as the pure speed element, part of that is recruiting, but part of that is who we are as well. We're a big, physical football team. There's nothing wrong with that. We can recruit more speed for the offensive & defensive schemes we have now. Those teams from the south don't have to play in snow & below freezing temperatures come November. At the same time, plenty of teams from the north have won national championships (Ohio St. last year), just by being really good at who they are. This leads me into my next take away.
3- We are not going to win football games when we rush the football 41% of the time & we pass the ball 59% of the time. That's not who we are. I understand we got behind early, but that's the second time in only 3 games already, we've thrown the ball more than we've run it. No disrespect, but it's easy to run the ball against South Alabama. We need to be able to do it against teams like Miami, a good BYU team & the Wisconsin's of the world. We need a more consistent concerted effort from the coaching staff to run the ball, but even more importantly, we need to be successful when we do run the ball so we establish who we are & don't fall behind. We are Nebraska. Our strength is running the football. We will not be as good if we throw the ball more than we run it. We need to set the tone early in games & let people know who we are. We have always been & still are, a blue collar, physical, smash mouth football team.
4- The #Blackshirts. They fought back admirably during the game & that makes me proud. I'll keep this short because there are things that need work, but I don't think I'm going to surprise anybody with what I say. Our secondary has struggled 2 weeks in a row now. That must be addressed. But as a defensive lineman, I always look at the pass rush. Miami consistently got pressure on Tommy Armstrong without blitzing, we were unable to do the same. Getting pressure with the from 4 is a must, especially in our new penetrating scheme that we've implemented with the new coaching staff this year. If you have to blitz to get pressure, then do whatever you have to do to get to their QB. Freedom Akinmoladun continues to be impressive, especially for such a young player. It will help to get Jack Gangwish back soon. Against the run the blackshirts were ok. They gave up 132 rushing yards on 33 carries, which is more than I'd like to see. The defense is still learning & growing into a new scheme. They will get better & better as the year goes on. Right now there is room to grow, but I'm proud of the way they made adjustments during the game & fought back!
5- Discipline. I already addressed the drops & how I feel that affected the outcome of the game. The most disappointing part about the drops is that they came in our toughest game so far, when we needed to make the catches the most. I do not however believe this will be a consistent problem going forward, simply because up to this point the receivers have shown really good hands. The Huskers ended up with 12 penalties for 98 yards. This after having 12 penalties for 90 yards in the loss against BYU. Miami actually had 13 penalties for 114 yards. The difference to me seemed to be that out penalties came at the most inopportune times. Whether it be after getting a first down, a big kick punt return or at the end of the game at a very crucial time. Failing to box out on the Hail Mary against BYU played a big role in the outcome of that game, & ill timed penalties played a key part in this past game. Coach #MikeRiley needs to address this immediately, which he said after the game he's going to do. Little things equal big things in football, & one could argue we'd be 3-0 right now if we were more disciplined. But that's the game of football, a game of inches. Right now I believe the team is growing & so is the coaching staff as part of the team.
6- Let me address 1 off the field issue really quick. Alex Lewis & social media. Yes his penalty late in the game was not very smart. His response to the fans on social media today in my view was also not a great move. I'm sure coach Riley will address it. But let's all put ourselves in his shoes. He's a young man who just fought his rear end off for 60 minutes & lost. He's upset, mad & he know's his penalty at the end wasn't good. I don't think fans realize the power they have. Football players are human being with emotions just like anybody else. Especially the young men who play college football. The positivity & negativity of social media can affect human beings quite a bit. Some people handle it better than others as well. Football players are no different. Would you rather help your football team, or hurt them? Think about that the next time you tweet or post to a football player on your favorite team. Also, the anonymity of the internet makes a lot of people real brave. People tend to say a lot of things online they would never have the guts to say to your face. I love that the people who tweeted him the negative tweets were called out by the media. I say, anytime you see absurdly negatives things tweeted or posted towards a player, stand up for your team & that player by calling that person out. I do not condone the penalty at the end of the game or Alex's reaction on social media, but like I said, I'm sure it'll be addressed. A positive is, it could serve to motivate & inspire Alex even more. I hope that's what happens & that's how he chooses to respond.
In conclusion, I know this was long, but I had quite a bit to say this week. The Huskers didn't look good for a while, but they fought back. I'm extremely proud of them for that! I tweeted it yesterday & I'll say it again, our division in the Big 10 looks like it's up for grabs. Nobody looks that great including Wisconsin & Minnesota. I'm excited to watch the Huskers each & every week & see how this season plays out. I don't think it's going to be boring. I'll be posting my reaction to the game again next week as I do each & every week, at 7pm CT Sunday night. So until next week … Go Big Red! #GBR