COVERAGE
Stats & recap
Huskers run over Bruins: Nebraska used a punishing ground game to rally from a 14-point deficit and upset the UCLA Bruins in the Foster Farms Bowl, 37-29.
The Huskers rushed for 326 yards and controlled the clock for more than 38 minutes, keeping UCLA quarterback Josh Rosen and the Bruins' offense off the field, particularly during the pivotal third quarter.
It was the largest deficit overcome in a Nebraska bowl win, eclipsing the previous high of 11 points. Nebraska's 31 first downs also set a Husker bowl record.
Omaha World-Herald*
LJS & HuskerOnline
Lincoln Journal Star*
HuskerOnline
More Neb. sources
Grand Island Independent
Hail Varsity
Nebraska Radio Network
KETV
Huskers Illustrated
Opponent sources
Los Angeles Times
Los Angeles Daily News
Orange County Register
Daily Bruin
UCLA Athletics
National sources
Associated Press
Sports Xchange
ESPN.com
BTN.com
SB Nation
Nat'l & Bay Area sources
CBSSports.com
NFL.com
San Francisco Chronicle
San Jose Mercury News
Photos/Audio/Video
Photos
Audio
Video
Pregame links & info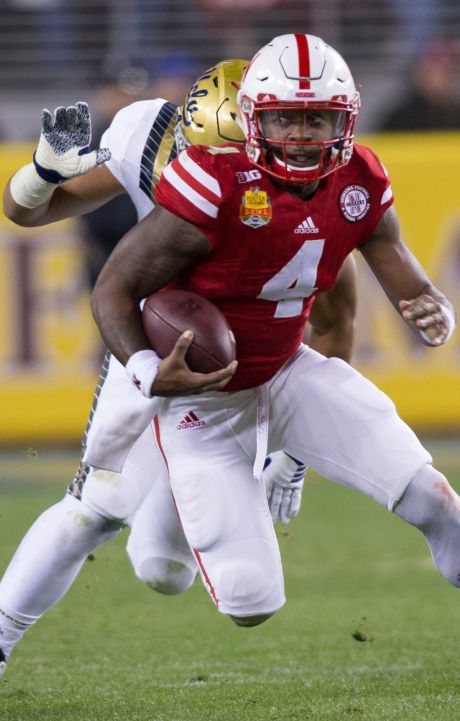 Neville E. Guard-USA TODAY Sports
Tommy Armstrong picks up yardage on a second-half carry.
COMMENTARY
Shatel
"

It was a stunning development, this identity that showed up in the bowl game."

Tom Shatel*
Omaha World-Herald
Sipple
"

Yeah, this was old-school Nebraska. You hope it continues next season, but UCLA ain't Ohio State, folks."

Steven M. Sipple*
Lincoln Journal Star
Plaschke
"

The Bruins ... were playing a team from the traditionally suspect Big Ten. Yet that Midwestern team pounded them into sand."

Bill Plaschke
Los Angeles Times
Stryker
"

Rarely has a 300-yard rushing game felt so good and seemed so hopeful."

Tad Stryker
HuskerMax
Bonsignore
"

The real shame was how Nebraska consistently pushed the Bruins around from one end of Levi's Field to the other"

Vincent Bonsignore
Los Angeles Daily News
Harvey
"

The next step? Hitting a Big Ten West team in the mouth in 2016."

Josh Harvey
Big Red Report
Vogel
"

Nebraska's commitment to the run made almost everything easier, including defense."

Brandon Vogel
Hail Varsity
Callahan
"

The Bruins came into Saturday's game expecting a dance. The Huskers turned it into a street fight."

Sean Callahan
HuskerOnline


---
* Article may require subscription
---