COVERAGE
Stats & recap
Huskers Drop Regular-Season Finale: Nebraska's defense did its best to hold Iowa's offense in check, but NU was unable to overcome four turnovers as the Huskers dropped their final game of the regular season to the No. 3 Iowa Hawkeyes, 28-20.
While Iowa quarterback CJ Beathard was 9-for-16 for 97 yards and one touchdown, Nebraska's Tommy Armstrong Jr. was 25-for-45 for 296 yards and threw career-high four interceptions.

Omaha World-Herald*
Lincoln Journal Star*
More Neb. sources
Grand Island Independent
Hail Varsity
Huskers Illustrated
HuskerOnline
Opponent sources
Des Moines Register
Cedar Rapids Gazette
Iowa Athletics
National sources
Associated Press
SI.com
Yahoo Sports
NFL.com
Sports Xchange
Washington Post
Photos/Audio/Video
Photos
Audio
Video
Pregame links & info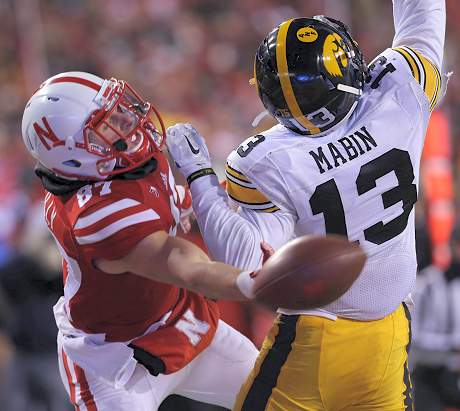 Reese Strickland-USA TODAY Sports
Tommy Armstrong's fourth-quarter pass into the end zone on fourth-and-one falls incomplete.
COMMENTARY
Sherman
"

With so many op­por­tunities missed – including plenty Friday – Nebras­ka finds itself mired in a state of anxiety for the next nine months."

Mitch Sherman
ESPN.com
Chatelain
"

[Iowa] is exactly the hard-nosed bunch that Nebraska has failed to emulate the past 15 years."

Dirk Chatelain*
Omaha World-Herald
Dienhart
"

Today's win at Nebraska was a classic example of 'Iowa football.' It wasn't pretty or dominating ... but it was effective."

Tom Dienhart
BTN.com
Hamar
"

One way or another, the Huskers have to improve the running game for next season."

Bob Hamar
Grand Island Independent
Hlas
"

The fundamental things always have applied, and always will. Nebraska had four turnovers, the Hawkeyes but one."

Mike Hlas
Cedar Rapids Gazette
Staples
"

Friday's was not a beautiful win, though those two Canzeri runs were blocked beautifully."

Andy Staples
Sports Illustrated
Sipple
"

Even Tommy Armstrong was talking about Tommy Armstrong, and he spoke some cold and hard truths."

Steven M. Sipple*
Lincoln Journal Star
Shatel
"

The Hawkeyes win because they don't make mistakes. The Huskers play like they invented them."

Tom Shatel*
Omaha World-Herald
Barfknecht
"

No Hawkeye enjoyed beating Nebraska more than linebacker Cole Fisher."

Lee Barfknecht*
Omaha World-Herald
Chatelain
"

Armstrong's performance the past few weeks ... raises serious questions about the position in 2016."

Dirk Chatelain*
Omaha World-Herald
Stryker
"

On this day, the difference was this: Iowa has a quarter­back and a coaching staff with more patience and maturity than does Nebraska."

Tad Stryker
HuskerMax
Vogel
"

Iowa does all of the things Nebraska can't or won't."

Brandon Vogel
Hail Varsity
Callahan
"

Patrick O'Brien now becomes the story going forward. Will he be good enough to push Armstrong?"

Sean Callahan
HuskerOnline
Brown
"

Style points don't matter. Twelve teams tried to beat Iowa. Not one was successful."

Rick Brown
Des Moines Register
York
"

[Tommy Armstrong] faced Husker Nation with brutal candor and vowed to change in his final season."

Randy York
Huskers.com


---
* Article may require subscription
---