COVERAGE
Stats & recap
Huskers Fall at Purdue:
An injury-riddled Nebraska team turned the ball over five times and suffered a 55-45 loss to Purdue at Ross-Ade Stadium.
Ryker Fyfe took the loss in his first career start despite throwing for 407 yards and four touchdowns. He also threw four interceptions and lost one fumble, and Purdue turned those turnovers into 28 points.
   The Big Red trailed 42-16 entering the fourth quarter but refused to quit, rallying for 29 points – the second-highest point total in the quarter in school history, trailing only 30 points at Hawaii in 1982.
Full Huskers.com recap here
Omaha World-Herald*
Lincoln Journal Star
More Neb. sources
Grand Island Independent*
Daily Nebraskan
Hail Varsity
More Neb. sources II
Huskers Illustrated
HuskerOnline
Big Red Report
Nebraska Radio Network
Opponent sources
Lafayette Journal & Courier
Purdue Exponent
Fort Wayne News-Sentinel
Purdue Athletics
National sources
Associated Press
Campus Insiders
Sports Xchange
Chicago Tribune
Photos/Audio/Video
Photos
Audio
Video
Pregame links & info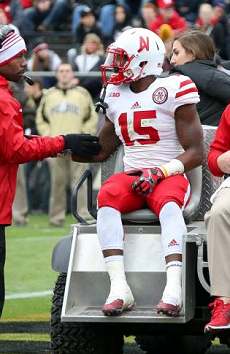 Photo courtesy of Huskers.com
De'Mornay Pierson-El is carted off the field after his first-half injury.
COMMENTARY
Chatelain
"

The sheer volume of fundamental breakdowns is appalling. So is the apparent disinterest among the players."

Dirk Chatelain*
Omaha World-Herald
Ellis
"

It's up to Riley to prove he can fix a broken situation in Lincoln."

Zac Ellis
SI.com
Bender
"

Nebraska hit the low point since joining the Big Ten somewhere among all those big plays by the Boilermakers."

Bill Bender
Sporting News
Bennett
"

Losing to Purdue in this fashion might be the lowest point for this program in decades."

Brian Bennett
ESPN.com
Kelly
"

This loss damages the Nebraska football brand worse than any before."

Josh Kelly
Daily Nebraskan
Callahan
"

I don't know where you go from here or how you even begin to spin this."

Sean Callahan
HuskerOnline
Vogel
"

It's becoming hard to say this team is better than what the record shows. It looks like a 3-6 team. Hard, too, to say how it got there."

Brandon Vogel
Hail Varsity
Sipple
"

I'm told Eichorst has very limited support among the upper-level administration, and support continues to wane with each loss."

Steven M. Sipple*
Lincoln Journal Star
Stryker
"

When Purdue more than doubles you up in rushing yardage, and hangs 50 points on you, it's time to re-evaluate every part of your football program."

Tad Stryker
HuskerMax
Shatel
"

Suddenly, there is less room for Riley. And his boss Eichorst. From here on, both will be viewed through a different prism: from the suites down to the cheap seats."

Tom Shatel*
Omaha World-Herald
York
"

For Fyfe, it was the best of the world and the worst of the world in simultaneous time."

Randy York
Huskers.com


---
* Article may require subscription
---