COVERAGE
Stats & recap
Huskers Nipped by Cats:
In a another game that went down to the wire, Nebraska watched a two-point conversion attempt bound incomplete with 4:23 left, allowing Northwestern to escape from Memorial Stadium with a 30-28 win
It was Nebraska's fifth loss of the season, all by five or fewer points. Tommy Armstrong struggled through the air in the first half but finished 24-of-49 for 291 yards. He added 12 carries for 13 yards and two touchdowns, but Nebraska managed just 82 rushing yards on 38 carries
Full Huskers.com recap here
Omaha World-Herald*
LJS & GII
Lincoln Journal Star
Grand Island Independent
More Neb. sources
Daily Nebraskan
Hail Varsity
KETV
Nebraska Radio Network
Huskers Illustrated
HuskerOnline
Opponent sources
Daily Northwestern
Chicago Tribune
Northwestern Athletics
North by Northwestern
More sources
Associated Press
ESPN.com
SB Nation
The Sports Bank
Sports Xchange
Photos/Audio/Video
Photos
Audio
Video
Pregame links & info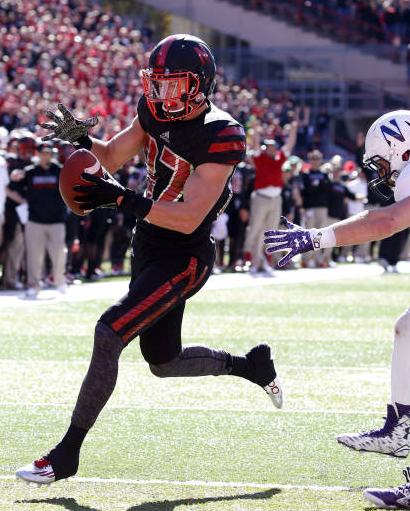 Photo courtesy of Huskers.com
Brandon Reilly crosses the goal line for a second-quarter TD on a pass from Tommy Armstrong.
COMMENTARY
Hamar
"

People like to harp on play calling, but there's not much a coach can do when the running game isn't working and the receivers are dropping passes."

Bob Hamar*
Grand Island Independent
Dixon
"

Nebraska is nothing more than what its record would indicate: a 3-5 team that's lost its ability to win a close game."

Michael Dixon
Daily Nebraskan
Shatel
"

I was fooled last week in Minne­apolis. That "new" Nebraska team was a one-week wonder"

Tom Shatel*
Omaha World-Herald
Vogel
"

If Nebraska doesn't beat Purdue on the road next week, there's a real chance it will finish last in its division ... a fate even the 2004 and 2007 teams avoided."

Brandon Vogel
Hail Varsity
Sipple
"

One of the program's biggest challenges at the moment is to avoid feeling anything close to OK about being 3-5."

Steven M. Sipple*
Lincoln Journal Star
Callahan
"

After eight games, the reality has sunk in that this is not a very good football team."

Sean Callahan
HuskerOnline
Stryker
"

It will take focused effort to extricate the Huskers from this bog and it will not happen overnight because simply put, Nebraska is not a physical team."

Tad Stryker
HuskerMax
Dienhart
"

Forty-eight passes! Remember when the Huskers used to run the ball, then run it again, and again, and again?"

Tom Dienhart
BTN.com


---
* Article may require subscription
---