COVERAGE
Stats & recap
Badger Boot Beats Big Red:
In a continuation of one of the longest stretches of close games in Nebraska football history, the Huskers watched Rafael Gaglianone's 46-yard field goal sail through the uprights in the north end zone with four seconds left to give Wisconsin a 23-21 win at Memorial Stadium.
The loss was Nebraska's fourth of the season on the opponent's final offensive play. The kick came after Nebraska had pulled ahead on Andy Janovich's 55-yard run on third-and-1 with 6:17 left.
Full Huskers.com recap here
Omaha World-Herald*
Lincoln Journal Star*
More Neb. sources
Grand Island Independent
Hail Varsity
Huskers Illustrated
HuskerOnline
Opponent sources
Wisconsin State Journal
Milwaukee Journal Sentinel
Wisconsin Athletics
Other sources
Associated Press
Kansas City Star
SI.com
Photos/Audio/Video
Photos
Audio
Video
Pregame links & info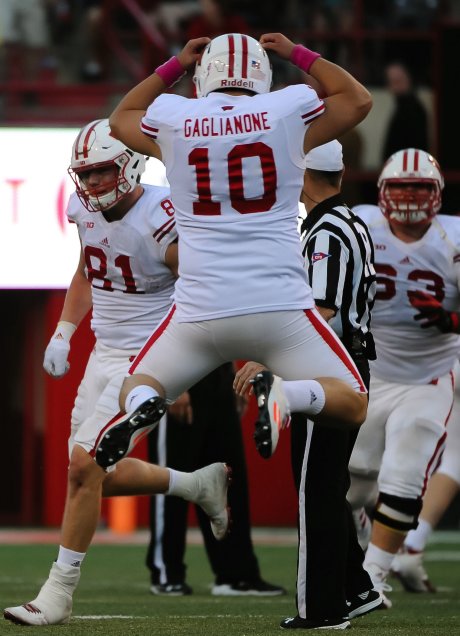 Steven Branscombe-USA TODAY Sports
Rafael Gaglianone celebrates his game-winning field goal.
COMMENTARY
Sherman
"

The Huskers can brace for a dose of panic from the fan base as the potential for discord within the locker room grows."

Mitch Sherman
ESPN.com
Vogel
"

They say you make your own luck and, fact is, in three of those four losses ... Nebraska's defense was asked to seal the win. It didn't."

Brandon Vogel
Hail Varsity
Callahan
"

This defense is not deep enough to hold up without any support from the offense."

Sean Callahan
HuskerOnline
Barfknecht
"

Confidence. Belief. Discipline. Veteran leadership. One team had all those Saturday, and the other did not."

Lee Barfknecht*
Omaha World-Herald
Sipple
"

In this cruelest of seasons, you wonder how much worse it can get for Nebraska."

Steven M. Sipple*
Lincoln Journal Star
Stryker
"

It's hard to make Stave look like a good passer, but the Husker defense managed to do it."

Tad Stryker
HuskerMax
Shatel
"

Are the football gods angry with Nebraska? Is one of them a Bo Pelini fan?"

Tom Shatel*
Omaha World-Herald
Chatelain
"

Making plays at critical moments requires confidence, trust and belief. Nebraska has none of those qualities right now."

Dirk Chatelain*
Omaha World-Herald
York
"

The maddening finish keeps Nebraska in a waiting-to-exhale mode."

Randy York
Huskers.com


---
* Article may require subscription
---