COVERAGE
Stats & recap
Huskers Roll Up Over 500 Yards in 48-9 Win:Nebraska used a balanced offense and a stingy defense to put together four solid quarters of football in a 48-9 victory over South Alabama.
Junior I-back Terrell Newby, junior quarterback Tommy Armstrong Jr., and junior receivers Lane Hovey, Brandon Reilly, Alonzo Moore and Jordan Westerkamp all put on a show as Mike Riley collected his first win as head coach of the Huskers.
Newby raced to a career-high 198 yards on 28 carries, while Armstrong orchestrated a passing game that accounted for 303 yards and three touchdowns.


Omaha World-Herald*
Lincoln Journal Star*
More Neb. sources
Grand Island Independent
Daily Nebraskan
HuskerOnline
Nebraska Radio Network
Hail Varsity
Other sources
AL.com
Associated Press
South Alabama Athletics
ESPN.com
Photos/Audio/Video
Photos
Audio
Video
Pregame links & info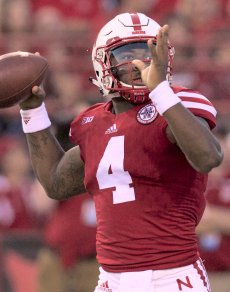 Bruce Thorson-USA TODAY Sports
Tommy Armstrong gets ready to throw in the first half.
COMMENTARY
Johnson
"

Nebraska addressed its biggest problem from a week ago right off the bat."

Derek Johnson
HuskerMax
Sipple
"

Newby no doubt picked up confidence and gave Nebraska a go-to guy at the position, at least for now."

Steven M. Sipple*
Lincoln Journal Star
Vogel
"

Nebraska's opponents have been a little too comfortable thus far throwing the ball down the field."

Brandon Vogel
Hail Varsity
Shatel
"

It was straight-up vanilla, something for Miami to ponder and even better, some good food for the Husker soul."

Tom Shatel*
Omaha World-Herald
Callahan
"

Offenses are going to continue to go after Davie until he proves he can be more consistent in pass coverage."

Sean Callahan
HuskerOnline
Hamar
"

Maybe Newby's performance gives Miami a little bit to think about."

Bob Hamar*
Grand Island Independent
Stryker
"

Michael Rose-Ivey covered the field and restored some order."

Tad Stryker
HuskerMax
Pernell
"

Tommy Armstrong continues his evolution as a quarterback under the tutelage of Danny Langsdorf."

Jeremy Pernell
HuskerMax
Feit
"

The Blackshirts look better through Rose colored glasses."

Dave Feit
HuskerMax
York
"

Even Ameer Abdullah was tweeting about the hat trick Newby produced."

Randy York
Huskers.com


---
* Article may require subscription
---