COVERAGE
Recap & stats
BYU Spoils Riley's Debut with Hail Mary:
In arguably the most exciting season-opening game in Nebraska football history, BYU quarterback Tanner Mangum's 42-yard Hail Mary pass to Mitch Mathews as time expired gave the Cougars a 33-28 win.
In a back-and-forth game, the Huskers led 14-7 at the end of the first quarter, but trailed 24-14 at halftime before retaking the lead with two third-quarter touchdowns.
Tommy Armstrong Jr. finished with his second career 300-yard passing game, completed 24-of-41 passes for 319 yards with three touchdowns.
Full Huskers.com recap here
Omaha World-Herald*
Lincoln Journal Star*
More Neb. sources
Hail Varsity
HuskerOnline
Huskers Illustrated
Nebraska Radio Network
More sources
Associated Press
Provo Daily Herald
ESPN.com
Salt Lake Tribune
Deseret News
Photos/Audio/Video
Photos
Audio
Video
Pregame links & info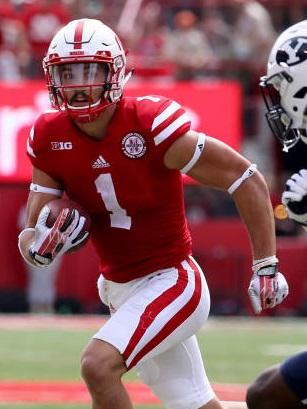 Photo courtesy of Huskers.com
Jordan Westerkamp heads for the end zone in the first quarter.
COMMENTARY
Johnson
"

Biggest gut-punch loss since ... probably Texas 2005."

Derek Johnson
HuskerMax
Stryker
"

Outside of his boss, offensive line coach Mike Cavanaugh has the most scrutinized job in Nebraska for the next 90 days."

Tad Stryker
HuskerMax
Sipple
"

All in all, Nebraska played about how you would expect. You saw flashes of potential, but also evidence of a coaching transition."

Steve Sipple*
Lincoln Journal Star
Chatelain
"

One second. One play. A day littered with mistakes could've been cured with one more BYU incompletion."

Dirk Chatelain*
Omaha World-Herald
Vogel
"

How much of Nebraska's struggles in the run game ... were due to BYU and how much wasn't?."

Brandon Vogel
Hail Varsity
York
"

A negative finish can transform itself into a positive lesson."

Randy York
Huskers.com
Shatel
"

The reality of Riley's situation came into better focus on Saturday."

Tom Shatel*
Omaha World-Herald
Pernell
"

I would like to see the coaches continue to incorporate more of the zone-read with Armstrong. ... He needs more than six carries in a game."

Jeremy Pernell
HuskerMax
Hamar
"

The Huskers did some good things, but they failed to execute too many times. The last play was just one example of that."

Bob Hamar*
Grand Island Independent
Callahan
"

Say what you want about Armstrong, he's gotten better."

Sean Callahan
HuskerOnline


---
* Article may require subscription
---