COVERAGE
Stats & recap
Defense, special teams carry Huskers:
It wasn't pretty on offense, but No. 15 Nebraska's special teams and defense provided big plays and short fields in a 35-14 win over Purdue.
Purdue outgained Nebraska 340-297, but total offense did not tell the story of the game. The Big Red blocked two Purdue punts and converted both into touchdowns in the first half.
The Huskers played most of the game without running back Ameer Abdullah, who was injured in the first quarter.
Full Huskers.com recap here
Omaha World-Herald*
Lincoln Journal Star*
More Neb. sources
Grand Island Independent
Daily Nebraskan
Hail Varsity
Nebraska Radio Network
HuskerOnline
Big Red Report
Nat'l & opponent sources
Lafayette Courier & Journal
Purdue Exponent
Purdue Athletics
Associated Press
Sports Xchange
Photos/Audio/Video
Photos
Audio
Video
Pregame links & info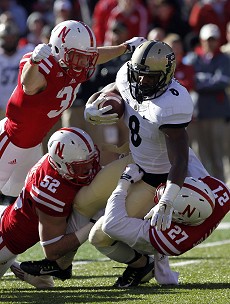 Bruce Thorson-USA TODAY Sports
Joey Felici, Josh Banderas and Kieron Williams tackle Purdue's Raheem Mostert in the first half.
COMMENTARY
Stryker
"

It turns out I was a bit too kind last week when I said Nebraska's offense is 'at best a Grade B unit' with Abdullah out of the game."

Tad Stryker
HuskerMax
Callahan
"

People obviously aren't upset with an 8-1 start, but I think it's the fear of what's to come. "

Sean Callahan
HuskerOnline
Johnson
"

Wisconsin has to be looking at the fumbled snaps and thinking 'Meat. Meat.' "

Derek Johnson
HuskerMax
Vogel
"

Some good, some bad, more of the same. And Armstrong will be the first to tell you that's not good enough."

Brandon Vogel
Hail Varsity
Muessel
"

Questions from week one still linger after week 10 about the consistency and sloppiness sometimes evident with the Huskers."

Grant Muessel
Hail Varsiy
Chatelain
"

The Huskers showed again they have a Big Ten championship-caliber defense. But the other side of the ball? Oh boy."

Dirk Chatelain*
Omaha World-Herald
Sipple
"

Here comes the homestretch, and it looked like the Husker offense dropped its whip."

Steve Sipple*
Lincoln Journal Star
Shatel
"

The Huskers have championship talent. But not nearly enough championship execution."

Tom Shatel*
Omaha World-Herald
York
"

Pelini used the word 'sloppy' in his postgame remarks – a word that needs to be systematically deleted in the weeks ahead."

Randy York
Huskers.com


---
* Article may require subscription
---