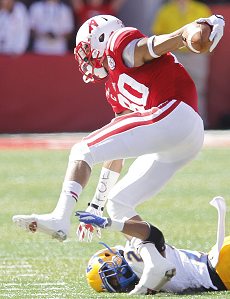 Bruce Thorson-USA TODAY Sports
Kenny Bell is tackled by Kelvin Bennett in the first half.
COVERAGE
Stats & recap
Ameer to the rescue:
Ameer Adbullah turned a short pass from Tommy Armstrong Jr. into a 58-yard touchdown with 20 seconds left to send No. 19 Nebraska to a 31-24 win over McNeese State.
The Huskers were facing a 3rd-and-6 with the game tied. Armstrong hit Abdullah in the flat short of the first-down marker and gave the senior All-America candidate a chance to make a play. And what a play he made.
Full Huskers.com recap here
Omaha World-Herald*
Lincoln Journal Star*
More Neb. sources
Hail Varsity
HuskerOnline
KETV
Grand Island Independent
Daily Nebraskan
Nat'l & opponent sources
Associated Press
ESPN.com
Andy Staples, SI.com
McNeese Athletics
Lake Charles American Press
Photos/Audio/Video
Photos
Audio
Video
Pregame links & info
COMMENTARY
Vogel
"

Nebraska's offensive line appeared to get handled by an FCS front."

Brandon Vogel
Hail Varsity
Johnson
"

Nebraska once again pulled brilliance out of a hole in the ground when the game was on the line."

Derek Johnson
HuskerMax
Callahan
"

The game clearly turned on Armstrong's interception in the second quarter."

Sean Callahan
HuskerOnline
Stryker
"

It's hard to overstate how much the Husker Nation owes Abdullah for sticking around for his senior year."

Tad Stryker
HuskerMax
Muessel
"

The biggest question still remains: Will things actually be different this year?"

Grant Muessel
Hail Varsity
Sipple
"

The truth, of course, lies somewhere between last week's show of strength and this week's letdown."

Steve Sipple*
Lincoln Journal Star
Shatel
"

There are clutch plays that win championship games. And there are clutch plays that prevent absolute disaster."

Tom Shatel*
Omaha World-Herald
Chatelain
"

One thing we do know: The Huskers haven't fixed their old ways."

Dirk Chatelain*
Omaha World-Herald
Husker Mike
"

If Armstrong doesn't start to show major improve­ment with his passing soon, it may be time to give Ryker Fyfe some meaningful snaps."

Husker Mike
Corn Nation


---
* Article may require subscription
---