COVERAGE
Stats & recap
Huskers soar past Owls:
Ameer Abdullah rushed for a career-high 232 yards while Kenny Bell and Jordan Westerkamp each added 100-yard receiving games as No. 22 Nebraska rolled to a 55-7 victory over Florida Atlantic.
The Huskers, amassed 784 yards of total offense against the FAU as they opened their 125th season of football. The yardage total was the fifth-highest school history and set a Big Ten Conference modern-era record.
Full Huskers.com recap here
Omaha World-Herald*
Lincoln Journal Star*
More Neb. sources
Daily Nebraskan
Huskers.com
Huskers Illustrated
HuskerOnline
More Nebr. sources II
Grand Island Independent
KETV (video)
KMTV (video)
Hail Varsity
Nat'l & opponent sources
Palm Beach Post
Sun-Sentinel
FAU Athletics
Owl Access
Associated Press
Reuters
Photos/Audio/Video
Photos
Audio
Video
Pregame links & info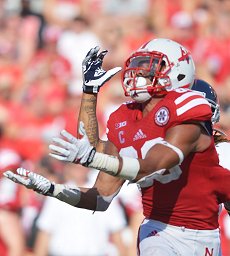 Denny Medley-USA TODAY Sports
COMMENTARY
Stryker
"

It makes you wonder how high the Huskers' ceiling will be if they decide not to be their own worst enemy."

Tad Stryker
HuskerMax
Johnson
"

Westerkamp's instincts remain remarkable, and there's no question he's gunning for an all-Big Ten season."

Derek Johnson
HuskerMax
Muessel
"

It seems this could be the year where it doesn't take Nebraska six games to 'get it' defensively."

Grant Muessel
Hail Varsity
Callahan
"

Nebraska's offense and defense looked like they were in mid-season form."

Sean Callahan
HuskerOnline
Sipple
"

Armstrong's performance Saturday – as a runner, passer and field general – was tantalizing."

Steve Sipple*
Lincoln Journal Star
Shatel
"

It's hard to remember a recent Nebraska stage with so many stars."

Tom Shatel*
Omaha World-Herald
Chatelain
"

We witnessed Saturday the launching pad for potentially the best running back season by a Husker since Mike Rozier in 1983."

Dirk Chatelain*
Omaha World-Herald
Vogel
"

This year's Nebraska team beat a Florida Atlantic squad that had a pretty good defense last year and that's about what we know."

Brandon Vogel
Hail Varsity


---
* Article may require subscription
---