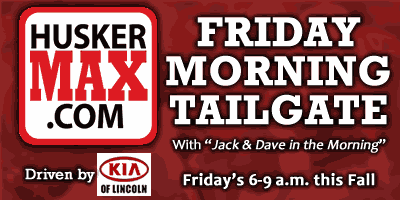 Bye week | Sept. 27, 2013
•
Hour 1
: It's bye week #1, but the Friday Husker Tailgate continues with Jack, Dave, Cory, and Chris giving their takes on the South Dakota State game and where the team is now before Big Ten play starts.
•
Hour 2
: Hour 2 of the Friday HuskerMax Tailgate with a feature on Nebraska's chapter of Uplifting Athletes a day after National Pediatric Brain Cancer Awareness Day. Plus the guys hand out mid season awards ... and Scripps McGee.
•
Hour 3
: The final hour of the Friday Tailgate as the guys get their picks in for the week despite no Husker game, plus more stories from the field from Cory Ross.