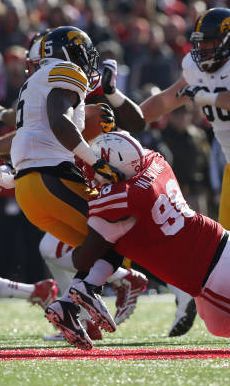 Courtesy of Huskers.com
COVERAGE
Stats & recap
Huskers Fall on Senior Day:
Nebraska produced more yard­age than Iowa, but the Hawk­eyes earned their first win in Lincoln since 1943 by capital­izing on Husker turn­overs and strong special-teams play.
Five of Iowa's six scoring drives started inside the NU 42. The Hawkeyes had an average drive start at their own 45, while Nebraska's average start came at its own 22.
In his first career start, senior quarterback Ron Kellogg III completed 19 of 37 passes for 199 yards. He was intercepted on NU's first two possessions.
Full Huskers.com recap here
Omaha World-Herald
Lincoln Journal Star
More Neb. sources
Grand Island Independent
HuskerOnline
Opponent sources
Des Moines Register
Cedar Rapids Gazette
Opponent & Natl. sources
Quad-City Times
Iowa Athletics
ESPN.com
Associated Press
Photos/Audio/Video
Photos
Audio
Video
Pregame links & info
COMMENTARY
Callahan
"

Friday was a microcosm of all the things that have been Pelini's shortcomings at NU over the last six years."

Sean Callahan
HuskerOnline
Vogel
"

Bo Pelini is a fighter. But after Friday, I'm not so sure he's a tactical fighter."

Brandon Vogel
Hail Varsity
Hamar
"

If he's going down, he's going down swinging."

Bob Hamar
Grand Island Independent
Johnson
"

This is the game that Steve Pederson hoped Frank Solich would have at Colorado ten years ago."

Derek Johnson
HuskerMax
Stryker
"

The Huskers are steady off the field, unstable on it. Have you gotten used to it yet? I'm not sure I have."

Tad Stryker
HuskerMax
Barfknecht
"

Move to the side, Nebraska. Football foes in the Big Ten are passing you by."

Lee Barfknecht*
Omaha World-Herald
Sipple
"

I'm never overly critical of coaches for standing up for their players. Pelini was in fighter mode, as usual."

Steve Sipple*
Lincoln Journal Star
Sherman
"

This was the ugly side of Pelini, on full display for a national audience, complete with the angry halftime interview."

Mitch Sherman
ESPN.com
Shatel
"

You have to assume it's over and the situation was such that Eichorst won't even have much explaining to do."

Tom Shatel*
Omaha World-Herald
Guenther
"

This Nebraska football team appears to be in neutral, if not in reverse after Friday's display."

Dylan Guenther
Columbus Telegram
Husker Mike
"

Did Bo Pelini just snap under the pressure?"

Husker Mike
Corn Nation


---
* Article may require subscription
---

---
                     1    2    3    4   -  Final 
Iowa                 7    7   10   14   -   38
Nebraska             0    3    7    7   -   17

1st quarter
IA - C.J. Fiedorowicz 10 pass from Jake Rudock
    (Mike Meyer kick) 0:16
2nd quarter
IA - Mark Weisman 1 run (Meyer kick) 5:15
NU - Pat Smith 33 field goal, 0:31
3rd quarter
NU - Ameer Abdullah 5 run (Smith kick) 10:14 
IA - Meyer 31 field goal, 6:04
IA - Kevonte Martin-Manley 24 pass from Rudock
    (Meyer kick) 4:46
4th quarter
NU - Quincy Enunwa 15 pass from Ron Kellogg III 
    (Smith kick) 11:25
IA - Mark Weisman 2 run (Meyer kick) 9:17
IA - C.J. Beathard 4 run (Meyer kick) 3:33
 
                                     IA       NU
FIRST DOWNS...................       14       20
  Rushing.....................        7        8
  Passing.....................        4       11
  Penalty.....................        3        1
RUSHES-YARDS (NET)............   44-155    37-89
PASSING YDS (NET).............      126      199
  Att-Comp-Int................   17-9-0  37-19-2
TOTAL OFFENSE PLAYS-YARDS.....   61-281   74-288
Fumble Returns-Yards..........      0-0      0-0
Punt Returns-Yards............      0-0      2-5
Kickoff Returns-Yards.........     3-81     3-59
Interception Returns-Yards....     2-18      0-0
Punts (Number-Avg)............   7-40.3   6-37.8
Fumbles-Lost..................      0-0      2-1
Penalties-Yards...............     2-20     5-42
Possession Time...............    30:59    29:01
Third-Down Conversions........  6 of 15  3 of 14
Fourth-Down Conversions.......   0 of 1   1 of 3
Red-Zone Scores-Chances.......      5-5      3-4
Sacks By: Number-Yards........     2-18     2-11

RUSHING
IA: M.Weisman 24-72; J.Canzeri 6-59; J.Rudock 7-13;
    A.Cox 2-7; C.Beathard 1-4; D.Bullock 3-0;
    L.Daniels Jr. 1-0. 
NU: A.Abdullah 23-85; I.Cross 3-7; T.Newby 1-5;
    Q.Enunwa 1-1; R.Kellogg III 8-minus-1;
    S.Foltz 1-minus 8.

PASSING
IA: J.Rudock 9-15-0-126; C.Beathard 0-2-0-0.
NU: R.Kellogg III 19-37-2-199.

RECEIVING
IA: C.Fiedorowicz 3-23; K.Martin-Manley 2-60;
    J.Canzeri 1-29; J.Duzey 1-5; M.Weisman 1-5;
    D.Shumpert 1-4.
NU: K.Bell 7-67; Q.Enunwa 3-46; I.Cross 3-14;
    J.Long 2-28; A.Abdullah 2-23; C.Carter 2-21.

Attendance: 91,260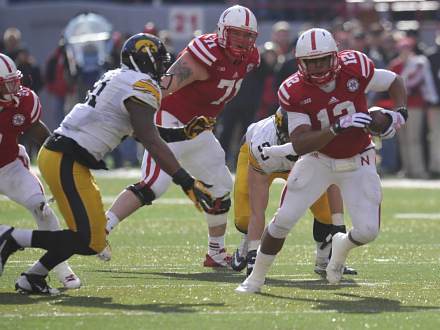 Dennis Hubbard |
More photos