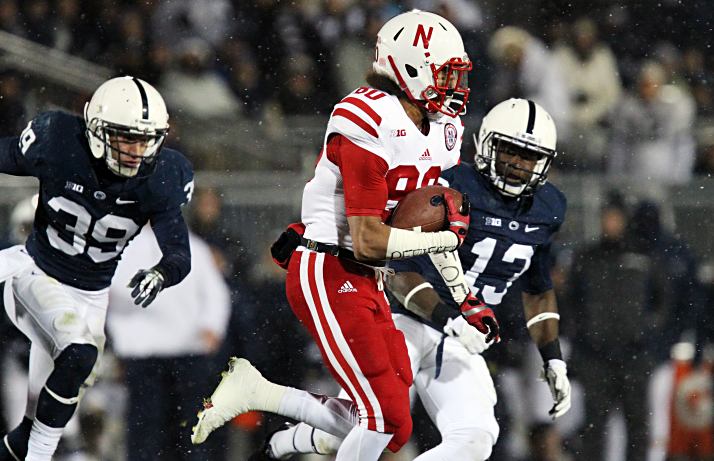 Matthew O'Haren-USA TODAY Sports 
COVERAGE
Stats & recap
Big Red Get Special Win at Penn State:
Pat Smith's 42-yard field on Nebraska's first possession of overtime capped a strong special teams performance for the Huskers and gave the Big Red a 23-20 overtime victory over Penn State at Beaver Stadium.
Junior Kenny Bell answered an early third-quarter Penn State touchdown with a 99-yard kickoff return for a score. Freshman Sam Foltz booted eight punts for an average of 46.0 yards, pinning PSU inside its own 20 on four occasions.
Full Huskers.com recap here
Omaha World-Herald
Lincoln Journal Star
More Neb. sources
Grand Island Independent
HuskerOnline
Hail Varsity
Opponent sources
Harrisburg Patriot-News
State College.com
Reading Eagle
More opponent sources
Centre Daily Times
Pittsburgh Tribune-Review
Altoona Mirror
Opponent & Nat'l sources
Philadelphia Inquirer
Pittsburgh Post-Gazette
Penn State Athletics
Associated Press
ESPN.com
Photos/Audio/Video
Photos
Audio
Video
Pregame links & info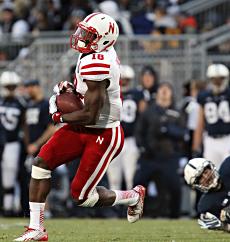 Matthew O'Haren-USA TODAY Sports
COMMENTARY
Johnson
"

In the program for a cup of coffee, Pat Smith takes a nice place in Husker history."

Derek Johnson
HuskerMax
Stryker
"

This was the worst the Huskers have been jobbed by an officiating crew since the 16-penalty debacle at College Station, Texas, in 2010."

Tad Stryker, HuskerMax
Sipple
"

Bottom line, it would be wrong to break up this staff. To break up this team."

Steve Sipple*
Lincoln Journal Star
Callahan
"

If anything the random Facebook posting fueled this team and helped them find a way to win on Saturday."

Sean Callahan
HuskerOnline
Hamar
"

You could certainly make the argument that Pelini has gotten all he could out of this team."

Bob Hamar
Grand Island Independent
Shatel
"

As usual with these Huskers, it wasn't so much how they won as it was how they refused to lose."

Tom Shatel*
Omaha World-Herald


---
* Article may require subscription
---

Nebraska 23
Penn State 20
---
                 1    2    3    4   OT   -  Final 
Nebraska         0    7   10    3    3   -   23
Penn State       6    0    7    7    0   -   20
-------------------------------------------------------------

1st quarter
PS - Adam Breneman 2 pass from Christian Hackenberg
    (Sam Ficken kick failed), 0:33
2nd quarter
NU - Quincy Enunwa 27 pass from Ron Kellogg III 
    (Pat Smith kick), 13:14
3rd quarter
PS - Hackenberg 7 run (Ficken kick) 10:37
NU - Kenny Bell 99 kickoff return (Smith kick) 10:22 
NU - Smith 39 field goal, 1:11
4th quarter
PS - Jesse James 46 pass from Hackenberg (Ficken kick) 14:50 
NU - Smith 19 field goal, 4:29
Overtime
NU - Smith 42 field goal 

                                  NEB        PSU
FIRST DOWNS...................     19         18
  Rushing.....................      7          9
  Passing.....................     11          9
  Penalty.....................      1          0
RUSHES-YARDS (NET)............ 41-168     44-170
  Average Per Rush ...........    4.1        3.9
PASSING YDS (NET).............    192        217
  Att-Comp-Int................36-21-0    33-16-1
  Average Per Attempt.........    5.3        6.6
  Average Per Completion......    9.1       13.6
TOTAL OFFENSE PLAYS-YARDS..... 77-360     77-387
  Average Per Play............    4.7        5.0
Fumble Returns-Yards..........    0-0        0-0
Punt Returns-Yards............    3-0       3-27
Kickoff Returns-Yards.........  4-143       2-37
Interception Returns-Yards....    1-0        0-0
Punts (Number-Avg)............ 8-46.0    11-35.5
  Net Yards Per Punt..........   42.6       35.5
Fumbles-Lost..................    4-2        3-0
Penalties-Yards...............   7-54       3-25
Possession Time...............  29:16      30:44
Third-Down Conversions........3 of 17    2 of 14
Fourth-Down Conversions....... 0 of 0     0 of 0
Red-Zone Scores-Chances.......    2-3        2-3
  Touchdowns..................    0-3        2-3 
  Field goals.................    2-3        0-3
Sacks By: Number-Yards........    1-1       2-22

RUSHING
NU: A.Abdullah 25-147; I.Cross 8-31; T.Armstrong Jr. 1-1;
    TEAM 1-minus 1; R.Kellogg III 6-minus-10. 
PS: Z.Zwinak 35-149; A.Lynch 5-9; A.Robinson 1-7;
    C.Hackenberg 2-6; TEAM 1-minus 1.

PASSING
NU: R.Kellogg III 20-34-0-191; T.Armstrong Jr. 1-2-0-1.
PS: C.Hackenberg 16-33-1-217.

RECEIVING
NU: J.Westerkamp 5-62; K.Bell 5-33; Q.Enunwa 3-42;
    B.Reilly 2-19; A.Abdullah 2-18; S.Burtch 2-minus-1;
    J.Long 1-15; C.Carter 1-4.
PS: A.Robinson 8-106; J.James 3-56; K.Carter 2-25;
    B.Felder 1-19; E.Lewis 1-9; A.Breneman 1-2.

Attendance: 98,517