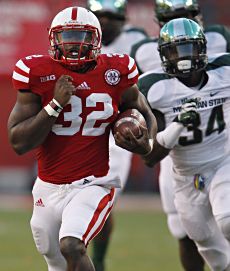 Bruce Thorson-USA TODAY Sports
COVERAGE
Stats & recap
Huskers Fall to No. 14 Spartans:
Nebraska was unable to overcome five turnovers, all in its own territory, which Michigan State converted into 24 points in the Spartans' 41-28 victory.
Ameer Abdullah and the Husker rushing attacked pounded out 182 yards on 32 carries, including 123 yards from Abdullah. The Spartans entered the game ranked No. 1 nationally in rushing defense, allowing 43.4 yards per game, and hadn't allowed a team – let alone an individual – to top the 100-yard mark all season.
Full Huskers.com recap
Omaha World-Herald
Lincoln Journal Star
Opponent sources
Detroit News
Detroit Free Press
Grand Rapids Press
Michigan State Athletics
More sources
HuskerOnline
Grand Island Independent
BTN.com
USA Today
Associated Press
ESPN.com
Photos/Audio/Video
Photos
Audio
Video
Pregame links & info
COMMENTARY
Johnson
"

Michigan State kicked on the door and broke through."

Derek Johnson
HuskerMax
Stryker
"

This wasn't a gut punch of a loss, like last year's Big Ten Championship."

Tad Stryker
HuskerMax
Barfknecht
"

Nebraska … remains baffled by a widely known football play called the punt."

Lee Barfknecht*
Omaha World-Herald
Vogel
"

On its home field, Nebraska dropped the ball."

Brandon Vogel
Hail Varsity
Staples
"

Remember those bounces that didn't go Michigan State's way last year? They all leaped into the hands of Spartans on Saturday."

Andy Staples
SI.com
Chatelain
"

Nebraska lost Saturday like it's lost so many times before – by shooting itself in the cleats."

Dirk Chatelain*
Omaha World-Herald
Shatel
"

Say what you want about youth and injuries, but this was a missed opportunity."

Tom Shatel*
Omaha World-Herald
Sipple
"

Part of Nebraska's bitter reality is knowing it is every bit as talented as the Spartans, and perhaps more so."

Steve Sipple*
Lincoln Journal Star
Callahan
"

Never once did this Michigan State defense look like the stifling brick wall people were expecting."

Sean Callahan
HuskerOnline
Whitney
"

This time, the final quarter was unkind to the cardiac Huskers."

Chris Whitney
KLIN


---
* Article may require subscription
---

Michigan St. 41
Nebraska 28
---
                     1    2    3    4   -  Final 
Michigan State      10   10    7   14   -  41
Nebraska             7    0   14    7   -  28

First quarter
MSU - Michael Geiger 45 field goal, 12:23 
MSU - R.J. Shelton 5 run (Geiger kick) 4:57
NEB - Sam Burtch 32 pass from Tommy Armstrong Jr. 
     (Pat Smith kick) 2:44 
Second quarter
MSU - Geiger 25 field goal, 10:29 
MSU - Jeremy Langford 6 run (Geiger kick) 0:21 
Third quarter
NEB - Imani Cross 51 run (Smith kick) 11:25 
MSU - Langford 3 run (Geiger kick) 5:26
NEB - Kenny Bell 38 pass from Armstrong (Smith kick) 1:12 
Fourth quarter
MSU - Keith Mumphery 27 pass from Connor Cook (Geiger kick) 7:56
MSU - Langford 37 run (Geiger kick) 01:58
NEB - Ameer Abdullah 12 pass from Ron Kellogg III 
     (Smith kick) 0:10

                                    MSU      NEB
FIRST DOWNS...................       18       19
RUSHES-YARDS (NET)............   48-168   32-182
PASSING YDS (NET).............      193      210
Passes Att-Comp-Int...........  32-15-0  32-17-1
TOTAL OFFENSE PLAYS-YARDS.....   80-361   64-392
Fumble Returns-Yards..........      0-0      0-0
Punt Returns-Yards............     1-26     2--4
Kickoff Returns-Yards.........     2-35     4-78
Interception Returns-Yards....      1-0      0-0
Punts (Number-Avg)............   7-40.6   5-43.2
Fumbles-Lost..................      0-0      6-4
Penalties-Yards...............     6-60     3-30
Possession Time...............    38:37    21:23
Third-Down Conversions........ 11 of 21  5 of 12
Fourth-Down Conversions.......   1 of 1   1 of 1
Red-Zone Scores-Chances.......      4-4      1-1
Sacks By: Number-Yards........      0-0     2-17

RUSHING
MSU: Langford, Jeremy 32-151; Williams, Delton 3-8; 
     Shelton, R.J. 3-6; Fowler, Bennie 1-4; Sadler, Mike 1-3;
     Cook, Connor 6-minus 1; Kings, Macgarrett 1-minus 1;
     TEAM 1-minus 2. 
NEB: Abdullah, Ameer 22-123; Cross, Imani 3-50; 
     Armstrong Jr., Tommy 5-9; Newby, Terrell 1-3; 
     TEAM 1-minus 3.

PASSING
MSU: Cook, Connor 15-31-0-193; Lippett, Tony 0-1-0-0.
NEB: Armstrong Jr., Tommy 9-21-1-143; Kellogg III, Ron 8-11-0-67.

RECEIVING
MSU: Lippett, Tony 4-67; Langford, Jeremy 4-23;
     Kings, Macgarrett 3-37; Fowler, Bennie 2-29; 
     Mumphery, Keith 1-27; Hill, Nick 1-10. 
NEB: Bell, Kenny 7-81; Burtch, Sam 5-86; Allen, Taariq 3-22;
     Abdullah, Ameer 1-12; Carter, Cethan 1-9.

Attendance: 90,872