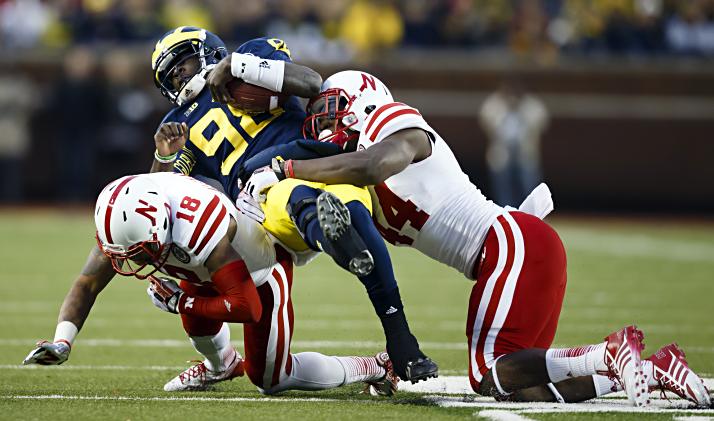 Rick Osentoski-USA TODAY Sports 
COVERAGE
Stats & recap
Blackshirts Power Huskers Past Michigan:
In a game dominated by the defenses, it was late heroics by Ameer Abdullah and Tommy Armstrong Jr. that propelled the Huskers to a come-from-behind fourth-quarter win at Michigan.
Abdullah's five-yard touchdown plunge off a forward option pitch from Armstrong capped a clutch 75-yard drive that took more than six minutes. Abdullah's second TD of the day gave the Huskers a 17-13 lead, and the Blackshirts made it hold up.
Full Huskers.com recap here
Omaha World-Herald
Lincoln Journal Star
More Neb. sources
Grand Island Independent
HuskerOnline
Columbus Telegram
Opponent sources
Ann Arbor News
Detroit News
More opponent sources
Detroit Free Press
Toldeo Blade
TheWolverine.com
Michigan Athletics
National sources
Associated Press
College Football News
ESPN.com
Photos/Audio/Video
Photos
Audio
Video
Pregame links & info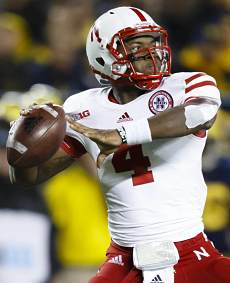 Rick Osentoski-USA TODAY Sports
COMMENTARY
Stryker
"

If they can bring back the take­aways, this defense could make it a very interesting stretch run."

Tad Stryker
HuskerMax
Whitney
"

Michigan's longest run of the day was seven yards. Seven. Yards. Let that sink in for a bit."

Chris Whitney
KLIN
Vogel
"

Saturday's result showed that Nebraska is still alive in this one."

Brandon Vogel
Hail Varsity
Callahan
"

I love the 'game manager' role Armstrong took on today."

Sean Callahan
HuskerOnline
Sipple
"

Yeah, perhaps Pelini and his staff can coach a little."

Steve Sipple*
Lincoln Journal Star
Hamar
"

What we're really seeing is a young defense that struggled early this season come together in a hurry."

Bob Hamar
Grand Island Independent
Shatel
"

This looked like a coming-of-age game for Armstrong and that defense."

Tom Shatel*
Omaha World-Herald
Chatelain
"

The big moment at the Big House could've crippled Tommy Armstrong. Instead, it brought out his best."

Dirk Chatelain*
Omaha World-Herald


---
* Article may require subscription
---

---
                     1    2    3    4   -  Final 
Nebraska            10    0    0    7   -   17
Michigan             0    3    7    3   -   13

1st quarter
NU - Pat Smith 21 field goal, 8:09
NU - Ameer Abdullah 8 run (Smith kick) 2:50 
2nd quarter
UM - Brendan Gibbons 27 field goal, 11:47
3rd quarter
UM - Devin Funchess 5 pass from Devin Gardner
    (Gibbons kick) 9:56
4th quarter
UM - Gibbons 40 field goal, 8:08 
NU - Abdullah 5 pass from Tommy Armstrong Jr.  
    (Smith kick) 2:03

                                    NU        UM
FIRST DOWNS...................      15        13
  Rushing.....................       8         0
  Passing.....................       6        12
  Penalty.....................       1         1
RUSHES-YARDS (NET)............  43-128   36-(-21)
NET YARDS PASSING.............     145       196
  Comp-Att-Int................ 12-23-0   18-27-0
TOTAL OFFENSE YARDS...........     273       175
Fumbles-Lost..................     2-2       2-0
Penalties-Yards...............    5-31      2-18
PUNTS-AVERAGE.................  7-43.0    6-48.8
  Net Yards Per Punt..........    35.1      44.7
Punt returns-Average..........   3-8.3     2-7.5
Kickoff returns-Average.......  1-15.0     1-8.0
Possession Time...............   27:16     32:44
Third-Down Conversions........ 6 of 16   3 of 15
Fourth-Down Conversions.......  1 of 1    1 of 3
Red-Zone Scores-Chances.......     3-3       2-2
  Touchdowns..................     2-3       1-2
  Field goals.................     1-3       1-2
Sacks By: Number-Yards........    7-43      1-13

RUSHING
NU: A.Abdullah 27-105; T.Armstrong 12-13; I.Cross 2-8;
    R.Kellogg 1-5; T.Newby 1-minus-3.
UM: D.Green 8-11; F.Toussaint 9-6; D.Funchess 1-5;
    TEAM 2-minus-11; D.Gardner 16-minus-21. 

PASSING
NU: T.Armstrong 11-19-0 139; R.Kellogg 1-4-0 6. 
UM: D.Gardner 18-27-0 196.

RECEIVING
NU: Q.Enunwa 7-69; K.Bell 3-44; J.Westerkamp 1-27;
    A.Abdullah 1-5.
UM: D.Funchess 6-66; J.Gallon 5-49; F.Toussaint 2-33;
    J.Butt 2-30; J.Kerridge 2-9; J.Chesson 1-9.

Attendance: 112,204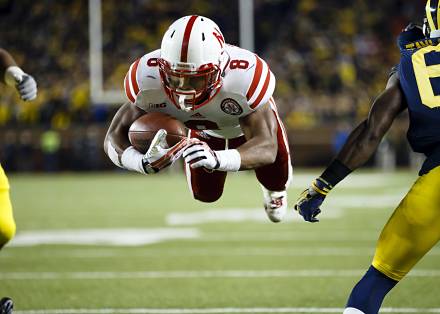 Rick Osentoski-USA TODAY Sports