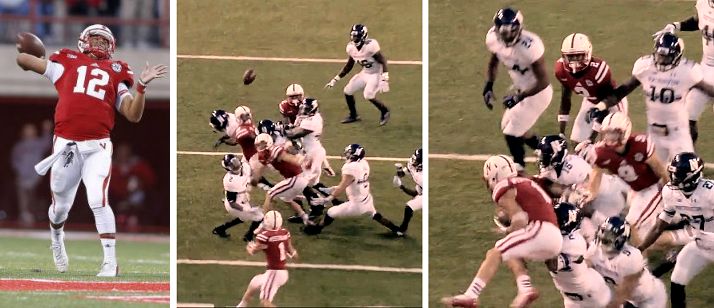 Courtesy of Huskers.com 
Hail Mary video & audio
here
COVERAGE
Stats & recap
Hail Mary Saves Huskers:
Jordan Westerkamp's 49-yard touchdown catch on a Hail Mary heave from Ron Kellogg III gave Nebraska a 27-24 walk-off win in one of the most dramatic games in Memorial Stadium history.
In a game ruled for the final two-and-half quarters by the defenses, Kellogg led the Huskers 83 yards in the final 1:14, capped by his heroic toss to Westerkamp as time expired. It is believed to be the first Hail Mary, walk-off win in regulation in Husker history.
Full Huskers.com recap here
Omaha World-Herald
Lincoln Journal Star
More Neb. sources
Grand Island Independent
Columbus Telegram
Hail Varsity
HuskerOnline
Nat'l & opponent sources
Associated Press
Yahoo Sports
Chicago Tribune
Chicago Sun-Times
Northwestern Athletics
Photos/Audio/Video
Photos
Audio
Video
Pregame links & info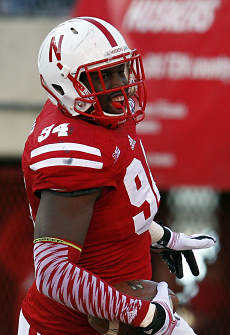 Bruce Thorson-USA TODAY Sports
COMMENTARY
Sipple
"

It appeared Pelini's team was going to fall because it couldn't get out of its own way."

Steve Sipple*
Lincoln Journal Star
Johnson
"

Never before have Pelini's late game heroes been as unsung as Ron Kellogg III and Jordan Westerkamp."

Derek Johnson
HuskerMax
Whitney
"

It was an ending for the ages and one that won't be forgotten or glossed over any time soon."

Chris Whitney
KLIN
Stryker
"

The Blackshirts came through for Pelini when he needed them."

Tad Stryker
HuskerMax
Shatel
"

What I'll always remember is that sound. I haven't heard that sound in a long, long time."

Tom Shatel*
Omaha World-Herald
Chatelain
"

Jordan Westerkamp reached out his hands and reminded Husker fans that great programs hold on as long as possible."

Dirk Chatelain*
Omaha World-Herald
Sherman
"

Can one play reverse the momentum of a football season? The Huskers hope so."

Mitch Sherman
ESPN.com
Vogel
"

Win a game like that, where things look totally hopeless, and it lops the suffix right off that word."

Brandon Vogel
Hail Varsity
Callahan
"

My biggest concern coming out of this game is the health of the offensive line."

Sean Callahan
HuskerOnline
York
"

Here's hoping a team-oriented walk-on gets his share of the glory"

Randy York
Huskers.com


---
* Article may require subscription
---

Nebraska 27
Northwestern 24
---
                     1    2    3    4   -  Final 
Northwestern        14    7    0    3   -   24
Nebraska             7    7    7    6   -   27

1st quarter
NEB - Tommy Armstrong 5 run (Pat Smith kick) 12:09 
NWN - Treyvon Green 1 run (Jeff Budzien kick) 6:56
NWN - Green 4 run (Budzien kick) 2:35
2nd quarter
NWN - Green 10 run (Budzien kick) 11:07
NEB - Quincy Enunwa 3 run from Armstrong (Smith kick) 6:37 
3rd quarter
NEB - Avery Moss 25 interception return (Smith kick) 7:10 
4th quarter
NWN - Budzien 21 field goal, 1:20
NEB - Jordan Westerkamp 49 pass from Ron Kellogg III    
     (no PAT attempted) 0:00

                                  NWN        NEB
FIRST DOWNS..................      16         28
  Rushing....................      12         13 
  Passing....................       4         15 
  Penalty ...................       0          0
RUSHES-YARDS (NET)...........  47-245     50-195
PASSING YDS (NET)............      81        277
  Att-Comp-Int...............  21-8-1    42-22-4
TOTAL OFFENSE PLAYS-YARDS....  68-326     92-472
Fumble Returns-Yards.........     0-0        0-0
Punt Returns-Yards...........     0-0        2-0
Kickoff Returns-Yards........    1-18      5-101
Interception Returns-Yards...    4-43       1-25
Punts (Number-Avg)........... 11-35.7     7-35.9
Fumbles-Lost.................     0-0        0-0
Penalties-Yards..............    3-15       4-40
Possession Time..............   28:21      31:39
Third-Down Conversions....... 2 of 14    5 of 16
Fourth-Down Conversions......  0 of 0     1 of 1
Red-Zone Scores-Chances......     4-4        2-2
Sacks By: Number-Yards.......    4-28       4-38

RUSHING
NWN: T.Green 19-149; K.Colter 23-86; S.Buckley 2-7;
     T.Siemian 3-3.  
NEB: A.Abdullah 24-127; T.Armstrong 17-69; I.Cross 5-15;
     T.Newby 1-3; TEAM 1-minus 3; R.Kellogg III 2-minus 16.

PASSING
NWN: T.Siemian 4-13-1-36; K.Colter 4-8-0-45.
NEB: T.Armstrong 15-29-3-173; R.Kellogg III 7-13-1-104. 

RECEIVING
NWN: T.Green 2-13; C.Jones 2-8; D.Vitale 1-28;
     S.Buckley 1-17; R.Lawrence 1-11; C.Dickerson 1-4.
NEB: Q.Enunwa 6-67; J.Westerkamp 4-104; A.Moore 4-43;
     A.Abdullah 3-31; S.Burtch 3-20; K.Bell 2-12.

Attendance: 91,140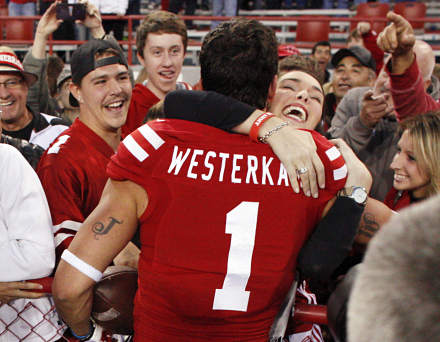 Bruce Thorson-USA TODAY Sports