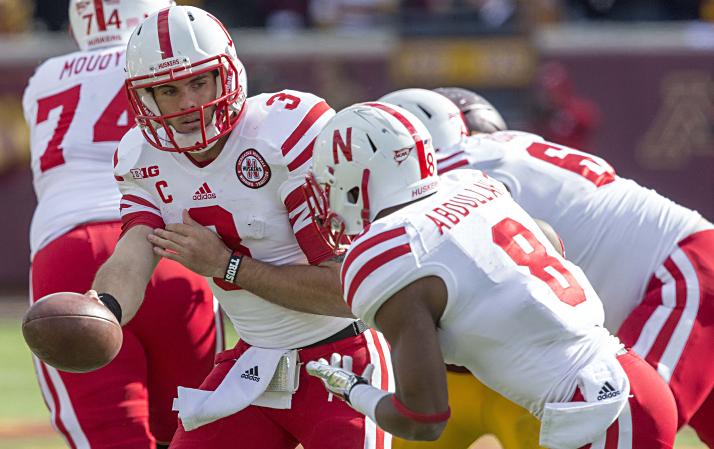 Brian Spurlock-USA TODAY Sports 
COVERAGE
Stats & recap
Huskers Fall at Minnesota:
Nebraska's 16-game winning streak against Minnesota ended with a 34-23 loss to the Golden Gophers at TCF Bank Stadium.
Taylor Martinez played for the first time since the UCLA game in mid-September and led NU to scores on its first two drives. But Minnesota, relying on a strong running game, scored the next 17 points and never trailed after that.
Full Huskers.com recap here
Omaha World-Herald
Lincoln Journal Star
More Neb. sources
Grand Island Independent
Hail Varsity
HuskerOnline
Opponent sources
Minneapolis Star Tribune
St. Paul Pioneer Press
Minnesota Athletics
National sources
ESPN.com
Associated Press
Sports Xchange
BTN
Photos/Audio/Video
Photos:
Audio
Video
Pregame links & info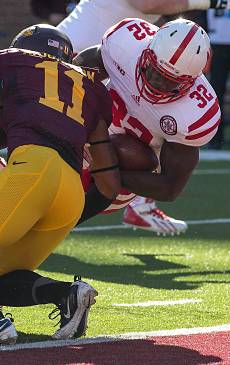 Jesse Johnson-USA TODAY Sports
COMMENTARY
Johnson
"

Nebraska's bell-cow receiving tandem repeatedly put catchable balls on the turf."

Derek Johnson
HuskerMax
Stryker
"

The national sports media has come to expect this from Nebraska."

Tad Stryker
HuskerMax
Callahan
"

Something about the offense was just missing. There was no tempo or rhythm."

Sean Callahan
HuskerOnline
Sipple
"

If you're a Nebraska fan, you're right to expect more from Bo Pelini's program."

Steve Sipple*
Lincoln Journal Star
Vogel
"

The gist [of the book on Nebraska] is this: Make the Huskers uncomfortable."

Brandon Vogel
Hail Varsity
Husker Mike
"

Other than being unable to block, catch, and tackle, Nebraska had a decent game against Minnesota."
Dienhart
"

To say that the Cornhuskers are at a crossroads would be a massive under­state­ment. The loss ... was the nadir of the program under Pelini."

Tom Dienhart, BTN
Chatelain
"

Shawn Eichorst had better be ready for big decisions."

Dirk Chatelain*
Omaha World-Herald
Hamar
"

What Minnesota did to the Huskers was Big Ten football at its best."

Bob Hamar
Grand Island Independent
Shatel
"

The sound you heard is the clock starting on Pelini's time in Lincoln."

Tom Shatel*
Omaha World-Herald
Ruesse
"

These were the new Gophers, the ones that said, 'Let's draw up some wild stuff and actually use it.' "

Patrick Ruesse
Minneapolis Star Tribune


---
* Article may require subscription
---

---
                     1    2    3    4   -  Final 
Nebraska            10    3    7    3   -   23
Minnesota            7   10   10    7   -   34

1st quarter
NEB - Imani Cross 2 run (Pat Smith kick), 12:26 
NEB - Smith 45 field goal, 7:06 
MIN - Mitch Leidner 1 run (Chris Hawthorne kick), 0:18 
2nd quarter
MIN - Derrick Engel 33 pass from Philip Nelson 
     (Hawthorne kick), 6:21 
MIN - Hawthorne 26 field goal, 3:01
NEB - Smith 42 field goal, 0:03 
3rd quarter
MIN - Nelson 1 run (Hawthorne kick), 9:01
MIN - Hawthorne 45 field goal, 2:33
NEB - Sam Cotton 3 pass from Taylor Martinez  
     (Smith kick), 0:14
4th quarter
NEB - Smith 38 field goal, 9:26 
MIN - Nelson 1 run (Hawthorne kick), 0:48
 
                                  NEB        MIN
FIRST DOWNS..................      17         23
  Rushing ...................      10         16 
  Passing ...................       5          7 
  Penalty ...................       2          0 
RUSHES-YARDS (NET)...........  30-189     54-271
PASSING YDS (NET)............     139        159
Passes Att-Comp-Int.......... 30-16-1     17-8-0
TOTAL OFFENSE PLAYS-YARDS....  60-328     71-430
Fumble Returns-Yards.........     0-0        0-0
Punt Returns-Yards...........    3-17        2-9
Kickoff Returns-Yards........   6-133       1-15
Interception Returns-Yards...     0-0        1-8
Punts (Number-Avg)...........  5-42.6     5-35.0
Fumbles-Lost.................     2-1        0-0
Penalties-Yards..............    3-21       3-35
Possession Time..............   24:23      35:37
Third-Down Conversions....... 4 of 12    5 of 13
Fourth-Down Conversions......  0 of 0     1 of 1
Red-Zone Scores-Chances......     4-4        4-4
  Touchdowns ................     2-4        3-4 
  Field goals ...............     2-4        1-4 
Sacks By: Number-Yards.......     1-1       4-27
-------------------------------------------------

RUSHING
NEB: A.Abdullah 19-165; T.Martinez 8-16; Q.Enunwa 1-4;
     I.Cross 2-4. 
MIN: D.Cobb 31-138; P.Nelson 8-55; D.Jones 4-42;
     I.Fruechte 2-13; D.Kirkwood 3-12; D.Engel 1-11;
     M.Leidner4-2; Team 1-minus 2.

PASSING
NEB: T.Martinez 16-30-1-139.
MIN: P.Nelson 7-15-0-152; M.Leidner 1-2-0-7.

RECEIVING
NEB: Q.Enunwa 3-46; K.Bell 3-45; J.Westerkamp 3-7;
     A.Abdullah 3-6; J.Turner 2-19; A.Moore 1-13;
     S.Cotton, 1-3.
MIN: D.Goodger 3-68; D.Engel 2-40; M.Henry 1-20;
     M.Williams 1-20; Cobb, David 1-11.

Attendance: 49,995