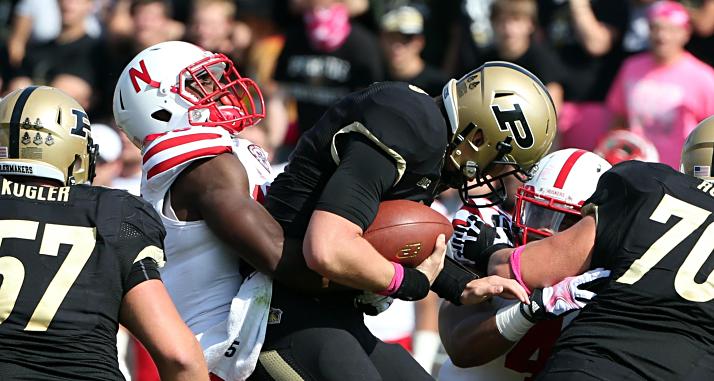 Brian Spurlock-USA TODAY Sports 
COVERAGE
Stats & recap
Blackshirts Blast Purdue:
Nebraska's Blackshirt defense just missed its first shutout since 2009 as the Big Red rolled to a 44-7 win at Purdue.
Purdue was held to just 216 yards of total offense. Randy Gregory led NU with two sacks for a total of 28 yards lost. His second sack went for 17 yards and a third-quarter safety that put Nebraska up 30-0.
Ameer Abdullah powered the offense with 126 yards on 20 carries. He became the 28th Husker in history with 2,000 career rushing yards.
Full Huskers.com recap here
Omaha World-Herald
Lincoln Journal Star
More Nebraska sources
Hail Varsity
HuskerOnline
Grand Island Independent
Daily Nebraskan
Opponent sources
Lafayette Courier & Journal
Ft. Wayne Journal Gazette
Boiler Sports Report
Nat'l & opponent sources
Lake County Post-Tribune
Ft. Wayne News-Sentinel
Purdue Athletics
ESPN.com
Associated Press
Photos/Audio/Video
Pregame links & info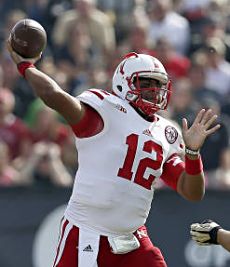 Courtesy of Huskers.coms
COMMENTARY
Callahan
"

What was impres­sive on Saturday was you didn't see very many missed tackles or coverage busts."

Sean Callahan
HuskerOnline
Stryker
"

I'm willing to live with a few questions on offense if the defense finds answers and gains confidence."

Tad Stryker, HuskerMax
Johnson
"

So has this young defense grown up, or are they just great against bad teams?"

Derek Johnson
HuskerMax
Sipple
"

It's difficult to imagine a much better schedule to help Nebraska's young defenders get their bearings."

Steve Sipple*
Lincoln Journal Star
Chatelain
"

NU needs its offensive line to shine in November and Long's absence would make the task more difficult."

Dirk Chatelain*
Omaha World-Herald
Shatel
"

The quarterback controversy of 2013 ended Saturday."

Tom Shatel*
Omaha World-Herald
Hamar
"

The Nebraska defense has indeed made great strides in the past couple of weeks."

Bob Hamar
Grand Island Independent


---
* Article may require subscription
---

---
                     1    2    3    4   -  Final 
Nebraska            14    7    9   14   -   44
Purdue               0    0    0    7   -    7

1st quarter
NEB - Tommy Armstrong 3 run (Pat Smith kick) 9:38 
NEB - Imani Cross 1 run (Smith kick) 0:00 
2nd quarter
NEB - Ameer Abdullah 28 run (Smith kick) 7:12 
3rd quarter
NEB - Cross 1 run (Smith kick) 8:31 
NEB - Safety, Randy Gregory tackled Danny Etling
      for 17-yard loss in end zone, 3:53
4th quarter
NEB - Quincy Enunwa 8 pass from Ron Kellogg  
     (Smith kick), 12:47
NEB - King Frazier 3 run (Smith kick) 0:50
PUR - DeAngelo Yancey 55 pass from Etling
     (Paul Griggs kick) 0:39

                                  NEB        PUR
FIRST DOWNS..................      21         11
  Rushing ...................      12          4 
  Passing ...................       9          5 
  Penalty ...................       0          2
RUSHES-YARDS (NET)...........  56-251      25-32
PASSING YDS (NET)............     184        184
Passes Att-Comp-Int.......... 31-16-3    36-14-1
TOTAL OFFENSE PLAYS-YARDS....  87-435     61-216
Fumble Returns-Yards.........     1-5        0-0
Punt Returns-Yards...........    4-12        0-0
Kickoff Returns-Yards........    1-15       4-67
Interception Returns-Yards...    1-12        3-0
Punts (Number-Avg)...........  6-43.8     8-38.2
Fumbles-Lost.................     1-0        1-1
Penalties-Yards..............    8-75       7-53
Possession Time..............   37:16      22:44
Third-Down Conversions.......11 of 21    3 of 14
Fourth-Down Conversions......  2 of 2     0 of 3
Red-Zone Scores-Chances......     5-5        0-0 
  Touchdowns.................     5-5        0-0 
  Field goals................     0-5        0-0 
Sacks By: Number-Yards.......    5-50        1-9

RUSHING
NEB: A.Abdullah 20-126; T.Newby 10-61; I.Cross 16-56;
     K.Frazier 3-9; T.Armstrong 4-5; TEAM 1-minus-2;
     R.Kellogg 2-minus-4. 
PUR: A.Hunt 10-57; B.Cottom 2-14; R.Mostert 3-7;
     D.Dawkins 3-4; D.Etling 7-minus-50. 

PASSING
NEB: T.Armstrong 6-18-3-43; R.Kellogg 10-13-0-141.
PUR: D.Etling 14-35-1-184; R.Henry 0-1-0-0.

RECEIVING
NEB: Q.Enunwa 4-72; J.Westerkamp 3-53; K.Bell 2-29;
     C.Carter 2-15; A.Abdullah 2-7; T.Foster 1-9;
     S.Cotton 1-2; T.Newby 1-minus-3. 
PUR: De.Yancey 5-146; S.Mikesky 3-17; J.Sinz 2-10;
     A.Hunt 2-5; C.Posey 1-5; D.Dawkins 1-1.

Attendance: 47,203