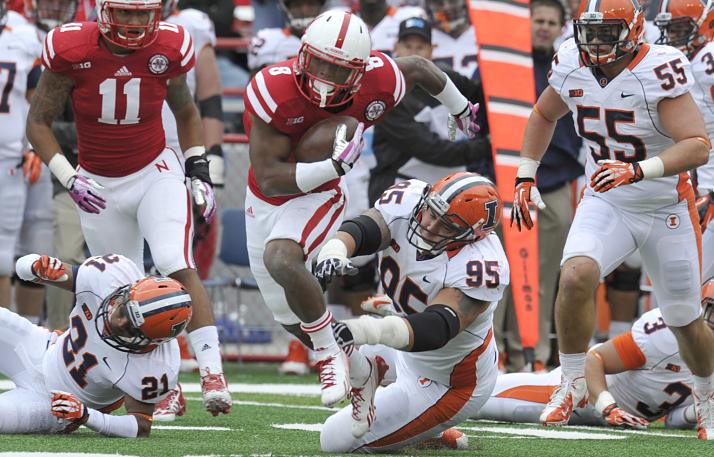 Dennis Hubbard photo |
Gallery
COVERAGE
Stats & recap
Abdullah, Huskers Run By Illini:
Ameer Abdullah rushed for a career-high 225 yards and two touchdowns to lead Nebraska to a 39-19 Big Ten-opening win over Illinois.
Nebraska rolled up 521 yards of total offense as quarterback Tommy Armstrong Jr. had another solid performance in his second career start. The Blackshirts provided a solid defensive presence, holding the Illini to just 10 offensive points until the final minute of the game.
Full Huskers.com recap here
Omaha World-Herald
Lincoln Journal Star
More Neb. sources
Grand Island Independent
HuskerOnline
Hail Varsity
Corn Nation
Daily Nebraskan
Opponent sources
Champaign News-Gazette
Chicago Tribune
Chicago Sun-Times
Nat'l & opponent sources
Decatur Herald-Review
Illinois Athletics
Associated Press
USA Today
ESPN.com
Photos/Audio/Video
Pregame links & info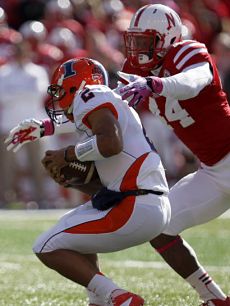 Courtesy of Huskers.com
COMMENTARY
Stryker
"

The Nebraska defense left its elementary school play­ground beatings behind, and may have entered its adolescence."

Tad Stryker, HuskerMax
Whitney
"

Nebraska's front seven played perhaps its best game of the season thus far. "

Chris Whitney
KLIN
Sherman
"

There's no path more immediate into the hearts of Husker fans than by running a smooth option play."

Mitch Sherman
ESPN.com
Vogel
"

Nebraska showed Saturday that it could win in the Big Ten if it plays smart."

Brandon Vogel
Hail Varsity
Johnson
"

I don't know that the Blackshirts turned a corner, but they made critical-situation plays."

Derek Johnson
HuskerMax
Sipple
"

This was a game for old-school Husker fans."

Steve Sipple*
Lincoln Journal Star
Tate
"

Nebraska's football tradition … is too far advanced for an Illini program forever struggling to regain its footing."

Loren Tate
Champaign News-Gazette
Callahan
"

The Huskers played like they knew the importance of this game."

Sean Callahan
HuskerOnline
Chatelain
"

Even Ron Brown can't help but think of Tommie when he sees Tommy."

Dirk Chatelain*
Omaha World-Herald
Shatel
"

With November weather as a blustery backdrop, the Huskers might have found something. Maybe."

Tom Shatel*
Omaha World-Herald
Husker Mike
"

Taylor Martinez is Nebraska's best quarterback. Or at least, when he's healthy."
Hamar
"

Yes, you can and should credit Abdullah, but the work of the O-line should not be ignored."

Bob Hamar
Grand Island Independent
York
"

The Huskers' offensive line was versatile, tough, smart, disciplined and productive."

Randy York
Huskers.com


---
* Article may require subscription
---

---
                     1    2    3    4   -  Final 
Illinois             0    5    7    7   -   19
Nebraska            14    9   13    3   -   39

1st quarter
NEB - Ameer Abdullah 2 run (Pat Smith kick) 11:06 
NEB - Quincy Enunwa 4 pass from Tommy Armstrong 
     (Smith kick) 5:53
2nd quarter
NEB - Smith 27 field goal, 13:04 
ILL - Taylor Zalewski 38 field goal, 7:50 
NEB - Imani Cross 2 run (Smith kick failed) 4:18 
ILL - Safety, Cross tackled in end zone, 1:44 
3rd quarter
NEB - Abdullah 43 run (Mauro Bondi kick) 12:58 
ILL - Donovonn Young 1 run (Zalewski kick) 5:54 
NEB - Kenny Bell 37 pass from Armstrong 
     (Bondi kick failed) 2:44
4th quarter
NEB - Smith 32 field goal, 5:16 
ILL - Josh Ferguson 1 run (Zalewski kick) 0:57
 
                                  ILL        NEB
FIRST DOWNS ...................... 24         24
  Rushing ........................ 11         14 
  Passing ........................ 11          8 
  Penalty ......................... 2          2
RUSHES-YARDS (NET) ........... 48-195     50-335
PASSING YDS (NET) ............... 177        186
  Att-Comp-Int ...............31-16-1    20-11-0
TOTAL OFFENSE PLAYS-YARDS .... 79-372     70-521
Punt Returns-Yards .............. 0-0        1-0
Kickoff Returns-Yards .......... 4-96       1-26
Interception Returns-Yards ...... 0-0        1-6
Punts (Number-Avg) ........... 5-40.0     1-40.0
Fumbles-Lost .................... 1-1        3-1
Penalties-Yards ................ 3-38       8-71
Possession Time ............... 32:41      27:19
Third-Down Conversions ...... 4 of 15    6 of 12
Fourth-Down Conversions ...... 2 of 4     0 of 1
Red-Zone Scores-Chances ......... 3-3        5-6
Sacks By: Number-Yards .......... 0-0       3-16

RUSHING
ILL: J.Ferguson 19-114; D.Young 15-61; N.Scheelhaase 9-11;
     R.O'Toole 3-8; A.Bailey 2-1. 
NEB: A.Abdullah 20-225; I.Cross 15-76; T.Newby 4-19;
     T.Armstrong 9-18; R.Kellogg 1-minus-1; TEAM 1-minus 2

PASSING
ILL: N.Scheelhaase 13-26-1 135; R.O'Toole 3-5-0-42
NEB: T.Armstrong 8-13-0 135; R.Kellogg 3-6-0 51;
     A.Abdullah 0-1-0-0

RECEIVING
ILL: J.Ferguson 8-82; M.Barr 4-30; J.Davis 3-45;
     M.LaCosse 1-20
NEB: Q.Enunwa 4-80; K.Bell 4-65; S.Cotton 1-17;
     A.Abdullah 1-15; J.Long 1-9

Attendance: 90,458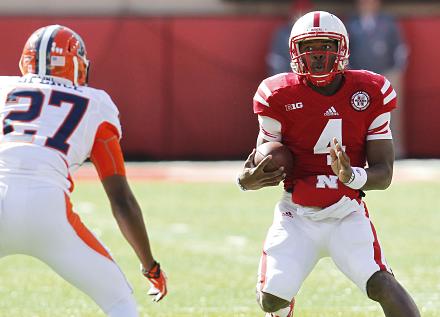 Bruce Thorson-USA TODAY Sports |
More photos