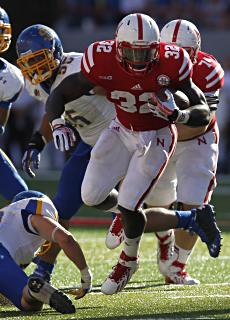 Bruce Thorson-USA TODAY Sports
COVERAGE
Stats & recap
Huskers Power Past Jacks:
Tommy Armstrong Jr. and Ron Kellogg III led Nebraska in place of injured starting quarterback Taylor Martinez, and the Husker offense rushed and passed for more than 300 yards each for the first time in school history in a 59-20 win over South Dakota State.
South Dakota State led 17-14 at the end of the first quarter thanks to the explosive running of Zach Zenner. The junior running back finished with 202 yards on 21 carries. The Huskers' Ameer Abdullah rushed 15 times for 139 yards, and Quincy Enunwa caught six passes for 78 yards.
Full Huskers.com recap here
Omaha World-Herald
Lincoln Journal Star
More Neb. sources
Grand Island Independent
Hail Varsity
HuskerOnline
Nat'l & opponent sources
Associated Press
ESPN.com
Yankton Press
Sioux Falls Argus Leader
SDSU Athletics
Photos/Audio/Video
Pregame links & info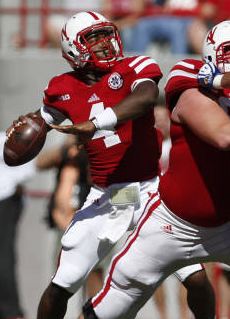 Courtesy of Huskers.com
COMMENTARY
Sherman
"

Armstrong will have his day. Soon, too. It's just not now, as long as Martinez is healthy."

Mitch Sherman
ESPN.com
Stryker
"

Nebraska can't stop much of anything between the tackles. Come to think it, the Huskers can't seal the edge, either."

Tad Stryker, HuskerMax
Callahan
"

I loved the no fear play calling by offensive coordinator Tim Beck."

Sean Callahan
HuskerOnline
Shatel
"

On a clear blue day in Nebraska, Armstrong made it easy to look at the horizon and dream."

Tom Shatel*
Omaha World-Herald
Sipple
"

As for the Husker defense, my primary concern is it lacks any apparent forceful leadership among players."

Steve Sipple*
Lincoln Journal Star
Chatelain
"

We can say two things with certainty: The defense stinks. And coaches are sick of it."

Dirk Chatelain*
Omaha World-Herald
Vogel
"

Giving up nearly 5 yards per play in the run game is almost unthinkable against an FCS opponent."

Brandon Vogel
Hail Varsity
Hamar
"

It might just be wise to hold off on those 'Armstrong for QB' signs, at least for now."

Bob Hamar*
Grand Island Independent
Husker Mike
"

Great game for Martinez's two understudies, but let's not go overboard."

Husker Mike
Husker Mike's Blasphemy


---
* Article may require subscription
---

Nebraska  59
S. Dakota St. 20
---
                     1    2    3    4   -  Final 
South Dakota St.    17    0    0    3   -   20
Nebraska            14   24   14    7   -   59

1st quarter
NEB - Imani Cross 5 run (Pat Smith kick), 13:29 
SDS - Zach Zenner 40 run (Justin Syrovatka kick), 12:10
NEB - Cross 2 run (Mauro Bondi kick), 8:29 
SDS - Zenner 3 run (Syrovatka kick), 6:45
SDS - Syrovatka 48 field goal, 0:05
2nd quarter
NEB - Ameer Abdullah 1 run (Smith kick), 12:30 
NEB - Sam Burtch 16 pass from Tommy Armstrong 
      (Bondi kick), 7:10
NEB - Tyler Wullenwaber 23 pass from Ron Kellogg III 
      (Smith kick), 4:16
NEB - Bondi 22 field goal, 0:00
3rd quarter
NEB - Terrell Newby 10 run (Smith kick), 4:15 
NEB - Randy Gregory 33 int. return (Bondi kick), 2:47 
4th quarter
SDS - Syrovatka 29 field goal, 12:58
NEB - Terrell Newby 5 run (Smith kick), 9:15 
 
                                  SDS        NEB
FIRST DOWNS .......................25         34
  Rushing ........................ 10         17 
  Passing ........................ 12         15 
  Penalty ......................... 3          2
RUSHES-YARDS (NET) ........... 38-227     51-335
PASSING YDS (NET) ............... 238        310
  Att-Comp-Int .............. 29-19-2    26-21-0
TOTAL OFFENSE PLAYS-YARDS ...  67-465     77-645
Fumble Returns-Yards ............ 0-0        0-0
Punt Returns-Yards .............. 1-1        1-9
Kickoff Returns-Yards .......... 2-41       3-68
Interception Returns-Yards ...... 0-0       2-48
Punts (Number-Avg) ........... 3-40.0     1-47.0
Fumbles-Lost .................... 1-1        3-2
Penalties-Yards ................ 4-45       4-33
Possession Time ............... 30:49      29:11
Third-Down Conversions ...... 3 of 11    7 of 10
Fourth-Down Conversions ...... 0 of 1     1 of 1
Red-Zone Scores-Chances ......... 3-4        7-9
  Touchdowns .................... 1-4        6-9
  Field goals ................... 2-4        1-9
Sacks By: Number-Yards .......... 0-0       5-44

RUSHING
SDS: Z.Zenner 21-202; R.Gandy 8-38; I.Rodriguez 2-32;
     A.Sumner 7-minus 45.
NEB: A.Abdullah15-139; I.Cross 10-60; T.Newby 8-52; 
     T.Armstrong 5-38; G.Nabity 3-14; K.Frazier 5-14;
     R.Kellogg 2-7; J.Westerkamp 1-7; R.Fyfe 1-3;
     K.Bell 1-1.

PASSING
SDS: A.Sumner 19-29-2-238.
NEB: T.Armstrong 12-15-0-169; R.Kellogg 8-9-0-136;
     TEAM 0-1-0-0; R.Fyfe 1-1-0-5.

RECEIVING
SDS: C.Jones 6-68; J.Schneider 5-48; R.Gandy 3-29;
     B.Hubert 2-36; T.Tiefenthaler 1-25; Z.Zenner 1-21;
     T.Wesley 1-11.
NEB: Q.Enunwa 6-78; A.Abdullah 3-46; T.Wullenwaber 2-47;
     C.Carter 2-43; K.Bell 2-20; A.Moore 1-19; J.Long 1-17;
     S.Burtch 1-16; J.Westerkamp 1-11; J.Turner 1-8;
     B.Reilly 1-5.

Attendance: 90,614




Dennis Hubbard photo |
Gallery