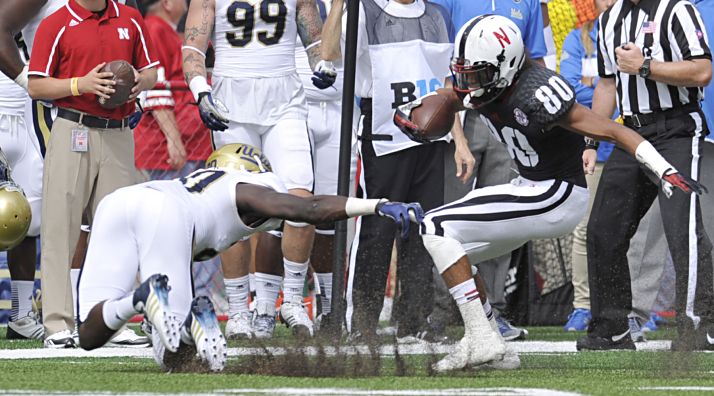 Dennis Hubbard photo | Full gallery

here
COVERAGE
Stats & recap
Huskers Fall to No. 16 Bruins
In a tale of two halves, Nebraska bolted to a 21-3 lead, but UCLA closed with 38 unanswered points in the final 2½ quarters to leave Memorial Stadium with a 41-21 win.
The Huskers had their 14-game home non­con­ference winning streak snapped, along with their streak of 10 straight home wins.
Nebraska managed 326 total yards but just 130 in the second half.
Full Huskers.com recap here
Omaha World-Herald*
Lincoln Journal Star
More Neb. sources
Hail Varsity
Grand Island Independent
HuskerOnline
Opponent sources
Los Angeles Times
Los Angeles Daily News
UCLA Athletics
National sources
Associated Press
ESPN.com
Sports Xchange
Photos/Audio/Video
Pregame links & info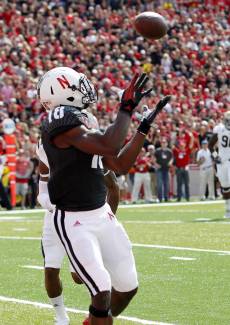 Bruce Thorson-USA TODAY Sports
COMMENTARY
Dienhart
"

The calendar has flipped to 2013, but the act hasn't changed."

Tom Dienhart
BTN.com
Stryker
"

Nebraska found a way to fritter away a tremendous amount of momentum in a shockingly short period of time."

Tad Stryker
HuskerMax
Sipple
"

Nebraska came ready to play, but far from ready to respond once the tide turned."

Steve Sipple*
Lincoln Journal Star
Callahan
"

It was the Husker offense that may have been the biggest problem on Saturday."

Sean Callahan
HuskerOnline
Vogel
"

It's the sameness of these losses that's shocking."

Brandon Vogel
Hail Varsity
Barfknecht
"

When passion and ire give way to apathy in your "money" sport, you have a problem."

Lee Barfknecht*
Omaha World-Herald
Shatel
"

What we saw here Saturday was a microcosm of what this program is right now."

Tom Shatel*
Omaha World-Herald
Hamar
"

In the second half, the Bruins were the only ones making plays. That includes tackles."

Bob Hamar*
Grand Island Independent
Dalen
"

The 2013 Huskers' performance has started out with alarming parallels to 2007."

Paul Dalen
Corn Nation


---
* Article may require subscription
---

---
                  1    2    3    4   -  Final 
UCLA              3    7   28    3   -   41
Nebraska         14    7    0    0   -   21

1st quarter
NEBR - Quincy Enunwa 11 pass from Taylor Martinez 
      (Pat Smith kick), 9:45
UCLA - Ka'imi Fairbairn 44 field goal, 7:13
NEBR - Enunwa 14 pass from Martinez 
      (Mauro Bondi kick), 0:31
2nd quarter
NEBR - Kenny Bell 22 pass from Martinez (Smith kick) 7:12 
UCLA - Paul Perkins 10 run (Fairbairn kick), 0:57
3rd quarter
UCLA - Jordan James 3 run (Fairbairn kick), 8:31
UCLA - Shaquell Evans 24 pass from Brett Hundley
      (Fairbairn kick), 6:02
UCLA - Phillip Ruhl 12 pass from Hundley
      (Fairbairn kick), 3:39
UCLA - Nate Iese 3 pass from Hundley (Fairbairn kick), 0:26
4th quarter
UCLA - Fairbairn 24 field goal, 1:53
 
                                 UCLA       NEBR
FIRST DOWNS .......................27         21
  Rushing ........................ 11          8 
  Passing .........................13         11 
  Penalty ......................... 3          2
RUSHES-YARDS (NET) ........... 53-210     42-128
PASSING YDS (NET) ............... 294        203
  Att-Comp-Int .............. 25-16-1    35-21-0
TOTAL OFFENSE PLAYS-YARDS .... 78-504     77-331
Fumble Returns-Yards ............ 0-0        0-0
Punt Returns-Yards ............. 2-28        0-0
Kickoff Returns-Yards ........... 0-0       3-35
Interception Returns-Yards ...... 0-0       1-34
Punts (Number-Avg) ........... 3-45.3     8-37.8
Fumbles-Lost .................... 3-0        4-1
Penalties-Yards ................ 3-21       8-70
Possession Time ............... 32:09      27:47
Third-Down Conversions ...... 7 of 15    3 of 14
Fourth-Down Conversions .......0 of 1     2 of 3
Red-Zone Scores-Chances ..........5-5        2-3
 Touchdowns ......................4-5        2-3
 Field goals .................... 1-5        0-3
Sacks By: Number-Yards ......... 2-15        3-6
 
RUSHING
UCLA: J.Jordon 22-105; B.Hundley 19-61; M.Jones 4-24;
      P.Perkins 5-22; S.Manfro 2-10; S.Covington 1-minus-12.
NEBR: A.Abdullah 23-98;  T.Newby 5-22; I.Cross 3-19;
      B.Nickens 1-2; T.Martinez 10-minus13.

PASSING
UCLA: C.Phillips 16-24-1-294.
NEBR: T.Martinez 21-35-0-203. 

RECEIVING
UCLA: D.Fuller 4-48; S.Evans 3-97; D.Bell 2-35;
      J.Payton 2-28; G.Mazzone 1-39; P.Perkins 1-20;
      P.Ruhl 1-12; T.Duarte 1-12; N.Iese 1-3.
NEBR: K.Bell 6-68; J.Turner 5-23; A.Abdullah 3-50;
      Q.Enunwa 3-39; T.Newby 1-9; J.Long 1-8;
      J.Westerkamp 1-4; C.Zimmerer 1-2.

Attendance: 91,471