Dennis Hubbard photo | Full gallery here
COVERAGE
Stats & recap
Huskers Hold Off Cowboys:
Two late NU turnovers allowed visiting Wyoming to put a scare into the Big Red, but Nebraska prevailed, 37-34.
Playing in front of school-record 91,185 fans at Memorial Stadium, Nebraska rolled up 375 yards on 63 rushes, including 114 yards from Ameer Abdullah and 105 from Imani Cross.
Wyoming's 35 first downs were the most ever allowed by NU, and Cowboy QB Brett Smith racked up 475 yards of total offense, the fourth-most ever by a Nebraska opponent.
Full Huskers.com recap here
Omaha World-Herald
Lincoln Journal Star
More Neb. sources
Grand Island Independent
Columbus Telegram
HuskerOnline
Hail Varsity
Huskers.com
Other sources
Associated Press
ESPN Big Ten Blog
Casper Star-Tribune
WyoSports.net
Wyoming Athletics
Photos/Audio/Video
Photos
:
Huskers.com
,
LJS
,
OWH (1, 2),
USA Today
,
AP & Getty
,
Hubbard
,
Casper Star-Tribune
,
Hail Varsity
,
Corn Nation
,
Big Red Report
Audio
Video
Pregame links & info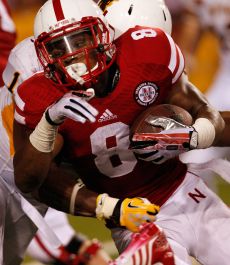 Bruce Thorson-USA TODAY Sports
COMMENTARY
Stryker
"

The Cornhuskers came out and performed exactly like their detractors around the nation said they would."

Tad Stryker
HuskerMax
Sipple
"

I hold to the belief that Nebraska will be particularly vulner­able against Big Ten teams that can punish defenses between the tackles."

Steve Sipple*
Lincoln Journal Star
Hamar
"

When the coaches say there is a lot of work to do, everyone will believe that there really is a lot of work to do."

Bob Hamar
Grand Island Independent
Shatel
"

At the very least, it's a buzz kill for an autumn of high hopes and expectations."

Tom Shatel*
Omaha World-Herald
Vogel
"

If you thought the scare stats from 2012 were a thing of the past, that wasn't the case in week one."

Brandon Vogel
Hail Varsity
Callahan
"

One of my biggest concerns was the lack of overall pass rush by Nebraska's defense."

Sean Callahan
HuskerOnline
Husker Mike
"

Freshmen and sophomores ... were being counted on in crucial situations for the first time."

Husker Mike
Husker Mike's Blasphemy


---
* Article may require subscription
---

---
                  1    2    3    4   -  Final 
Wyoming           7    7    7   13   -   34
Nebraska         10    7   14    6   -   37

1st quarter
WYO - Jalen Claiborne 6 pass from Brett Smith
     (Stuart Williams kick), 8:48
NEB - Pat Smith 24 field goal, 5:00
NEB - Jamal Turner 17 pass from Taylor Martinez 
     (Smith kick), 1:20
2nd quarter
WYO - Shaun Wick 6 run (Williams kick), 11:38
NEB - Imani Cross 1 run (Smith kick), 5:59
3rd quarter
NEB - Imani Cross 31 run (Smith kick), 13:22 
NEB - Quincy Enunwa 3 pass from Martinez 
     (Smith kick), 4:08
WYO - Brandon Miller 22 pass from Smith
     (Williams kick), 2:04
4th quarter		 
NEB - Enunwa 7 pass from Martinez (Smith kick failed), 11:38 
WYO - Claiborne 29 pass from Smith
     (two-point try failed), 6:02
WYO - Robert Herron 47 pass from Smith
     (Williams kick), 1:32 
 
                                 WYO        NEB
FIRST DOWNS ..................... 35         27
  Rushing .......................  9         17
  Passing ....................... 20          8
  Penalty .......................  6          2
RUSHES-YARDS (NET) .......... 30-219     63-375
PASSING YDS (NET) .............. 383        155
  Att-Comp-Int ............. 44-29-2    22-17-1
TOTAL OFFENSE PLAYS-YARDS ... 74-602     85-530
Fumble Returns-Yards ........... 0-0        0-0
Punt Returns-Yards ............ 2-13        0-0
Kickoff Returns-Yards ......... 3-53       3-82
Interception Returns-Yards .... 1-33       2-42
Punts-Avg ................... 4-52.2     5-45.6
Fumbles-Lost ................... 2-0        3-1
Penalties-Yards ............... 8-74      10-84
Possession Time .............. 23:57      35:57
Third-Down Conversions ...... 1 of 8    9 of 17
Fourth-Down Conversions ..... 1 of 1     0 of 1
Red-Zone Scores-Chances ........ 2-2        5-5
  Touchdowns ................... 2-2        4-5
  Field goals .................. 0-2        1-5

RUSHING
NU: A.Abdullah 19-114; I.Cross 13-105; T.Martinez 16-80;
    T.Newby 15-76.
UW: S.Wick 12-101; B.Smith 8-92; B.Miller 9-27;
    Team 1-minus-1. 

PASSING
NU: T.Martinez 17-22-1 155. 
UW: B.Smith 29-43-1 383; T.Norman 0-1-1 0.

RECEIVING
NU: K.Bell 7-57; J.Turner 4-43; Q.Enunwa 3-27; J.Long 1-26;
    A.Abdullah 1-3; I.Cross 1-minus-1.
UW: D.Rufran 11-120; J.Claiborne 7-88; B.Miller 5-63;
    R.Herron 4-91; T.Gentry 2-21.

Attendance: 91,185