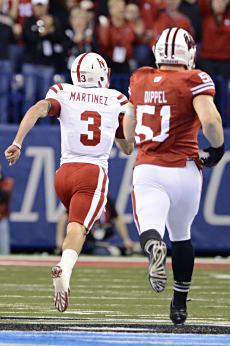 Richard Mackson-US PRESSWIRE
COVERAGE
Stats & recap
Huskers Fall to Badgers:
Taylor Martinez produced his fifth 100-yard rushing effort of the year, including an electrifying 76-yard scramble for a TD, but Wisconsin controlled the action from start to finish in a 70-31 win for the Big Ten championship.
The Badgers' 539 rushing yards were the most ever allowed by a Husker defense, bettering Oklahoma's 506 in 1956. UW's 70 points tied for the second most ever allowed by Nebraska.
Full Huskers.com recap here
Omaha World-Herald
Lincoln Journal Star
More Neb. sources
Grand Island Independent
Hail Varsity
HuskerOnline
Opponent sources
Wisconsin State Journal
Milwaukee Journal Sentinel
Opponent & Nat'l sources
Wisconsin Athletics
BTN.com
ESPN.com Big Ten Blog
USA Today
Associated Press
More national sources
Chicago Tribune
CBSSports.com
Indianapolis Star
Columbus Dispatch
Minneapolis Star Tribune
Photos/Audio/Video
Pregame links & info
COMMENTARY
Sipple
"

Maybe you thought you had seen the last of this stuff. Well, we were wrong."

Steve Sipple*
Lincoln Journal Star
Hamar
"

Why, for the third time this season, did the Husker defense get blown off the field?"

Bob Hamar
Grand Island Independent
Stryker
"

Unfortunately, this pretty much wipes out the nation's memory of four great double-digit comebacks."

Tad Stryker
HuskerMax
Barfknecht
"

The unvarnished truth is that much of the six-game winning streak NU toted to Indy was coated in fool's gold."

Lee Barfknecht*
Omaha World-Herald
Chatelain
"

Ruined is any hope that college football will take NU seriously anytime soon."

Dirk Chatelain*
Omaha World-Herald
Shatel
"

This was simply Wisconsin lining up and kicking Nebraska's butt."

Tom Shatel*
Omaha World-Herald
Callahan
"

Nebraska's defensive line got blown off the line unlike we've ever seen before under Pelini."

Sean Callahan
HuskerOnline
Oates
"

The Badgers looked like a team that had been lying in wait for just this moment."

Tom Oates*
Wisconsin State Journal
Vogel
"

You probably have a lot of questions. I don't have a lot of answers."

Brandon Vogel
Hail Varsity
Husker Mike
"

It raises questions, and rightfully so, about the direction of the Nebraska football program."

Husker Mike
Corn Nation


---
* Article may require subscription
---

Wisconsin  70
Nebraska  31
---
                  1    2    3    4   -  Final 
Nebraska         10    0    7   14   -   31
Wisconsin        21   21   21    7   -   70

1st quarter
UW - Melvin Gordon 56 run (Kyle French kick) 13:01
UW - Marcus Cromartie 29 interception return
    (French kick) 12:53
NU - Taylor Martinez 76 run 
    (Brett Maher kick) 10:58
NU - Maher 32 field goal, 4:46
UW - James White 9 run (French kick) 1:01
2nd quarter
UW - White 1 run (French kick) 11:11
UW - Montee Ball 16 run (French kick) 7:15
UW - Sam Arneson 3 pass from White (French kick), 0:02
3rd quarter
UW - Montee Ball 9 run (Jack Russell kick) 14:13
NU - Taylor Martinez 11 run (Maher kick) 10:47
UW - Ball 57 run (Russell kick) 9:27
UW - White 68 run (Russell kick) 6:42
4th quarter
NU - Braylon Heard 9 run (Maher kick) 12:14
UW - White 10 run (Russell kick) 8:57
NU - Imani Cross 26 run (Maher kick) 0:51
 
                                    NEB      WIS
FIRST DOWNS...................       23       24
  Rushing ....................       11       19 
  Passing ....................        9        4 
  Penalty ....................        3        1
RUSHES-YARDS (NET)............   44-282   50-539
  Average per rush ...........      6.4     10.8
PASSING YDS (NET).............      195      101
  Att-Comp-Int................  34-18-2   10-8-0
  Average per attempt.........      5.7     10.1
TOTAL OFFENSE PLAYS-YARDS.....   78-477   60-640
  Average per play............      6.1     10.7
Fumble Returns-Yards..........      0-0      0-0
Punt Returns-Yards............     1--1      0-0
Kickoff Returns-Yards.........     2-52      0-0
Interception Returns-Yards....      0-0     2-51
Punts (Number-Avg)............   5-40.8   3-47.0
Fumbles-Lost..................      2-1      0-0
Penalties-Yards...............     4-40     4-51
Possession Time...............    30:15    29:45
Third-Down Conversions........  6 of 16   5 of 9
Fourth-Down Conversions.......   1 of 2   0 of 0
Red-Zone Scores-Chances.......      3-3      6-6
  Touchdowns .................      2-3      6-6 
  Field goals ................      1-3      0-6 
Sacks By: Number-Yards........      0-0     6-33

RUSHING
NU: T.Martinez 19-140; R.Burkhead 11-61; I.Cross 3-35; 
    B.Heard 6-28; A.Abdullah 5-18.
UW: M.Gordon 9-216; M.Ball 21-202; J.White 15-109;
    K.Doe 1-12; C.Phillips 2-3; TEAM 2-minus 3. 

PASSING
NU: T.Martinez 17-33-2-184; R.Burkhead 1-1-0-11.
UW: C.Phillips 6-8-0-71; J.Abbrederis 1-1-0-27;
    J.White 1-1-0-3.  

RECEIVING
NU: J.Turner 5-63; Q.Enunwa 5-51; K.Reed 2-29;
    R.Burkhead 2-18; K.Bell 2-14; A.Abdullah 1-11;
    B.Cotton 1-9.
UW: J.Abbrederis 2-29; C.Phillips 1-27; J.White 1-22;
    D.Watt 1-10; J.Pedersen 1-9; S.Arneson 1-3;
    J.Duckworth 1-1.

Attendance: 41,260