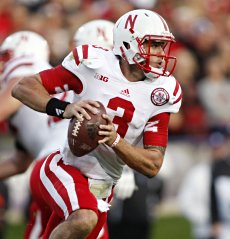 Jerry Lai-US PRESSWIRE
COVERAGE
Stats & recap
Martinez Leads Late Comeback Against Cats:
Taylor Martinez accounted for more than 400 total-offense yards and rallied Nebraska from 12 points down midway through the fourth quarter for a 29-28 win at Northwestern.
It was Nebraska's second double-digit rally in Big Ten play this season and the Huskers' first road win of the year. It matched the largest fourth-quarter comeback in school history.
Full Huskers.com recap here
Omaha World-Herald*
Lincoln Journal Star*
More Neb. sources
Grand Island Independent
Daily Nebraskan
Hail Varsity
HuskerOnline
Opponent sources
Chicago Tribune
Chicago Sun-Times
Northwestern Athletics
Daily Northwestern
National sources
Associated Press
ESPN.com Big Ten Blog
Photos/Audio/Video
Pregame links & info
COMMENTARY
Stryker
"

This is a devilishly hard team to figure out, let alone have confidence in."

Tad Stryker
HuskerMax.com
Hamar
"

The Huskers made plays when they had to. They also had all those mistakes that made a comeback necessary."

Bob Hamar
Grand Island Independent
Whitney
"

Third downs proved to be momentum killers and put the Huskers behind the eight-ball."

Chris Whitney
KLIN radio
Haugh
"

The Big Red Army made so much noise after Nebraska took the lead that Northwestern players needed to use a 'silent count.' "

David Haugh
Chicago Tribune
Dienhart
"

Go ahead and dream a little, Cornhuskers fans. It's OK. This team may have turned a big corner on this day."

Tom Dienhart
BTN.com
Shatel
"

Sometimes you win, sometimes you lose, sometimes you outlast yourself."

Tom Shatel*
Omaha World-Herald
Callahan
"

Husker nation helped will Nebraska to a 29-28 come from behind victory."

Sean Callahan
HuskerOnline
Sipple
"

Wild mood swings? We've come to expect them from Pelini's teams. But this was ridiculous."

Steve Sipple*
Lincoln Journal Star
Chatelain
"

The actual events at Ryan Field should give you less hope – not more – about the long-term future of the program."

Dirk Chatelain*
Omaha World-Herald


---
* Article may require subscription
---

Nebraska  29
Northwestern  28
---
Nebraska         3   7   6  13  -  29
Northwestern     7   7   7   7  -  28

1st quarter
NEB - Brett Maher 27 field goal, 11:21 
NWN - Dan Vitale 10 pass from Trevor 
      Siemian (Jeff Budzien kick) 1:35
2nd quarter
NEB - Kenny Bell 37 pass from Taylor 
      Martinez (Maher kick) 8:25 
NWN - Tony Jones 26 pass from Siemian 
     (Budzien kick) 1:25
3rd quarter
NWN - Venric Mark 80 run (Budzien kick) 12:17
NEB - Martinez 3 run (run failed) 1:09
4th quarter
NWN - Mike Trumpy 3 run (Budzien kick) 8:31
NEB - Taariq Allen 8 pass from Martinez 
     (Maher kick) 5:55 
NEB - Ben Cotton 7 pass from Martinez 
     (pass failed) 2:08 

                             NEB      NWN
First downs.................. 26       14
  By rushing ................ 12        6 
  By passing ................ 12        6 
  By penalty ................. 2        2 
Rushes-Yards (net)....... 44-201   38-180
  Average per rush.......... 4.6      4.7
Passing yards (net)......... 342      121
  Att-Comp-Int.......... 39-27-0  37-16-0
Total offense ........... 83-543   75-301
  Average gain per play .... 6.5      4.0
Fumble returns-Yards........ 0-0      0-0
Punt returns-Yards......... 3--5     3-24
Kickoff returns-Yards...... 5-74     3-59
Int. returns-Yards.......... 0-0      0-0
Punts-Average............ 9-42.2  12-38.8
Fumbles-Lost................ 3-3      1-0
Penalties-Yards............ 8-62     5-45
Possession time........... 32:25    27:35
Third-down conversions.. 3 of 14  5 of 20
Fourth-down conversions.. 0 of 1   2 of 2
Red-zone scores-Chances..... 4-4      2-2
  Touchdowns ............... 3-4      2-2
  Field goals .............. 1-4      0-2 
Sacks by: Number-Yards...... 1-2     3-24

RUSHING
NEB: A.Abdullah 19-101; T.Martinez 18-65; 
     B.Heard 1-18; R.Burkhead 4-13; 
     I.Cross 1-3; K.Bell 1-1.
NWN: V.Mark 16-118; K.Colter 14-35; 
     M.Trumpy 6-16; T.Siemian 2-11. 

PASSING
NEB: T.Martinez 27-39-0-342. 
NWN: T.Siemian 15-35-0-116; 
     K.Colter 1-2-0-5.

RECEIVING
NEB: Q.Enunwa 6-110; K.Bell 6-77; 
     A.Abdullah 5-21; J.Turner 3-56; 
     K.Reed 2-36; T.Marlowe 2-23; T.Allen
     1-8; B.Cotton 1-7; S.Osborne 1-4.
NWN: R.Lawrence 4-41; T.Jones 3-36; 
     K.Colter 3-17; D.Vitale 2-14; 
     C.Jones 2-5; K.Prater 1-4; 
     C.Dickerson 1-4.

Attendance: 47,330