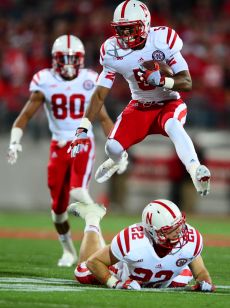 Andrew Weber-US PRESSWIRE
COVERAGE
Stats & recap
Huskers Fall at Ohio State:
Nebraska scored 17 straight points to take a 17-7 lead, but No. 12 Ohio State's offense got rolling in the second quarter and never slowed down in a 63-38 win over the No. 21 Huskers.
Ohio State's 63 points were the fourth-most against the Huskers in history and came even though NU's defense held OSU without a first down in the first quarter.
Full Huskers.com recap here
Omaha World-Herald
Lincoln Journal Star
More Neb. sources
Daily Nebraskan
Big Red Report
More Neb. sources II
Grand Island Independent
Hail Varsity
HuskerOnline
Columbus Dispatch
More opponent sources
Cleveland Plain Dealer
Toledo Blade
Akron Beacon Journal
Lima News
Opponent & Nat'l sources
The O-Zone
Buckeye Nation
Ohio State Athletics
Associated Press
ESPN.com
Photos/Audio/Video
Pregame links & info
COMMENTARY
Sipple
"

UCLA made you wonder. Ohio State pretty much answered the question."

Steve Sipple*
Lincoln Journal Star
Chatelain
"

This is Year Five and nights like Saturday aren't supposed to happen."

Dirk Chatelain*
Omaha World-Herald
Barfknecht
"

The Buckeyes' spread offense had the Blackshirts looking downright Cosgrovian."

Lee Barfknecht*
Omaha World-Herald
Shatel
"

You leave this game with serious doubts whether Pelini or Martinez will ever figure it out."

Tom Shatel*
Omaha World-Herald
Whitney
"

Once the Buckeyes realized they didn't have to throw to slice through the Black­shirts, it was game over."

Chris Whitney,
KLIN
Stryker
"

The Huskers were completely outclassed, undone and left in the dust by Braxton Miller."

Tad Stryker
HuskerMax
Vogel
"

No process. No fixing us. No pointing the thumb. Just shock and disappointment."

Brandon Vogel
Hail Varsity
Doyel
"

This was Urban Meyer's statement game, and it wasn't a pleasant statement for Nebraska or anyone else in the Big Ten."

Gregg Doyel
CBSSports.com


---
* Article may require subscription
---

Ohio State  63
Nebraska  38
---
                  1    2    3    4   -  Final 
Nebraska         14   10    7    7   -   38
Ohio State        7   28   14   14   -   63

1st quarter
OSU - Bradley Roby 40 interception return                  
     (Drew Basil kick) 8:29
NEB - Ameer Abdullah 1 run (Brett Maher kick) 5:26         
NEB - Abdullah 3 run (Brett Maher kick) 1:50               
2nd quarter
NEB - Maher 26 field goal, 11:59 
OSU - Carlos Hyde 1 run (Basil kick) 10:49
OSU - Jeff Heuerman 18 pass from Braxton Miller            
     (Basil kick) 8:58
NEB - Taylor Martinez 9 run (Maher kick) 6:59              
OSU - Hyde 7 run (Basil kick) 2:16
OSU - Miller 31 run (Basil kick) 0:23                      
3rd quarter
NEB - Ben Cotton 3 pass from Martinez (Maher kick) 12:50   
OSU - Hyde 1 run (Basil kick) 8:15
OSU - Philly Brown 76 punt return (Basil kick) 5:50        
4th quarter
OSU - Rod Smith 33 run (Basil kick) 10:27                  
NEB - Martinez 2 run (Maher kick) 5:38                     
OSU - Hyde 16 run (Basil kick) 0:48                        
 
                                    NEB      OSU
First downs ....................     21       19
Rushing ........................     10       13 
  Passing ......................      7        5 
  Penalty ......................      4        1 
Rushes-Yards (net) ............. 46-223   48-371
  Average per rush .............    4.8      7.7 
Passing yards (net) ............    214      127
  Att-Comp-Int .................25-15-3   14-7-0
Total offense plays-Yards ...... 71-437   62-498
  Average gain per play ........    6.2      8.0
Fumble returns-Yards ...........    0-0      0-0
Punt returns-Yards .............   2-49     3-77
Kickoff returns-Yards ..........  8-128     4-71
Interception returns-Yards .....    0-0     3-52
Punts-Average .................. 4-43.5   4-43.8
Fumbles-Lost ...................    2-1      3-1
Penalties-Yards ................   9-75     9-76
Possession time ................  31:52    28:08
Third-down conversions .........5 of 14  5 of 11
Fourth-down conversions ........ 2 of 2   1 of 2
Red-zone scores-chances ........    6-6      5-5
  Touchdowns ...................    5-6      5-5 
  Field goals ..................    1-6      0-5 
Sacks by-Yards .................    2-8     4-30

RUSHING
NEB: R.Burkhead 14-119; T.Martinez 18-40; A.Abdullah 7-28;
     B.Heard 5-24; I.Cross 1-13; TEAM 1-minus 1. 
OSU: B.Miller 16-186; C.Hyde 28-140; R.Smith 2-38;
     B.Buchanan 1-6; C.Brown 1-1.

PASSING
NEB: T.Martinez 15-25-3-214. 
OSU: B.Miller 7-14-0-127.

RECEIVING
NEB: K.Bell 5-133; J.Turner 3-24; B.Cotton 2-19;
     B.Heard 1-20; A.Abdullah 1-8; A.Janovich 1-5;
     Q.Enunwa 1-3; R.Burkhead 1-2.
OSU: C.Brown 3-35; J.Heuerman 2-53; N.Vannett 1-32;
     Z.Boren 1-7.

Attendance: 106,102