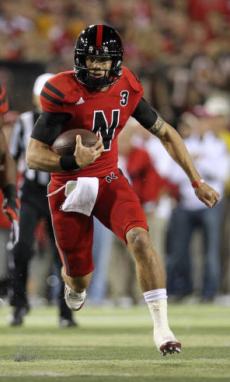 Courtesy of Huskers.com
COVERAGE
Stats & recap
Huskers Rally from 17 Down to Beat Badgers:
Nebraska made amends for a series of first-half miscues to match the second-biggest comeback in school history by rallying from a 17-point third-quarter deficit to notch a 30-27 victory over Wisconsin.
Brett Maher produced the winning margin with a 41-yard field goal field goal with 9:41 left. It capped a stretch of 20 unanswered NU points in a span of 14:37.
Full Huskers.com recap here
Omaha World-Herald
Lincoln Journal Star
More Neb. sources
Grand Island Independent
Daily Nebraskan
Hail Varsity
HuskerOnline
Wisconsin State Journal
More opponent sources
Milwaukee Journal-Sentinel
Badger Herald
Badger Nation
Wisconsin Athletics
National sources
Associated Press
ESPN.com
ESPN Big Ten Blog
CBSSports.com
BTN.com
Photos/Audio/Video
Pregame links & info
COMMENTARY
Sipple
"

It was a Bo moment. Let him have the moment. He earned it."

Steve Sipple*
Lincoln Journal Star
Shatel
"

Nebraska prevailed ... in a game that was about guts and poise and timely play-calling and play-making."

Tom Shatel*
Omaha World-Herald
Chatelain
"

Beating Wisconsin does not change Nebraska's deficiencies. ... But this rock is still skipping."

Dirk Chatelain*
Omaha World-Herald
Stryker
"

The whole team overcame adversity, but none more dramatically than Martinez."

Tad Stryker
HuskerMax
Oates
"

The true nature of the teams was exposed in the second half."

Tom Oates*
Wisconsin State Journal
Hamar
"

It was beautiful yet troubling at the same time. More of that maddening inconsistency."

Bob Hamar
Grand Island Independent
Callahan
"

Smart move by Terry Joseph to stick junior cornerback Ciante Evans on Wisconsin wide receiver Jared Abbrederis in the second half."

Sean Callahan
HuskerOnline
Whitney
"

Once Nebraska's offense stopped giving the Badgers short fields to score touch­downs on, Wisconsin couldn't move the ball."

Chris Whitney
KLIN
Husker Mike
"

Six fumbles – most unforced – by the Huskers made this game much closer than it should have been."

Husker Mike
Husker Mike's Blasphemy
Vogel
"

Then something strange happened. Nebraska stopped beating itself and started beating Wisconsin."

Brandon Vogel
Hail Varsity
Neely
"

Nebraska showed an amazing resiliency in getting off the mat when a knockout was close at hand."

Todd Neeley
Hastings Tribune


---
* Article may require subscription
---

Nebraska  30
Wisconsin  27
---
                  1    2    3    4   -  Final 
Wisconsin        14    6    7    0   -   27
Nebraska          3    7   17    3   -   30

1st quarter
WIS - Montee Ball 2 run (Jack Russell kick) 11:02
WIS - Ball 1 run (Russell kick) 7:20
NEB - Brett Maher 26 field goal, 5:29 
2nd quarter
WIS - Jared Abbrederis 29 pass from Joel Stave
     (kick failed), 11:50
NEB - Rex Burkhead 3 pass from Taylor Martinez 
     (Maher kick), 3:11
3rd quarter
WIS - Ball 2 run (Kyle French kick) 10:29
NEB - Martinez 38 run (Maher kick), 8:56 
NEB - Kyler Reed 10 pass from Martinez 
     (Maher kick), 3:47
NEB - Brett Maher 38 field goal, 0:55 
4th quarter
NEB - Brett Maher 41 field goal, 9:41
 
                                    WIS      NEB
First downs......................... 17       24
  By rushing ........................ 5       13
  By passing ........................ 9       10
  By penalty ........................ 3        1
Rushes-Yards (net) .............. 41-56   46-259
  Average per rush .................1.4      5.6
Passing yards (net) ............... 239      181
  Att-Comp-Int ................ 28-15-0  29-17-0
Total offense plays-Yards ...... 69-295   75-440
  Average gain per play ........... 4.3      5.9
Fumble returns-Yards .............. 0-0      1-6
Punt returns-Yards ............... 2-13     3-18
Punts-Average .................. 7-46.7   3-46.7
  Net yards per punt ............. 44.1     42.3
Fumbles-Lost ...................... 3-1      6-2
Penalties-Yards .................. 2-15     6-70
Possession time ................. 29:00    31:00
Third-down conversions ........ 4 of 15  5 of 13
Fourth-down conversions ........ 1 of 2   0 of 0
Red-zone scores-Chances ........... 3-3      5-5
  Touchdowns ...................... 3-3      2-5 
  Field goals ..................... 0-3      3-5
Sacks by-Yards ................... 1-10     3-35

RUSHING
WIS: M.Ball 32-90; M.Gordon 2-5; J.Abbrederis 1-4;
     TEAM 1-minus 5; J.White 1-minus 5;
     J.Stave 4-minus 33.
NEB: T.Martinez 13-107; R.Burkhead 18-86; A.Abdullah 10-70;
     B.Heard 2-1; TEAM 3-minus 5.

PASSING
WIS: J.Stave 12-23-0-214; D.O'Brien 3-4-0-25
NEB: T.Martinez 17-29-0-181.

RECEIVING
WIS: J.Abbrederis; J.Fredrick 3-27; K.Doe 2-25;
     C.Hammond 1-30; M.Gordon 1-8; D.Watt 1-7.
NEB: K.Bell 4-57; A.Abdullah 3-22; B.Cotton 2-36;
     K.Reed 2-21; Q.Enunwa 2-12; R.Burkhead 2-2;
     J.Turner 1-27; S.Osborne 1-4.

Attendance: 85,962
Dennis Hubbard