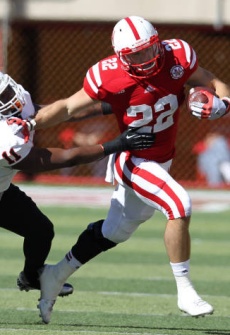 Courtesy of Huskers.com
COVERAGE
Stats & recap
Burkhead, Blackshirts blow by Bengals:
Rex Burkhead returned to spark a 35-point first quarter, and Nebraska's Blackshirt defense held Idaho State to minus-11 rushing yards through the first three quarters in a 73-7 win.
The 35-point first quarter marked NU's highest-scoring quarter since a school-record 38 first-quarter points against Baylor in 2000.
Burkhead unleashed a career-long 61-yard run on his third carry to put Nebraska up 7-0 just over three minutes into the game.
Full Huskers.com recap
Omaha World-Herald*
Lincoln Journal Star
More Neb. sources
Grand Island Independent
Hail Varsity
Daily Nebraskan
HuskerOnline
Corn Nation
Opponent & national sources
Idaho State Journal
Idaho State Athletics
Associated Press
Photos/Audio/Video
Pregame links & info
Bruce Thorson-US PRESSWIRE
COMMENTARY
Stryker
"

It is becoming obvious that Burk­head, Ameer Abdullah, Braylon Heard and Imani Cross are the workhorses that will fuel this team."

Tad Stryker
HuskerMax.com
Vogel
"

Hope everyone had fun because now things get real."

Brandon Vogel
Hail Varsity
Whitney
"

The opponents get much tougher, much bigger, much stronger from here on out."

Chris Whitney
KLIN
Shatel
"

Who invited the Pop Warner team? After the game, I suspect that the buses were taking them to the pizza party."

Tom Shatel*
Omaha World-Herald
Chatelain
"

Idaho State will be quickly forgotten by fans. ... But not one has walked in Kellogg's cleats."

Dirk Chatelain*
Omaha World-Herald
Sipple
"

Saturday was one of those kind of games – sort of fun, a bit relaxing, but nothing I'd ever pay to see."

Steve Sipple*
Lincoln Journal Star
Hamar
"

So what did all this teach us about Nebraska's chances in the Big Ten Conference? Not a thing."

Bob Hamar
Grand Island Independent
Husker Mike
"

Idaho State is probably a Division 2 calibre opponent."

Husker Mike
Husker Mike's Blasphemy


---
* Article may require subscription
---

Nebraska 73
Idaho State  7
---
                  1    2    3    4   -  Final 
Idaho State       0    0    0    7   -    7
Nebraska         35   10   21    7   -   73

1st quarter
NEB - Rex Burkhead 61 run (Brett Maher kick)
      11:41 
NEB - Ameer Abdullah 8 run (Maher kick) 8:31 
NEB - Quincy Enunwa 35 pass from Taylor 
      Martinez (Maher kick), 6:03  
NEB - Kenny Bell 68 pass from Martinez 
     (Maher kick) 3:37 
NEB - Ciante Evans 29 interception return
     (Maher kick), 2:52 
2nd quarter
NEB - Burkhead 2 run (Maher kick) 12:01
NEB - Maher 49 field goal, 0:41
3rd quarter
NEB - Abdullah 81 punt return (Maher kick) 12:19 
NEB - Steven Osborne 5 pass from Ron 
      Kellogg III (Maher kick) 8:52  
NEB - Braylon Heard 27 run (Maher kick) 5:25 
4th quarter
ISU - Luke Austin 28 pass from C.J. Reyes
     (Brendon Garcia kick), 12:31
NEB - Imani Cross 20 run (Maher kick) 8:11 

                           ISU        NEB
First downs ............... 14         26
  Rushing .................. 2         21
  Passing .................. 8          3
  Penalty .................. 4          2
Rushes-Yards (net) ..... 29-31     52-385
  Average per rush ....... 1.1        7.4
Passing yards (net) ...... 179        184
  Comp-Att-Int ....... 21-43-2    12-18-1
Total offense ......... 72-210     70-569
  Average gain per play .. 2.9        8.1
Fumbles-Lost ............. 2-1        2-2
Penalties-Yards ......... 5-40      9-104
Punts-Average ........ 10-31.8     2-34.5
Punt returns-Average ... 1-8.0     5-22.8
Interceptions-Yards ...... 1-1       2-29
Possession time ........ 30:07      29:53
Third-Down Conv. ..... 2 of 15    5 of 11
Fourth-Down Conv. ..... 0 of 2     0 of 0
Red-Zone Scores-Chances .. 0-1        5-5
  Touchdowns ............. 0-1        5-5
  Field goals ............ 0-1        0-5
Sacks by-Yards .......... 2-11       7-35

RUSHING
ISU: A.Prier 7-43; X.Finney 9-19; 
     B.Mitchell 1-2; CJ Reyes 3-1; 
     T.Davis 1-minus-1; K.Yost 8-minus-33
NEB: R.Burkhead 8-119; I.Cross 12-100; 
     B.Heard 7-74; A.Abdullah 8-49; 
     T.Martinez 7-15; C.Zimmerer 3-14;
     M.Marrow 3-7; A.Janovich 3-6; 
     B.Marsh 1-1

PASSING
ISU: K.Yost 16-34-2 123;
     CJ Reyes 5-9-0 56.
NEB: T.Martinez 9-13-0 165;
     R.Kellogg III 3-5-1 19.

RECEIVING
ISU: R.Rumble 6-39; L.Austin 5-79; 
     C.Richmond 3-24; D.Graves 3-12; 
     A.Prier 2-16; X.Finney 1-7; 
     B.Mitchell 1-2.
NEB: S.Osborne 3-18; K.Bell 1-68; 
     Q.Enunwa 1-35; R.Burkhead 1-25; 
     K.Reed 1-13; A.Janovich 1-8; J.Long
     1-6; J.Turner 1-6; B.Cotton 1-4;
     T.Evans 1-1.

Attendance: 84,923