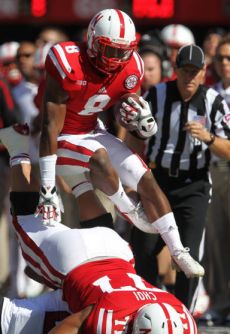 Courtesy of Huskers.com
COVERAGE
Stats & recap
Huskers run past Red Wolves:
Ameer Abdullah rushed for 167 yards and Taylor Martinez was nearly perfect through the air as NU notched a 42-13 win in a game that coach Bo Pelini left after halftime after feeling ill.
The Husker offense amassed 527 yards while the Blackshirts held Arkansas State to half the 574.5 yards the Red Wolves averaged entering the contest. Martinez completed 13 of 14 passes, a record-setting 92.9%.
Full Huskers.com recap here
Omaha World-Herald
Lincoln Journal Star
More Neb. sources
Grand Island Independent
Daily Nebraskan
Hail Varsity
HuskerOnline
ASU & national sources
Arkansas Sports360.com
ASU Athletics
Associated Press
ESPN.com blog
Photos/Audio/Video
Pregame links & info
Bruce Thorson-US PRESSWIRE
COMMENTARY
Stryker
"

This is one of those moments that you can build on – if you do it right."

Tad Stryker
HuskerMax
Hamar
"

The Husker defense responded remarkably well in the second half."

Bob Hamar
Grand Island Independent
Whitney
"

A wounded defense stepped up and the offense rolled along."

Chris Whitney
KLIN radio
Sipple
"

Anybody who really knows Pelini under­stands the last thing he would want is for any game to be about him."

Steve Sipple*
Lincoln Journal Star
Husker Mike
"

Let's face it; the defense really only gave up 3 points."

Husker Mike
Husker Mike's Blasphemy
Chatelain
"

The face of change for Nebraska's embattled defense … was a senior who, after a long road, may have finally found a home."

Dirk Chatelain*
Omaha World-Herald
Shatel
"

The head man left, but it was like he never left, because he taught his staff and team well."

Tom Shatel*
Omaha World-Herald
Vogel
"

The defensive stars may be gone for Nebraska but, this week at least, the sky didn't look totally black."

Brandon Vogel
Hail Varsity
Callahan
"

Maybe the thing that impressed the most about running back Ameer Abdullah's day was he got stronger as the game went on."

Sean Callahan
HuskerOnline
York
"

As tough as Bo Pelini is every day, Saturday marked that rare time when even he was forced to hit the pause button."

Randy York
Huskers.com


---
* Article may require subscription
---

Nebraska 42
Ark. State 13
---
                  1    2    3    4   -  Final 
Arkansas State    0    3   10    0   -   13
Nebraska         14   14    0   14   -   42

1st quarter
NEB - Ameer Abdullah 1 run (Brett Maher kick), 9:55
NEB - Kenny Bell 42 pass from Taylor Martinez 
     (Maher kick), 0:30
2nd quarter
ASU - Brian Davis 31 field goal, 13:00
NEB - Kenny Bell 25 pass from Taylor Martinez 
     (Maher kick), 9:29
NEB - Ameer Abdullah 2 run (Maher kick), 0:35 
3rd quarter
ASU - Shervarius Jackson recovered fumble in end zone 
     (Davis kick), 10:01
ASU - Brian Davis 32 field goal, 4:19 
4th quarter
NEB - Imani Cross 2 run (Maher kick), 12:50 
NEB - Martinez 18 run (Maher kick), 9:01 
 
                                  ASU        NEB
First downs ...................... 17         26
  By rushing ...................... 9         16 
  By passing ...................... 7          9 
  By penalty ...................... 1          1
Rushes-Yards (net) ........... 37-148     59-347
  Average per rush .............. 4.0        5.9
Passing yds (net) ............... 138        180
  Att-Comp-Int .............. 32-16-1    14-13-0
  Average per attempt ........... 4.3       12.9
Total offense plays-Yards .... 69-286     73-527
  Average gain per play ......... 4.1        7.2
Fumble returns-Yards ........... 2-34        0-0
Punt returns-Yards ............. 1-22       3-26
Kickoff returns-Yards .......... 3-77       3-49
Interception returns-Yards ...... 0-0        1-0
Punts-Average ................ 5-39.6     2-57.5
Fumbles-Lost .................... 2-1        5-4
Penalties-Yards ................ 6-39       4-34
Possession time ............... 22:28      37:32
Third-down conversions ...... 6 of 16   10 of 13
Fourth-down conversions ...... 0 of 2     0 of 0
Red-zone scores-Chances ......... 2-3        4-6
Sacks by-Yards ................. 2-23       3-12

RUSHING
ASU: R.Hayes 6-47; D.Oku 11-44; F.Jackson 8-32;
     R.Aplin 11-18; F.Knighten 1-7
NEB: A.Abdullah 30-167; I.Cross 7-66; B.Heard 10-54;
     T.Martinez 11-54; M.Marrow 1-6

PASSING
ASU: R.Aplin 16-30-0-138; F.Knighten 0-2-1-0
NEB: T.Martinez 13-14-0-180. 

RECEIVING
ASU: J.McKissic 8-73; C. McCants 2-26; D.Oku 2-11;
     R.Fleming 1-12; J.Jones 1-8; J.Jarboe 1-7;
     F.Jackson 1-1
NEB: K.Bell 3-71; Q.Enunwa 3-34; A.Abdullah 2-39;
     K.Reed 1-22; B.Cotton 1-6; J.Long 1-4;
     T.Allen 1-3; B.Heard 1-1  

Attendance: 85,290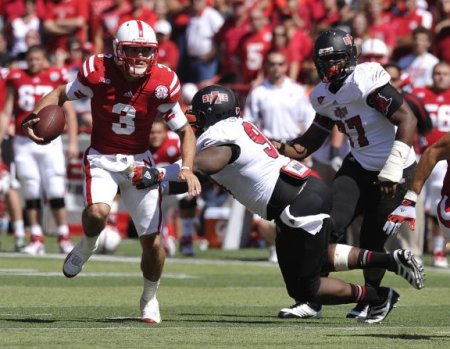 Dennis Hubbard photo