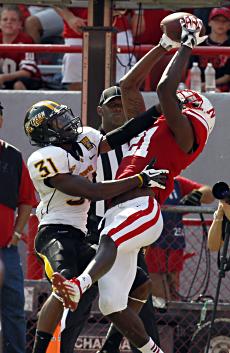 Bruce Thorson-US PRESSWIRE
COVERAGE
Stats & recap
Martinez's Career Passing Day Powers Huskers:
Taylor Martinez threw for a career-high 354 yards and five touchdowns to propel the No. 17 Nebraska football team to a 49-20 victory over defending Conference USA champion Southern Miss.
The Huskers rolled to 632 yards of total offense, including 278 rushing yards on 45 carries, despite losing All-Big Ten running back Rex Burkhead to injury in the first quarter.
Full Huskers.com recap here
Omaha World-Herald
Lincoln Journal Star
More Neb. sources
Grand Island Independent
Hastings Tribune
More Neb. sources II
Hail Varsity
HuskerOnline
Daily Nebraskan
Kearney Hub
Opponent sources
Hattiesburg American
Student Printz
USM Athletics
National sources
Associated Press
Sports Xchange
CBSSports.com
Pre-Snap Read:
Photos/Audio/Video
Pregame links & info
COMMENTARY
Stryker
"

Maybe this spread option can be Taylor Martinez's offense after all. It better be, since Burkhead could be unavailable for a while."

Tad Stryker, HuskerMax
Whitney
"

The defense still looked a little vulnerable, especially in the middle of the field."

Chris Whitney
KLIN
Vogel
"

It's possible [Martinez is] not just an uncommon talent. He might be an uncommon thinker too."

Brandon Vogel
Hail Varsity
Neeley
"

Hard to remember the last time Nebraska committed just two penalties and committed zero turnovers in a game."

Todd Neeley
Hastings Tribune
Sipple
"

Beck is like a toddler with toys spread all over the living room floor. Which one next?"

Steve Sipple*
Lincoln Journal Star
Chatelain
"

The competition will get better. Nebraska must, too. Especially on defense."

Dirk Chatelain*
Omaha World-Herald
Shatel
"

There are a lot of weapons in this offense. And, suddenly, a director under center with a ton of confidence."

Tom Shatel*
Omaha World-Herald


---
* Article may require subscription
---

Nebraska 49
Southern Miss 20
---
                     1    2    3    4   -  Final 
Southern Miss        7   10    0    3   -   20
Nebraska            14   14   14    7   -   49

1st quarter
NEB - Rex Burkhead 57 run (Brett Maher kick) 13:42 
NEB - Kenny Bell 26 pass from Taylor Martinez 
     (Maher kick) 7:07
USM - Tracy Lampley 100 kickoff return (Corey Acosta kick) 6:54
2nd quarter
USM - Dominique Sullivan 24 pass from Chris Campbell
     (Acosta kick) 13:09
NEB - Jake Long 9 pass from Martinez (Maher kick) 9:16 
USM - Acosta 45 field goal, 1:44
NEB - Steven Osborne 29 pass from Martinez (Maher kick) 1:03 
3rd quarter
NEB - Kyler Reed 18 pass from Martinez (Maher kick) 7:36 
NEB - Braylon Heard 10 run (Maher kick) 2:44 
4th quarter
USM - Acosta 37 field goal, 13:03
NEB - Ameer Abdullah 11 pass from Martinez (Maher kick) 7:47 

                               USM       NEB
First downs ................... 20        33
  By rushing .................. 15        15
  By passing ................... 4        17
  By penalty ................... 1         1
Rushes-Yards (net) ........ 47-185    45-278
Passing yards (net) ........... 75       354
  Comp-Att-Int ............ 7-19-0   26-34-0
Total offense ............. 66-260    79-632
Punt returns-Yards ........... 0-0      3-41
Kickoff returns-Yards ...... 2-121      4-98
Punts-Avg ................. 5-41.6    1-21.0
Fumbles-Lost ................. 1-1       0-0
Penalties-Yards ............. 4-35      2-30
Possession time ............ 28:22     31:38
Third-down conversions ...... 7-14     12-15
Red-zone scores-chances ...... 1-1       4-5
Sacks by-Yards ............... 1-8      3-17

RUSHING
USM: A.Alford 15-84; D.Johnson 8-50; J.Hester 8-28;
     J.Richard 4-14; R.Lloyd 4-5; J.Sims 1-2;
     Tyre Bracken 2-2; C.Campbell 5-0
NEB: A.Abdullah 15-81; R.Burkhead 3-68; I.Cross 11-62;
     B.Heard 3-34; M.Marrow 4-15; T.Martinez 6-10; 
     K.Bell 1-7; C.Zimmerer 1-4; J.Turner 1-minus-3

PASSING
USM: C.Campbell 6-12-0 69; A.Alford 1-5-0 6; R.Lloyd 0-2-0 0
NEB: T. Martinez 26-34-0 354

RECEIVING
USM: T.Lampley 2-27; J.Hester 2-14; D.Johnson 2-10;
     D.Sullivan 1-24
NEB: Q.Enunwa 6-70; K.Reed 5-57; A.Abdullah 4-39; J.Long 3-41;
     J.Turner 2-46; S.Osborne 2-36; K.Bell 1-26; T.Evans 1-26;
     T.Wullenwaber 1-8; B.Cotton 1-5

Attendance: 85,425