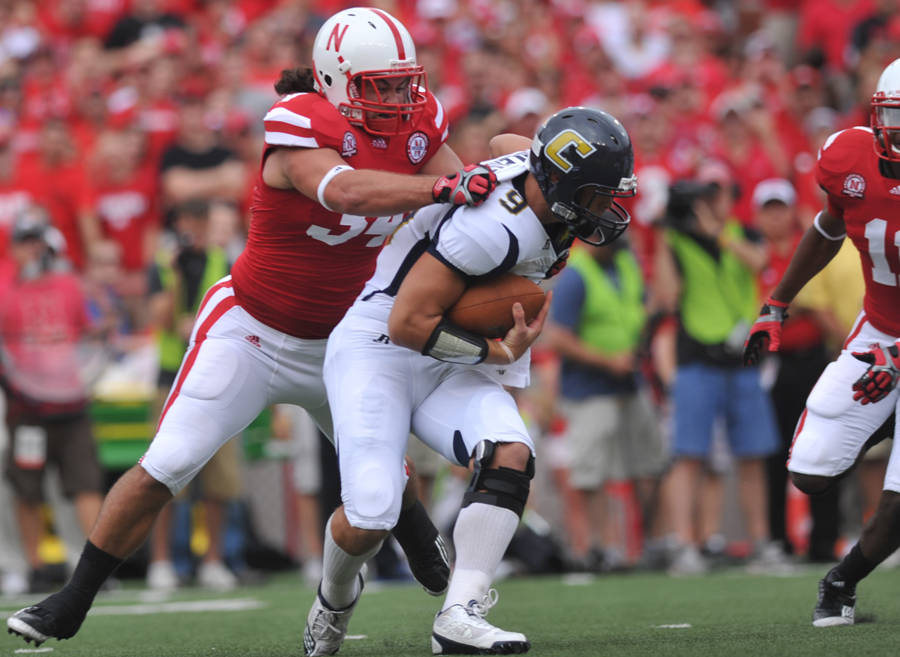 Cameron Meredith registered two QB sacks
|
Dean Jacobs photo
Nebraska 40
Cha
t

tanooga 7

Sept. 3,

2011

– 2:30 p.m. CDT – Memorial Stadium, Lincoln

Big Ten Network – Get the game on

DVD
---
                  1    2    3    4   -  Final
Chattanooga       0    0    7    0   -    7
Nebraska         10   13   17    0   -   40

1st quarter
NEB - Taylor Martinez 7 run (Brett Maher 
      kick) 10:08
NEB - Maher 50 field goal, 1:52
2nd quarter
NEB - Maher 48 field goal, 10:11
NEB - Martinez 43 run (Maher kick) 2:07
NEB - Maher 34 field goal, 0:10
3rd quarter
UTC - Marlon Anthony 13 pass from B.J. 
      Coleman (Nick Pollard kick) 11:43
NEB - Maher 21 field goal, 8:30 
NEB - Rex Burkhead 3 run (Maher kick) 7:28
NEB - Martinez 47 run (Maher kick) 6:08
  
                             UTC      NEB
First downs ................. 13       18
  By rushing ................. 5        8
  By passing ................. 7        7
  By penalty ................. 1        3
Rushes-Yards (net) ....... 31-60   43-229
Passing yards (net) ........ 170      135
  Att-Comp-Int ......... 36-22-1  25-12-0
Total offense ........... 67-230   68-364
Fumble returns-Yards ....... 1-3      0-0
Punt returns-Yards ......... 2-6     5-69
Kickoff returns-Yards .... 6-115      1-0
Int. returns-Yards ......... 0-0      1-1
Punts-Average ........... 9-41.9   4-52.0
Fumbles-Lost ............... 2-0      4-2
Penalties-Yards ........... 8-76     3-33
Possession time .......... 32:21    27:39
Third-down conv. ....... 6 of 18  9 of 18
Fourth-down conv. ....... 0 of 1   1 of 1
Red-zone scores-Chances .... 1-2      4-4
Sacks By: Number-Yards...... 1-5     3-24
 
RUSHING
UTC: M.Green 7-37; T.Tyson 4-15; J.Jackson
     5-15; C.Awuah 10-13; T.Green 1-5; 
     TEAM 1-minus 1; B.Coleman 3-minus 24
NEB: T.Martinez 19-135; R.Burkhead 11-75;
     B.Heard 3-12; A.Green 2-7; J.Turner 
     1-4; A.Abdullah 4-1; T.Legate 1-1; 
     B.Carnes 2-minus 6

PASSING
UTC: B.Coleman 19-33-1-174;
     G.Nichols 3-3-0-minus 4
NEB: T.Martinez 11-22-0-116;
     R.Burkhead 0-1-0-0;
     B.Carnes 1-1-0-19; TEAM 0-1-0-0

RECEIVING
UTC: J.Bradford 4-47; C.Awuah 4-43; 
     F.Shafaat 4-34; M.Green 3-8; J.Veres
     2-17; M.Anthony 1-13; J.Jackson 1-4;
     S.Allison 1-4; T.Robinson 1-1; 
     T.Hudson 1-minus 1
NEB: Q.Enunwa 4-58; B.Kinnie 2-7; 
     B.Cotton 1-27; J.Turner 1-19; K.Reed
     1-13; S.Jean-Baptiste 1-7; T.Marlowe
     1-3; B.Heard 1-1

Attendance: 84,883
Commentary
•
Stryker
: "There was plenty about the offense that did not go as advertised."
•
Neeley
: "Nebraska's offense still doesn't have a lot to hang its hat on."
•
Bishop
: "I just don't know if this is the style of offense Martinez is best suited to run."
•
Sipple
: "Running the option requires finesse and a certain feel. Can Martinez develop it?"
•
Jarecke
: "Were you expecting more than vanilla this week?"
•
Shatel
: "It's the first year of a new scheme. Beck is a rookie calling plays. You do the math."
•
Severe
: "If there was an MVP of the game it might be Brett Maher."
•
Husker Mike
: "The new offense was stymied by a rather ineffective performance by the offensive line."
•
Calvin Jones
: "Stafford made some big hits and made me bring my roster out of my pocket to see who he was."