Nebraska 33


Arizona 0


Dec. 30, 2009 — 7:06 p.m. CST, ESPN
Holiday Bowl
San Diego, CA | Order the game on DVD

---
                    1   2   3   4   - Final 
Arizona             0   0   0   0   -   0
Nebraska           10  13  10   0   -  33



1st quarter
NU - Zac Lee 4 run (Alex Henery kick), 13:45 
NU - Alex Henery 47 field goal, 8:53
2nd quarter
NU - Rex Burkhead 5 run (Alex Henery kick), 11:57
NU - Alex Henery 50 field goal, 8:25
NU - Alex Henery 41 field goal, 0:35
3rd quarter
NU - Alex Henery 22 field goal, 10:07
NU - Niles Paul 74 pass from Zac Lee
    (Alex Henery kick), 3:39

                                     UA       NU
FIRST DOWNS...................        6       19
NET YARDS RUSHING.............       63      223
  Rushing Attempts............       20       48
NET YARDS PASSING.............       46      173
  Completions-Attempts-Int....  10-31-1  13-25-0
TOTAL OFFENSE YARDS...........      109      396
  Total offense plays.........       51       73
Fumbles-Lost..................      1-0      0-0
Penalties-Yards...............     2-25     7-55
Punts-Average.................   9-41.6   4-35.5
Punt Returns-Average..........  1-(-1.0)  3-15.0
Kickoff Returns-Average.......   7-21.1   1-49.0
Interceptions-Yds-TD..........    0-0-0   1-37-0
Possession Time...............    21:48    38:12
Third-Down Conversions........  3 of 15  9 of 18
Fourth-Down Conversions.......   1 of 2   0 of 0
Red-Zone Scores-Chances.......      0-1      3-3
Sacks By-Yards................      0-0     2-20

RUSHING
UA: K. Antolin 11-69; N. Grigsby 4-8; M. Scott 1-4;
    J. Criner 1-1; N. Foles 3-(-19) 
NU: Rex Burkhead 17-89; Zac Lee 18-65; Niles Paul 1-20;
    Cody Green 5-18; Lester Ward 2-14; Roy Helu Jr. 3-8;
    Dontrayevous Robinson 1-6; Austin Jones 1-3

PASSING
UA: N. Foles, 6-20-1, 28 yds, 0 TDs;
    M. Scott 4-11-0, 18 yds, 0 TDs
NU: Zac Lee 13-23-0, 173 yds, 1 TD;
    Cody Green 0-2-0, 0 yds, 0 TD

RECEIVING
UA: D. Dean 3-24; K. Antolin 2-12; J. Criner 2-2;
    N. Grigsby 2-0; T. Turner 1-8
NU: Niles Paul 4-123; Mike McNeill 3-19; Rex Burkhead 2-14;
    Brandon Kinnie 2-12; Curenski Gilleylen 1-3;
    Chris Brooks 1-2

Attendance: 64,607



Coverage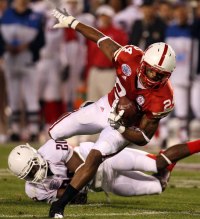 Photo courtesy of Huskers.com


Commentary
•

Stryker

: "

If you're a Husker fan who's more than 30 years of age, you got the definite feeling that you'd seen something like this before, and you couldn't stop smiling.

"

•

McKewon

: "

The Blackshirts evoked memories of those days of heaven, the mid-1990s.

"

•

Chatelain

: "

The Huskers stored up three weeks of anger and dumped it on hapless Arizona.

"

•

McKeever

: "

Arizona's hope of turning this thing into struggle-for-yardage slugfest was derailed in the early going thanks in large part to the creativity of NU offensive coordinator Shawn Watson.

"

•

Shatel

: "

The Husker offense looked like, well, an offense.

"

•

York

: "

The Huskers found … something they will need to make a serious run for a national championship in 2010 – some real, honest-to-goodness offensive swagger.

"

•

Sipple

: "

The offseason just got much more pleasant for offensive coordinator Shawn Watson.

"

•

Hansen

: "

The Holiday Bowl came off as a game between the Big 12 and the Little One.

"

•

Canepa

: "

Hear tell Arizona spent upward of $30,000 on throwback white helmets. … White flags would have been much cheaper – and appropriate.

"