First half seals fate of the Irish
Nebraska 27,
Notre Dame 10
by Ed Howard
Nebraska StatePaper
September 08, 2001
LINCOLN -
For those who believe that the score is all that matters, it was: Nebraska 27, Notre Dame 10.
That was the score. But a story goes with it. And it's a good one. It's a story about tradition; what it is, and what it is not.
Tradition is terrific. It is not, however, a substitute for a sustained block, or a tackle that rattles the other guy's teeth. Nor is it a substitute for a couple of rules that coaches like to mention. One goes something like: "You have to play 60 minutes of football, offense and defense." The other says: "Mistakes will kill you."
The Fighting Irish of Notre Dame might have brought traditions like the Ghost of Rockne and the blessings of Touchdown Jesus to Memorial Stadium with them Saturday when they faced Nebraska. What they didn't bring was enough good, fundamental football to stand up to the Cornhuskers in the first half. In the second half, they were able to shut down Nebraska's offense, but the Irish were as inconsistent as weather on the Great Plains when they had the ball. And even when luck was with them, they weren't up to cashing in on it. Not in either half. And mistakes were abundant: Four turnovers, via two lost fumbles and two interceptions.
So, tradition didn't overcome an insufficient effort. It never does.
Something else should be noted, too. It hasn't been glorified in print or glamorized on the big screen like the greatest gridiron days of Notre Dame, but Nebraska has a tradition of its own.
Traditionally, Nebraska wins at home. And, quite often, Nebraska kicks butt at home.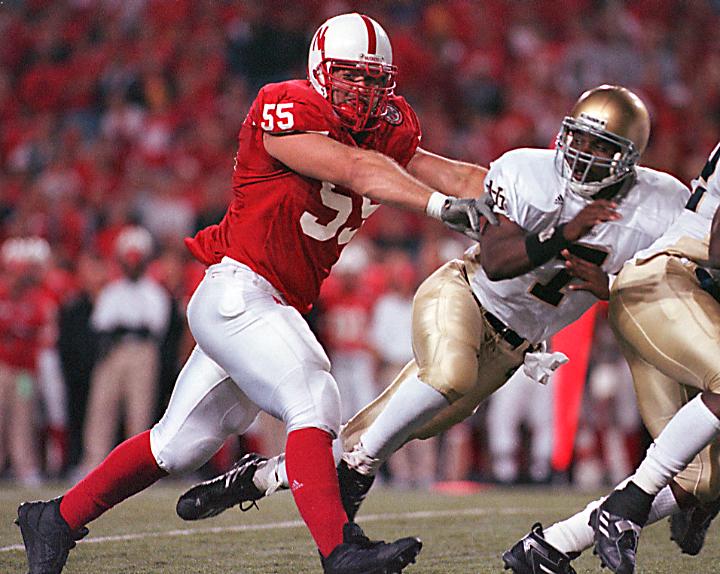 Nebraska StatePaper
Husker nose tackle Jon Clanton helped to throttle the Notre Dame offense
And on this breezy autumnal night, before a record crowd of 78,118 souls and a national television audience of millions, it looked, for a while, like Nebraska would give the Fightin' Irish an ol' fashioned Cornhusker butt kicking.
Fortunately for Notre Dame, the Huskers were out of sync several times themselves, especially in the second half, and fell on their own backsides when they could have put more points on the board, and more bumps on those Gaelic behinds.
But for the record, the win lifted Nebraska to a 3-0 record. It was the Huskers' 16th consecutive home victory. It was the season opener for Notre Dame. It was also NU's second consecutive, regular-season win over the Irish. Nebraska defeated ND in overtime last year, 27-24.
One might surmise that, on this night, the Ghost of Rockne was no match for the reality of this being the 57th birthday of Nebraska Coach Frank Solich, nor for the fact that his players knew that, on Sunday, Solich would head to Pennsylvania and a memorial service for his recently deceased father. Whatever the reasons, NU came out "up," and it looked from the get-go that Notre Dame was going down.
Nebraska shocked the fumbling, stumbling Irish with two touchdowns and a field goal in the first quarter, and the No. 5 Cornhuskers went on to take a 27-3 halftime lead over the 17th-ranked Irish.
Notre Dame began to find its feet in the second period, sort of, and got on the board with a 29-yard field goal by Nick Setta.
The Huskers won the opening toss. Things went downhill from there for Notre Dame. The best breaks the Irish got were a couple of fumbles by NU quarterback Eric Crouch. Notre Dame didn't take advantage.
Starting on their 36, the Huskers needed just nine plays to march the 64 yards to their first touchdown. I-back Dahrran Diedrick scored on a two-yard run. Diedrick had gains of 12 and 13 yards in the drive.
At that point, luck seemed on the side of the Huskers. Nebraska recovered a fumble by tailback Terrance Howard on Notre Dame's first play from scrimmage.
NU took over at the Irish 22. On the very next play, Crouch threw a 22-yard TD pass to wingback Josh Gibson. It was the first touchdown pass of the year for Crouch.
Nebraska 14, Notre Dame 0. And the game still wasn't five minutes old. The clock read: 10:19.
Notre Dame punted on its next possession, but immediately regained the ball, at the Nebraska 34, on a Crouch fumble. Notre Dame couldn't stand success any more than Nebraska. The Irish wound up attempting a punt. The snap sailed high and wide enough to be mistaken for a field goal attempt in the opposite direction. Nebraska took over at the Notre Dame 8 yard line but was forced to settle for a Sandro DeAngelis field goal from the 19.
Nebraska 17, Notre Dame 0. There were just under four minutes left on the first-period clock.
Nebraska then took a turn at choking on its own prosperity. NU's DeJuan Groce intercepted a Matt LoVecchio pass and returned it 40 yards to the Notre Dame 11. Crouch fumbled the ball on the next play and Notre Dame recovered, but didn?t capitalize.
The Irish mounted a 64-yard drive midway through the second quarter, eventually finding their way to the NU seven yard line. The drive stalled and Setta booted the field goal.
Judd Davies later set NU up on the Notre Dame 49 with a brilliant punt return. Diedrick scored his second touchdown nine plays later, going over from three yards out.
DeAngelis closed out Nebraska's first-half scoring with a 27-yard field goal with only seconds remaining.
It looked grim for the successors of the Gipper. Nebraska had run 37 plays for 200 yards of total offense - net. NU had claimed 112 yards rushing and 88 yards passing. On the other hand, the most one could say for the Notre Dame offense in the first half was that it was balanced - 23 yards rushing and 20 yards passing.
Whatever happened in the contestants' respective locker rooms at halftime, it will never be compared to any of those Rockne, or Devaney or any other speeches that have been credited with firing up a team for the second half. Not offensively, anyway.
Notre Dame's defense came to life, holding Nebraska to just 70 yards for the entire second half. It's true that Solich clearly pulled the reins back and stuck with low-risk play calling - but the Huskers didn't quit trying. They just couldn't move the Irish with the plays they chose to throw at them.
If any given quarter of college football can be described as having a personality, one would say that the third period of this game was mostly a dullard, generally lacking in grace and, for the most part, inept. Each team wasted its share of opportunities. Notre Dame seemed to catch itself making progress toward the Nebraska goal early on, but stopped itself when quarterback Carlyle Holiday tossed a pass that was intercepted at the Nebraska five yard line by NU's Willie Amos.
Nebraska couldn't do much with the ball, either. Finally, however, Notre Dame closed out the period with a flash. Shane Walton blocked a Nebraska punt and the Irish had the ball on Nebraska's four yard line. The third quarter had been scoreless and frustrating, but it ended with a bang.
Thus began the fourth quarter, and Notre Dame's hope for a revival. There was a sprinkling of rain. Might they "shake down the thunder from the skies," or something?
It took 'em four tries, but Notre Dame finally scored a touchdown on a 1-yard plunge by tailback Tony Fisher. Four plays, four yards.
Nebraska 27, Notre Dame 10.
And that was it. No more thunder. Certainly no lighting. Not from either side.
That early, fourth-period score for the Irish didn't seem to generate a sense that Notre Dame was on the verge of roaring back into contention. It was more a question of: Will Nebraska screw this up? And if it does, how bad will Nebraska screw this up?
Notre Dame's defensive line seemed to get tougher in the fourth quarter. Interesting, since the fourth period is usually when those traditionally big, superbly conditioned Nebraska linemen have the other guys huffing and puffing and giving up the kind of yards that eat up the clock.
As it turned out, after Notre Dame scored, the game reverted to what seemed like a replay of the third quarter. Back and forth, but not too far.
Nebraska Coach Bob Davie previously said that a lot of credit comes with beating a good team, but a loss is just a loss. No one seems to care that a good contest against a good team represents a good effort, regardless of the score. He's probably right. The degree of his correctness might be reflected in the next ESPN/USA Today coaches poll, and the AP's poll of writers and broadcasters.
Notre Dame plays at Purdue next week.
Nebraska will host Rice.

 
For more Nebraska news and Husker stories, visit Nebraska StatePaper. Reprinted with permission.