1996 Tostitos Fiesta Bowl: Nebraska 62, Florida 24
Huskers Post Perfect Back-to-Back National Championships
Tempe, Ariz., Jan. 2, 1996 – The Nebraska Cornhuskers entered Tempe on a mission – to become the first school in 40 years to post perfect back-to-back national championship seasons. Only one other team had accomplished that feat – Oklahoma in 1955 and 1956.
Nebraska, ranked No. 1 and 11-0 on the season, brought to the table a powerful option offense, which ranked first in rushing (399.8 ypg), second in total offense (556.3 ypg), first in scoring (52.4 ppg) and averaged 156.5 yards in the air. To win, the Huskers would need to shut down No. 2 Florida's "Fun and Gun" system. The Gators were 12-0 on the season having won the SEC title. They ranked second nationally in passing (360.8 ypg). fourth in total offense (534.4 ypg), third in scoring (44.5 ppg) and averaged 173.6 yards on the ground. The systems, coaches, players and schools were as different as night and day. Defensively, NU ranked second against the rush, 13th in total defense and fourth in scoring defense, while Florida ranked 13th and 15th in scoring and pass efficiency defense, respectively.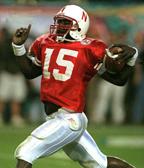 Husker quarterback Tommie Frazier, who hailed from Palmetto, Fla., saw his team lose 18-16 to Florida State in the 1993 national championship game. With two fourth-quarter TDs, he led Nebraska to the school's third national title in a 24-17 win over Miami in the 1995 Orange Bowl. Now he would have a shot at another win over a home-state school. Frazier rushed for 604 yards and 14 TDs and passed for 1,352 yards and 17 TDs in 1995 and held school records for total offense yards (5,476) and TDs (79). His counterpart, Danny Wuerffel, had passed for 3,255 yards in 1995 alone with 35 TDs and an NCAA record in passing efficiency (178.4). Frazier and Wuerffel finished second and third in the Heisman race behind Ohio State's Eddie George.
Only two undefeated and untied teams remained and they were set to square off on the evening of Jan. 2 in Sun Devil Stadium. The entire country was anxious to see if Nebraska's "Bump and Run" defense could keep up with the "Fun and Gun" and whether Florida could stop the nation's premier rushing force.
The result was a 62-24 total dismantling of Florida and it didn't take long. For a quarter, it looked as if it would be a ball game. Two lead changes occurred and Florida led 10-6 after one period. But Nebraska scored 29 unanswered points in the second quarter, much to the delight of the more than 40,000 red-clad fans. The 29 points were the most ever scored in the second quarter of a bowl game.
After scoring Nebraska's first TD in the first quarter on a 16-yard swing pass from Tommie Frazier, Lawrence Phillips began the second-quarter barrage with an impressive Sunday-type run for a 42-yard score. The Husker defense picked up momentum on the next series, when consecutive penalties sent Florida back to its own four yard line. Wuerffel was sacked, first by Terrell Farley, who narrowly missed a safety. On the next play, Jamel Williams flew in untouched and hit Wuerffel for the two points. It wouldn't be the last time the defense would score. Following the ensuing free kick, Nebraska marched 51 yards to set up Ahman Green's 1-yard score. A three-and-out series for Florida led to Kris Brown's 25-yard field goal. Then on the fourth play of the Gators' next drive, Michael Booker picked off a Wuerffel pass and returned it 42 yards for a TD. Wuerffel was sacked twice more on the ensuing drive which forced Florida to punt again. A 33-yard pass from Frazier to Brendan Holbein set up Kris Brown's 24-yard field goal, giving the Huskers a 35-10 lead at intermission.
While the Gators were known for putting up big points fast, Nebraska came out for the second half, determined to put the game away. Each team stalled on two series to begin the third quarter and exchanged interceptions. Then Nebraska's Eric Stokes picked off a Wuerffel pass at the NU 32. Six plays later, Frazier broke up the middle untouched on a 35-yard TD run to give the Huskers a 42-10 cushion. Florida struck back with a five-play scoring drive that saw Wuerffel hit Ike Hilliard for the Gators' only passing TD. NU took over on its own 20-yard line and on the second play from scrimmage, Frazier put an exclamation point on the scoreboard with an incredible 75-yard run. Frazier broke at least seven tackles and drag two Florida defenders several yards before shaking free on the NU sideline. He was touched 10 times, but on "The Run" and on that night, Frazier was virtually unstoppable.
The score was 49-18 going into the fourth quarter. Husker free safety Tony Veland picked off a long Wuerffel pass on Florida's first drive. After Nebraska went three and out, Reidel Anthony fumbled the Huskers' only punt into the arms of Holbein. Nebraska quickly followed with another score by Phillips, a 15-yard run. Eric Kresser tried his hand at the helm of the Gators, but went 3-7 on his first series. Nebraska reserves took the field and scored the last TD with 4:31 remaining, when quarterback Brook Berringer scored on a 1-yard run. Anthony returned the ensuing kickoff 93 yards for the last Gator score, but on the conversion try, Kresser was sacked by Jared Tomich, who knocked the ball loose. Christian Peter picked it up, and ran it to the opposite end zone, hoping for two more defensive points, unaware that the whistle had blown the play dead. The young Husker backups drove to the 1 -yard line, before quarterback Matt Turman dropped to a knee to ride out the time.
Final Score: Nebraska 62, Florida 24. The 38-point margin of victory between a No. 1 and No. 2 team was the second largest ever (Army 48, Notre Dame 0, 1945). The 62 points set a Nebraska and Fiesta Bowl record and was the second most ever in a bowl game.
After the game, Coach Tom Osborne confirmed what everyone in attendance knew, when he said, "There is still a place in college football for a running quarterback." Indeed, Frazier rushed for 199 yards on 16 carries and two TDs. He averaged 12.4 every time he ran the ball. His yards were Nebraska and Fiesta Bowl records for most yards rushing and was an NCAA bowl record for most yards rushing by QB. He also completed 6-14 passes for 105 yards, with one TD and two interceptions. For the third consecutive year, Frazier was named the bowl MVP with 304 yards of total offense and three scores. Phillips also rushed for more than 100 yards, (25-165 yards, two TDs) marking the first time in bowl history Nebraska had two 100-yard rushers in a game. True freshman Ahman Green totaled 68 yards and a score on nine carries.
The Husker rushing attack totaled an NCAA bowl-record 524 yards. Nebraska's 629 yards in total offense were also a Husker record. Nebraska averaged 7.7 yards every time it ran the ball and 7.6 per play, compared to Florida's -1.3 and 4.6, respectively.
The Husker defense was responsible for nine points, sacked Wuerffel seven times, picked off three passes, recovered a fumble and limited the Gators to a minus-28 yards rushing, the second lowest total in UF history and the least allowed by the Huskers in a bowl game and a Fiesta Bowl record. The Gators had just 269 yards of total offense, 14 in the fourth quarter. Florida's plan to pick on the opposite corner of All-Big Eight Tyrone Williams backfired. Left cornerback Michael Booker, who had the touchdown interception, broke up a Fiesta Bowl and NCAA bowl record three passes, had four tackles and was named the defensive MVP. Farley was the team's leading tackier with eight stops, broke up a pass and had two of the Fiesta Bowl record seven sacks.
The win extended Nebraska's winning streak to 25 games and bettered the NCAA record for most wins in a three-year span. With only the 18- 16 fall to Florida State in the 1994 Orange Bowl in its loss column, Nebraska posted a 36-1-0 three-year record.
Source: 1996 Nebraska Football Media Guide