Nebraska 59
Kansas 23
Nov. 9,
1991
Lawrence, KS

Nebraska     0   17   14   28  - 59 
Kansas      17    3    3    0  - 23

First Quarter
KU: FG Dan Eichloff 19, 9:47 
KU: Dwayne Chandler 50 pass from Chip Hilleary (Eichloff kick) 6:00 
KU: Hilleary 34 run (Eichloff kick) 2:15
Second Quarter
NU: Calvin Jones 3 run (Byron Bennett kick) 11:15.
NU: FG Bennett 47, 8:54
NU: Jones 47 run (Bennett kick) 5:09
KU: FG Eichloff 21, 0:23
Third Quarter
NU: Jones 9 run (Bennett kick) 8:46
NU: Jones 1 run (Bennett kick) 3:57
KU: FG Eichloff 52, 0:01
Fourth Quarter
NU: Jones 68 run (Bennett kick) 14:44
NU: Jones 12 run (Bennett kick) 10:41
NU: George Achola 31 run (Tom Sieler kick) 4:20
NU: Achola 15 run (Sieler kick) 0:34

Attendance: 40,000 (est.)

Weather: clear, 44 deg., wind SE 18-22 mph

                       NU          KU
First downs            32          15
Rushes-yards       60-490      35-145
Passing yards         103         210
Returns-yards        2-16        1-32
Passes            12-20-0     11-26-2
Sacks by             3-14         0-0
Punts-average        3-18        5-38
Fumbles-lost          1-0         0-0
Penalties-yards       1-5        4-35
Possession time     33:47       26:13

INDIVIDUAL LEADERS
RUSHING
NU: Jones 27-294, Derek Brown 13-75, Achola 6-61, Keithen McCant 8-43.

KU: Tony Sands 11-56, Monte Cozzens 10-49.

PASSING
NU: McCant 9-17-0-71,
    Mickey Joseph 3-3-0-32.
KU: Hilleary 11-25-1-210.

RECEIVING
NU: Nate Turner 4-35.
KU: Kenny Drayton 6-86.

Missed field goals:
NU: Bennett 47.
KU: none.

INTERCEPTIONS
NU: Kenny Wilhite 2-16.
KU: none.

TACKLES (UT-AT-TT)
NU: Steve Carmer 7-5-12, Pat Engelbert 4-7-11, Travis Hill 3-7-10.
KU: Doug Terry 6-5-11, Paul Friday 5-3-8, Tim Hill 5-3-8

SACKS
NU: Curtis Cotton 1, Jamie Liewer 1, David White 1. 
KU: none.

Complete individual stats


Embed from Getty Images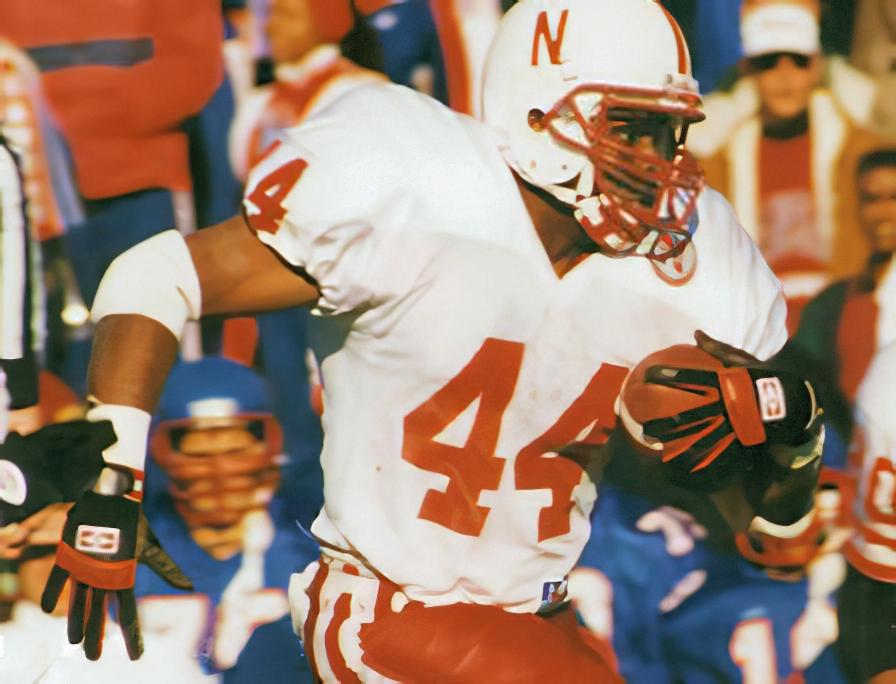 Photo courtesy of Nebraska Athletics
Official recap
Things couldn't have looked much darker for 11th-rated (AP) Nebraska than they did early in the second quarter at Kansas' Memorial Stadium. The Cornhuskers trailed the upstart Jayhawks, 17-0, and star I-back Derek Brown had just gone to the bench for good because of blurred vision.
But then along came Jones.
Redshirt freshman I-back Calvin Jones charged off the bench to rewrite the Nebraska and Big Eight record books and ignite the Huskers to a 59-23 victory that kept them unbeaten in the Big Eight at 4-0-1 and raised their season record to 7-1-1. When it was over, Jones had rushed for a Nebraska record of 294 yards on 27 carries, and scored a Big Eight-record six touchdowns for another record of 36 points - all in less than three quarters of play.
Jones broke the old NU rushing record of 285 by Mike Rozier against Kansas in 1983, and tied the school record for touchdowns in a game originally done by Bill Chaloupka against Doane in 1907 and tied by Harvey Rathbone against Peru State and Haskell in 1911. In those days, touchdowns counted only five points, so Jones' 36 points were a school record.
Jones' six TDs broke the modern-day Big Eight record of five. The Husker rookie also had a 4-yard pass reception, giving him 298 all-purpose yards, breaking the old NU record of 289 by Rick Berns vs. Missouri in 1978.
Jones scored on runs of 3, 47, 9, 1, 68 and 12 yards, and it was his third TD, with 8:46 left in the third quarter that finally put NU ahead, 24-23. His final TD made it 45-23 with 10:41 left in the game and boosted his rushing total to 276 yards. He returned for the next series, alternating with No. 3 I-back George Achola. He carried once for 8 yards, then lost 2, before breaking the record with a 6-yard run up the middle and adding another 6-yard gain just to make sure.
The performance was all the more remark­able because KU went into the game ranked 14th nationally in total defense at 284 yards per game.
NOTES: Jones' 294 yards were the second-most ever for a freshman in NCAA history … For a school-record third straight game, Nebraska did not have a turnover … The loss dropped Kansas to 2-3 in the Big Eight, 5-4 overall … It was the Huskers' 23rd-straight win over the Jayhawks.
Quote of the game: "We don't normally make concessions to records, but this was special. We wanted to make sure he got it." - Nebraska Coach Tom Osborne
OMAHA WORLD-HERALD
SALINA JOURNAL: 1, 2
LAWRENCE JOUNRAL-WORLD: 1, 2
LINCOLN JOURNAL STAR: 1, 2, 3
ASSOCIATED PRESS
UNITED PRESS INTERNATIONAL
DRIVE SUMMARIES
GAME ON YOUTUBE
 
SERIES HISTORY
SEASON STATS
NU ROSTER