Nebraska 63
Missouri 6
Oct. 26,
1991
Lincoln, NE

Missouri      3    3    0    0   -  6
Nebraska     21   21   14    7   - 63

First Quarter
MIZ: FG Jeff Jacke 42, 11:36
NEB: Jon Bostick 27 pass from Keithen McCant (Byron Bennett kick) 8:57
NEB: McCant 36 run (Bennett kick) 4:19
NEB: Derek Brown 5 run (Bennett kick) 0:51
Second Quarter
MIZ: FG Jacke 47, 11:31
NEB: Johnny Mitchell 7 pass from McCant (Bennett kick) 5:51
NEB: Calvin Jones 5 run (Bennett kick) 3:07
NEB: Tyrone Hughes 21 pass from McCant (Bennett kick) 0:12
Third Quarter
NEB: Brown 5 run (Bennett kick) 8:14
NEB: Scott Baldwin 1 run (Tom Sieler kick)  2:02
Fourth Quarter
NEB: George Achola 7 run (Sieler kick) 9:04

Attendance: 76,244
                        MU           NU
First downs             16           32
Rushes-yards         32-77       68-511
Passing yards          184          170
Returns-yards         2-11         7-35
Passes             17-35-2      13-19-0
Sacks by               0-0         4-21
Punts-average         7-39         4-45
Fumbles-lost           3-1          1-0
Penalties-yards       4-32         5-36
Possession time      25:02        34:58

INDIVIDUAL LEADERS
Rushing:
Missouri, Michael   Washington 11-48.
Nebraska, McCant 9-124, Brown 18-118, Achola 7-58, Jones 10-51, Lance Lewis 2-41.

Passing:
Missouri, Phil Johnson 15-29-1-169.
Nebraska, McCant 9-13-0-144, Mickey Joseph 3-5-0-19.

Receiving:
Missouri, Kenneth Dunn 4-69, Jerome Madison 3-30.
Nebraska, Mitchell 3-36.

Missed field goals: none.

Interceptions:
Missouri, none.
Nebraska, Kenny Wilhite 1-17, Lorenzo Brinkley 1-0.

Tackles (UT-AT-TT):
Missouri, Tom Reiner 7-5-12, Sharron
Washington 5-4-9, Maurice Benson 4-4-8, Mario Johnson 4-4-8.
Nebraska, Mike Anderson 3-6-9, Steve Carmer 3-4-7, Curtis Cotton 1-5-6.

Sacks:
Missouri, none.
Nebraska, Ryan Barry 1, Terry Connealy 1, Greg Fletcher 1, Travis Hill 0.5, John Parrella 0.5.

Weather: overcast, 50 degrees, wind N 5 mph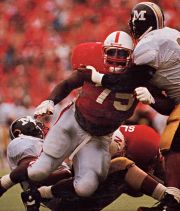 Official recap
Although it didn't look like it in the opening minutes, things were back to normal in Memorial Stadium as ninth-rated (AP) Nebraska smashed Missouri, 63-6, to set up a Big Eight showdown at Colorado the following Saturday.
Like what Kansas State had done in the previous week's nail-biter, Mizzou stopped Nebraska on its first offensive possession, then drove deep into Husker territory to take a 3-0 lead on Jeff Jacke's 42-yard field goal.
But, unlike K-State, which battled NU all the way to the end in a 38-31 loss, the Tigers were never in it again. Nebraska roared to three touchdowns for a 21-3 lead at the end of the first quarter, and averaged 13.5 yards per offensive play in the three drives. The Huskers went on to score touchdowns on eight consecutive possessions and handed Missouri its fifth-worst loss ever.
By halftime Nebraska had a 42-6 lead, with 398 total-offense yards, and the Huskers went on to accumulate 681 in the game, including 511 on the ground.
Quarterback Keithen McCant had 268 total yards before a shoulder bruise sidelined him early in the third quarter. McCant completed nine of 13 passes for 144 yards and three scores while rushing for a career-high 124 yards and a TD on nine carries. He would win Big Eight offensive player-of-the-week honors.
I-back Derek Brown chipped in 118 yards and two TDs on 18 carries to extend his string of 100-yard games to seven, the third-longest in Husker annals.
The option series was open all day for Nebraska. Through the first three quarters, NU ran outside 19 times for 211 yards, averaging 11.1 yards per play.
The Huskers had six touchdown drives of at least 60 yards, with five of over 70 yards and two over 80.
The defense, meanwhile, held Missouri's 25-point-a-game offense without a touchdown. The Blackshirts yielded 261 yards and forced three turnovers, all of which turned into touchdowns.
Notes: It was Nebraska's 13th straight win over Missouri dating to a 35-31 loss in Lincoln in 1978 … The Huskers used a season-high 109 players … I-back Scott Baldwin returned to action for the first time since suffering knee and ankle injuries while scoring the Huskers' first TD of the season against Utah State; he carried five times for 28 yards but dislocated a shoulder on a 1-yard TD run in the third quarter … Mizzou fell to 1-2 in the Big Eight, 3-3-1 overall.
Quote of the game: "The option was pretty much there whenever we wanted it." - Nebraska quarterback Keithen McCant.
ASSOCIATED PRESS
OMAHA WORLD-HERALD
 
SERIES HISTORY
SEASON STATS
NU ROSTER