Nebraska 56
Minnesota 0
Sept. 22,
1990
Lincoln, NE
Minnesota    0   0   0   0  -   0 
Nebraska    14  28  14   0  -  56

First Quarter
NU - Derek Brown 7 run (Gregg Barrios kick) 9:05
NU - Mickey Joseph 4 run (Barrios kick) 5:15
Second Quarter
NU - Joseph 1 run (Barrios kick) 14:23
NU - Jon Bostick 27 pass from Joseph (Barrios kick) 12:33
NU - Chris Garrett 1 pass from Joseph (Barrios kick) 8:12
NU - George Achola 3 run (Barrios kick) 4:19
Third Quarter
NU - Brown 21 pass from Joseph (Barrios kick) 10:37
NU - Brown 2 run (Barrios kick) 3:28

                     UM       NU
First downs           8       35
Rushes-yards      31-43   79-433
Passing yards        63      131
Returns-yards      4-17     7-89
Passes           5-19-1   8-13-2
Sacks by            0-0     5-42
Punts-average      9-36     2-37
Fumbles-lost        2-2      3-1
Penalties-yards    7-55     3-30 
Time of poss.     22:40    37:20

RUSHING
MIN: Mark Smith 11-33, Al Settembrino 2-23
NEB: Achola 16-123, Brown 21-120, 
     Omar Soto 7-41.

PASSING 
MIN: Marquel Fleetwood 3-12-145, 
     Scott Schaffner 2-6-0-18;
NEB: Joseph 7-11-1-117,
     Keithen McCant 1-2-1-14.

RECEIVING 
MIN: Kevin Grant 2-18, John Lewis 1-21.
NEB: Brown 2-30, Brad Devall 1-30.

MISSED FIELD GOALS 
None

INTERCEPTIONS 
MIN: Frank Jackson 1-17, Martin Mathis 1-0.
NEB: Jon Crippen 1-0.

TACKLES (UT-AT-TT)
MIN: Jackson 6-3-9, William Collins 4-5-9,
     Sean Lumpkin 3-6-9.
NEB: Pat Tyrance 3-3-6, Matt Penland 4-0-4,
     Mike Croel 2-2-4, Curtis Cotton 1-3-4.

SACKS
MIN: none
NEB: Engelbert 2-13, Travis Hill 1.5-9.5,
     Croel 1-11, Greg Koellner 1-9, Penland
     1-1, Mike Petko 1-1, Tyrance 1-1, 
     Mike Anderson 0.5-4.5.

Attendance: 76,354.

Weather: Partly cloudy, 65, wind NW 25-35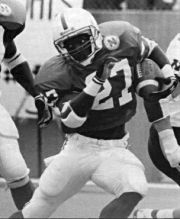 Official recap
Nebraska dominated from start to finish as the eighth-ranked Cornhuskers rolled past long-time foe Minnesota, 56-0.
The Cornhuskers, 3-0, scored on six of their first seven possessions to build a 42-0 halftime lead and, in the process, ran up 22 first downs to five for the 1-2 Gophers, and out-yarded the visitors, 379-66.
Quarterback Mickey Joseph led the offensive charge as he made his second consecutive start. Joseph enjoyed his best passing performance to date, hitting on seven of 11 passes for 117 yards and three touchdowns while rushing 10 times for 32 yards and two scores. The five total-offense touchdowns were just one off the school record.
With regulars Leodis Flowers (knee) and Scott Baldwin (turf toe) held out with injuries, Derek Brown became the first freshman to start at I-back for Nebraska in 16 years and responded with 120 yards and two touchdowns on 21 carries. It was the second-best freshman rushing performance in the Husker record books, and he also became the first NU I-back to catch a touchdown pass in three seasons when he hauled in a 21 yarder from Joseph early in the third quarter. Junior I-back George Achola got his first significant playing time and came up with a game-high 123 yards and a touchdown on 16 carries.
"Our line is coming together," Joseph said. "You can tell that by the yards per carry being over seven per. And you can tell by the way all our backs did well today. I'm no better and the backs are no better than the guys up front."
Despite the offensive superlatives, the Husker defense's performance may have been even more impressive. In recording their second shutout in three games, the Blackshirts gave up just eight first downs and 106 total-offense yards, and never allowed the Gophers to advance beyond their 45-yard line.
"Shutouts are confidence builders, no matter what the situation," said NU defensive coordinator Charlie McBride. "Still, we've talked to our players about not knowing how good your defense is until the end of the year. I don't think they'll get to thinking they're good. We made enough mistakes today to to solve that problem. But if this gets to be a habit, this is good."
"We had it in hand so completely so early," Husker Coach Tom Osborne said. "I can't remember a game against a major-college opponent where we were in as good a shape early as we were."
Nebraska used 104 players, including six quarterbacks, in winning its 16th-straight home game, its 17th-straight nonconference home win. The Huskers scored in their 200th consecutive game, extending their Big Eight record, and did it before their 171st consecutive home sellout, extending their NCAA record.
OMAHA WORLD-HERALD
ASSOCIATED PRESS
VAN CLIBURN PERFORMANCE: 1, 2

SERIES HISTORY
SEASON STATS
NU ROSTER