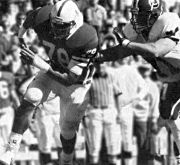 Official recap
South Carolina scored twice within four minutes to take a 21-13 lead in the third quarter, but the Gamecocks netted only 9 offensive yards after that and second-ranked Nebraska rallied to post a 30-21 win.

The rally started with an 18-play, 96-yard, 9:01 drive in which quarterback Steve Taylor was lost to a shoulder injury. The go-ahead touchdown was set up by a Gamecock fumble, then Mark Blazek's late interception set up the clinching field goal.

Keith Jones rushed for 129 yards and was named Big Eight offensive player of the week.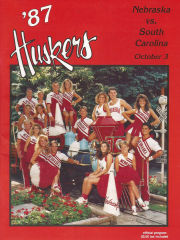 Nebraska 30
South Carolina 21
Oct. 3,
1987
Lincoln, NE
South Carolina    0   7  14   0  -  21
Nebraska          3  10   0  17  -  30

First Quarter
NU - FG Chris Drennan 27, 8:37
Second Quarter
NU - FG Drennan 36, 3:14
SC - Ryan Bethea 35 pass from Todd Ellis
    (Collin Mackie kick), 2:00
NU - Richard Bell 78 pass from Steve 
     Taylor (Drennan kick) 1:12 
Third Quarter
SC - Sterling Sharpe 80 pass from Ellis
    (Mackie kick) 11:18
SC - Bethea 17 run (Mackie kick) 7:27
Fourth Quarter
NU - Keith Jones 3 run (Jones run failed) 9:58
NU - Jones 4 run (Jones run) 7:38
NU - FG Drennan 43, 2:07

A-76,061

                         SC         NU
First downs ............ 18         24
Rushes-yards ...... 22-(-14)    68-268
Passing yards ......... 256        138
Returns-yards ........ 3-17       4-72
Passes ............ 17-36-3     7-17-2
Sacks by ............. 3-17       6-53
Punts-avg. ........... 5-39       4-38
Fumbles-lost .......... 2-1        1-1
Penalties-yards ...... 6-31      10-93
Time of possession .. 20:12      39:48

RUSHING
SC: Harold Green 6-18, Bethea 2-14, 
    Sharpe 1-3, Brown 1-1, Bing 1-(-4), 
    Ellis 11-(-46)
NU: K. Jones 25-129, Micah Heibel 15-82, 
    Bell 2-15, Knox 5-15, Clark 2-13, 
    Sheppard 1-12, Carpenter 2-5, Taylor 
    13-1, Clete Blakeman 3-(-4)

PASSING
SC: Ellis 17-36-3-256
NU: Taylor 6-16-2-130, Blakeman 1-1-8-0

RECEIVING
SC: Bethea 4-66, Sharpe 3-87, Danny Smith
    3-44, Green 2-22, Andrews 2-16, White
    2-9, Brown 1-12
NU: Rod Smith 4-52, Bell 1-78, Hawkins 
    1-4, Sheppard 1-4

MISSED FIELD GOALS: None