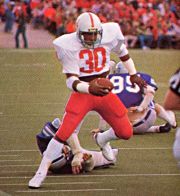 Official recap
Sparked by sophomore I-back Mike Rozier's 93-yard touchdown run, the Huskers rolled to their second-straight Big Eight win—a 49-3 romp at Kansas State which saw the Big Red pile up 674 yards' total offense, while holding the Wildcats to 136. The performance gave Nebraska two-game figures of 1,393 yards on offense and 282 yards on defense.
Rozier finished the day with 153 yards on just nine carries, while quarterback Turner Gill had another outstanding day, completing 10 of 14 passes for two touchdowns, and rushing 14 times for 72 yards.
Steve Willis' 33-yard third-quarter field goal provided Kansas State's only points as the Husker defense did not give up a touchdown for a third-straight game.

Nebraska 49
Kansas State 3
Oct. 17,
1981
Manhattan, KS
Nebraska        14   14   0   21  -  49 
Kansas State     0    0   3    0  -   3

1st quarter
NEB - Jamie Williams 23 pass from Turner
      Gill (Kevin Seibel kick)
NEB - Williams 13 pass from Gill (Seibel
      kick) 
2nd quarter
NEB - Mike Rozier 93 run (Seibel kick) 
NEB - Mark Moravec 2 run (Seibel kick) 
3rd quarter
KSU - FG Steve Willis 33 
4th quarter
NEB - Irving Fryar 49 pass from Mark 
      Mauer (Seibel kick)
NEB - Fryar 9 run (Seibel kick)
NEB - Bruce Mathison 1 run (Seibel kick)

                        NEB       KSU 
First downs              34         8 
Rushes-yards         62-451     39-86 
Passing yards           223        50 
Return yards             38         5 
Passes              13-19-1    5-12-1 
Punts                1-46.0   11-41.2 
Fumbles-lost            8-3       3-0 
Penalties-yards        4-31      5-49 
Time of possession    32:10     27:50

INDIVIDUAL LEADERS
Rushing
NEB: Rozier 9-153, Gill 14-72, Roger 
     Craig 13-59, Doug Wilkening 4-49, 
     Tim Brungardt 7-46, Moravec 7-40.
KSU: Barton Hundley 13-43, Kilisimasi
     Toluao 4-27.

Passing
NEB: Gill 10-14-0-141, Mauer 3-3-0-82.
KSU: Darrell Ray Dickey 4-9-1-51.

Receiving
NEB: Williams 3-51, Craig 3-30, Mitch 
     Krenk 2-38, Anthony Steels 2-24.
KSU: Mike Cox 1-22, Eric Mack 1-12.

Attendance: 44,915