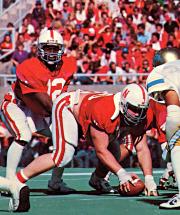 Official recap
The Huskers, who had had four weeks of uncertainty regarding the starting quarterback situation, suddenly found all questions answered when sophomore Turner Gill got his first start. He responded by completing nine of 14 passes for 178 yards and a school-record-tying four touchdowns, and guiding the Big Red to 719 yards' total offense and an NCAA-record 42 first downs in a 59-0 romp over Colorado in the Big Eight opener.
With Gill at the controls, Nebraska scored on its first three possessions and rolled to a 38-0 halftime lead. The Huskers added three more scores in the third quarter, then coasted to the win.
The game also marked the starting debut for Mike Rozier at I-back and the first shutout of the season for the Black Shirt defense. Rozier, who alternated the rest of the season with Roger Craig, rushed for 95 yards and scored two TDs, while the defense held the Buffs to 146 yards of total offense and nine first downs.

Nebraska 59
Colorado 0
Oct. 10,
1981
Lincoln, NE
Colorado        0    0    0    0  -   0 
Nebraska       14   24   21    0  -  59

NU - Mike Rozier 3 run (Kevin Seibel kick)
NU - Anthony Steels 15 pass from Turner 
     Gill (Seibel kick)
NU - Rozier 5 run (Seibel kick)
NU - Phil Bates 9 pass from Gill (Seibel
     kick)
NU - Todd Brown 45 pass from Gill (Seibel
     kick)
NU - FG Seibel 37
NU - Brown 38 pass from Gill (Seibel kick)
NU - Bates 9 run (Seibel kick)
NU - Mark Moravec 11 run (Tim Hagerman
     kick)

                          CU       NU 
First downs                9       42 
Rushes-yards          40-107   74-541 
Passing yards             39      178 
Return yards               0       50 
Passes                4-15-2   9-16-0 
Punts                 8-46.0   2-36.5 
Fumbles-lost             0-0      5-1 
Penalties-yards         3-18     6-71 
Time of possession     26:27    33:33

INDIVIDUAL LEADERS
Rushing
 CU: Rich Johnson 11-64, Derek Singleton
  13-41. 
 NU: Roger Craig 11-96, Rozier 11-95, 
  Bates 7-53, Bruce Mathison 7-53, Gill 
  6-46, Moravec 7-46, Steels 4-44, Tim 
  Brungardt 8-43, Bill Patterson 2-21.
 
Passing
 CU: Randy Essington 4-15-39.
 NU: Gill 9-14-0-178.

Receiving
 CU: Vic James 1-17, Dave Hestera 1-10.
 NU: Steels 3-45. Brown 2-83, Craig 2-25.
 
A-76,168