Nebraska 35
Iowa State 0
Nov. 15,
1980
Ames, IA
Nebraska       7   7  14   7  - 35 
Iowa State     0   0   0   0  -  0

First Quarter
NU: Jeff Quinn 1 run (Kevin Seibel kick) 11:14  
Second Quarter
NU: Mike Mandelko recovered Joe Brown fumble in end zone (Seibel kick) 2:28  
Third Quarter
NU: Quinn 1 run (Seibel kick) 6:09  
NU: Tim McCrady 22 pass from Quinn (Seibel kick) 3:49  
Fourth Quarter
NU: Roger Craig 3 run (Siebel kick) 6:46

                         NU      ISU 
First Downs..............21       12 
Rushing Net..........68-334    48-89 
Passing Net..............34       41 
 Comp-Att-Int........3-10-0    3-8-1 
Total Offense........78-368   56-130
Punts ...............4-36.3   7-40.4
Fumbles-Lost .......... 6-3      6-6
Penalties-Yards ...... 4-40     4-36

LEADING NU RUSHER
 Andra Franklin-104 yards on 10 carries.

LEADING NU PASSER
 Jeff Quinn-3-10 for 34 yards and 1 TD.

ATTENDANCE: 52,942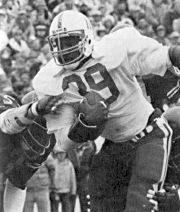 Official recap
After leading only 14-0 at the half, Nebraska added 21 second half points to shut out Iowa State 35-0.
The Huskers only led 7-0 but with 2:28 left in the first half, Nebraska's Scott Gemar punted to the ISU five yard line, where it was caught and returned by ISU's Tom Brown. Brown was hit by several Huskers and fumbled back into the end zone, where it was recovered for a touchdown by Mike Mandelko, to give NU its 14-0 halftime lead.
The Huskers tallied three more times in the second half to wrap it up - Jeff Quinn's one yard run; Tim McCrady's 22 yard pass from Quinn and a three yard run by Roger Craig.
The Blackshirts held ISU to 12 first downs, 89 yards rushing and 130 total yards. The NU defense limited Cyclone star running back Dwayne Crutchfield to only 69 yards on 20 carries.
OMAHA WORLD-HERALD
ASSOCIATED PRESS
UNITED PRESS INTERNATIONAL
 
SERIES HISTORY
SEASON STATS
NU ROSTER