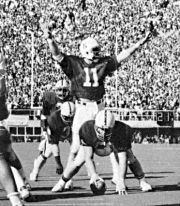 Jeff Quinn quiets the crowd
before Nebraska's final play
Official recap
Nebraska saw its hopes for an undefeated season fall just three yards short, as Florida State withstood a dramatic last ditch Husker drive, to hang on to an 18-14 victory.
After building a 14-3 halftime lead, the Huskers fell behind 18-14 due mostly to three key NU turnovers. But the Huskers had a chance to win as they drove to the FSU three yard line with just :12 remaining. But quarterback Jeff Quinn was hit as he rolled left by linebacker Paul Piurowski and he fumbled. The ball was recovered by FSU's Gary Futch.
I-back Jarvis Redwine, who rushed for 145 yards on 25 carries, suffered broken ribs late in the fourth quarter and was lost to the Huskers two weeks.

NOTABLE: Husker fans' spontaneous ovation for the Seminoles after the game started a tradition that lives on today and prompted a letter from FSU coach Bobby Bowden.
OMAHA WORLD-HERALD
SPORTS ILLUSTRATED
LAKELAND LEDGER
EVENING INDEPENDENT
UPI | AP
HAIL VARSITY
LYELL'S CALL
 
SERIES HISTORY
SEASON STATS
NU ROSTER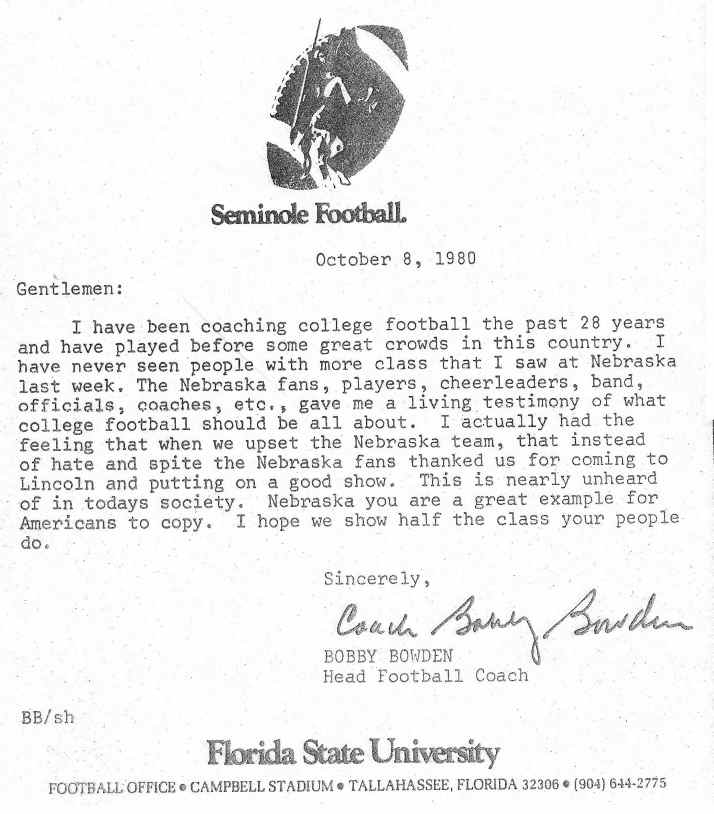 Florida State 18
Nebraska 14
Oct. 4,
1980
Lincoln, NE
Florida State    0   3  12   3  -  18 
Nebraska         7   7   0   0  -  14

First Quarter
NEB - Todd Brown 8 pass from Jeff Quinn
     (Kevin Seibel kick), 1:54
FSU - Bill Capece 32 field goal, 0:54
Second Quarter
NEB - Brown 12 pass from Quinn (Seibel
      kick), 6:30
Third Quarter
FSU - Capece 27 field goal, 10:49  
FSU - Sam Platt 6 run (pass failed) 5:17  
FSU - Capece 40 field goal, 1:16
Fourth Quarter
FSU - Capece 41 field goal, 2:37 

                         FSU        NU 
First Downs...............15        21 
Rushes-Net yds.........40-12    39-201 
Passing Net..............154       167 
 Comp-Att-Int. ......15-26-0   15-30-2 
Total Offense............166       368
Return Yards..............33         2
Fumbles-lost.............2-1       4-2
Penalties-Yards.........2-22      6-67

RUSHING
FSU: Platt 20-48
NEB: Redwine 25-145, Franklin 6-23

PASSING
FSU: Stockstill 15-25-154
NEB: Quinn 15-30-167

RECEIVING
FSU: P Williams 3-62, Whiting 6-41
NEB: Brown 4-51, Noonan 2-48

ATTENDANCE: 76,152