Nebraska 21
Penn State 7
Sept. 26,
1980
State College, PA
Nebraska       7   7   7   0   -  21 
Penn State     0   7   0   0   -   7

First Quarter
NU: Quinn 1 run (Seibel kick) 5:55  
Second Quarter
PS: Redwine 3 run (Neil kick) 6:51 
PS: Warner 3 run (Menhardt kick) 4:06
Third Quarter
NU: Redwine 1 run (Seibel kick) 5:55

                          NEB      PSU
First Downs................13       13
Rushing Net............69-287    40-33
Passing Net...............158      119
 Comp-Att-Int.........12-17-0   7-21-3
Total Offense..........86-445   61-156
Punts-Avg ............ 8-38.2   6-44.3
Fumbles-Lost ............ 7-4      5-3
Penalties-Yds .........10-141     2-10

LEADING NU RUSHER:
 Jarvis Redwine-189 yards on 34 carries

LEADING NU PASSER:
 Jeff Quinn-12-17 for 158 yards

ATTENDANCE: 84,587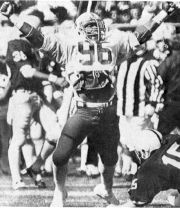 Official recap
Playing in front of the largest crowd to see a football game at Penn State and a national television audience, Jarvis Redwine and the Huskers continued to drive towards higher national rankings as they slugged out a tough 21-7 victory over the Nittany Lions.
Redwine rushed for 189 yards to increase his national rushing lead, but this was a day that belonged to the defense. Led by blitzing ends Derrie Nelson and Jimmy Williams, the Blackshirts dropped Lion quarterbacks Jeff Hostetler and Todd Blackledge nine times for 89 yards in losses. The Penn State ground game was limited to only 33 net yards rushing, and the constant pressure by the NU forward wall forced seven turnovers, which thwarted any comeback for the Lions.
Offensively, the Huskers were again led by Redwine, who carried the ball a career-high 34 times and scored twice.
OMAHA WORLD-HERALD
UNITED PRESS INTERNATIONAL
ASSOCIATED PRESS
HAIL VARSITY
SPORTS ILLUSTRATED
HUSKERS.COM
GAME ON YOUTUBE
AP PREGAME
 
SERIES HISTORY
SEASON STATS
NU ROSTER