Official recap
Quarterback Randy Garcia came off the bench in the fourth quarter to throw two touchdown passes to rally Nebraska from a 17-7 fourth-quarter deficit to a 21-17 win over North Carolina in the 19th annual Liberty Bowl.

Garcia, who replaced starter Tom Sorley, first hit wing­back Curtis Craig with a 10-yard touchdown pass (a sensational diving catch) with 10:51 left to cut the Husker deficit to 17-14, then threw a 34-yard scoring pass to Tim Smith with 3:16 left in the game to cap a rally that frustrated UNC's upset hopes.

The Tar Heels drew first blood early in the second quarter on a 12-yard scoring pass from Matt Kupec to tight end Brooks Williams. Then, after the Huskers had tied the game at 7-7 on a 15-yard touchdown run by fullback Dodie Donnell, Kupec threw a 10-yard scoring pass to fullback Bob Loomis late in the half, giving North Carolina a 14-7 halftime lead.

Carolina upped its lead to 17-7 late in the third quarter on a 47-yard field goal by Tom Biddle, and the Tar Heels appeared to have the game well in control until Garcia's heroics brought NU back.


H'MAX NOTES: George Andrews' 19 total tackles set a Liberty Bowl record that still stands. ... Nebraska was the only team to score more than 14 points against the 1977 Tar Heels, who led the nation in scoring defense in the regular season (7.4 ppg). ... NU's TD drives covered 64, 74 and 57 yards. The Huskers drove to the UNC 6 yard line at the end of the first half but came away with no points. ... Nebraska completed just 44.8 percent of its passes during the regular season but was 14-for-17 (82.4 percent) in this game. ... UNC tailback "Famous" Amos Lawrence left the game after injuring an ankle in the second quarter. ... North Carolina finished 8-3-1.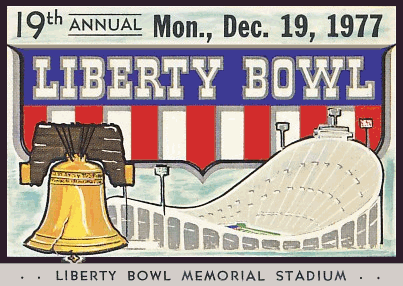 Nebraska 21
North Carolina 17
Dec. 19, 1977
Memphis, TN
Nebraska          0    7   0   14  -   21
North Carolina    0   14   3    0  -   17

First Quarter
UNC: Brooks Williams 12 pass from Matt Kupec (Tom Biddle kick) 13:52
NEB: Dodie Donnell 15 run (Billy Todd kick) 11:00
UNC: Bob Loomis 10 pass from Kupec (Biddle kick) 3:11
Third Quarter
UNC: FG Biddle 47, 4:17
Fourth Quarter
NEB: Curtis Craig 10 pass from Randy Garcia (Todd kick) 10:51
NEB: Tim Smith 34 pass from Garcia (Todd kick) 3:16


Attendance: 49,456

                          NEB      UNC
First downs .............. 21       17
 By rushing .............. 11       10
 By passing ............... 9        6
 By penalty ............... 1        1
Net yards rushing ....... 206      169
 Attempts ................ 52       55
 Yards gained ........... 231      213
 Yards lost .............. 25       44
Net yards passing ....... 161       93
 Comp-Att-Int ....... 14-17-0   8-13-1
Total offense  ....... 69-367   68-262
Int. returns-Yds ........ 1-1      0-0
Punts-Average ........ 3-37.0   3-40.3
Punt returns-Yds ...... 3-(-2)     l-0
Kickoff returns-Yds .... 4-71     3-61
Times penalized-Yds .... 2-10     5-35
Fumbles-lost ............ 4-2      3-2




NEBRASKA

RUSHING    Att.      Net     TD     Long
Berns        7       38       0       11
Hipp        18       52       0        8
Sorley       8       21       0       14
Donnell      9       59       1       17
Craig        1        5       0        0
Anthony      6       39       0       12
Garcia       3       -8       0        1
TOTALS      52      206       1       17

PASSING    Att. Com. Int.  Yds  TD  Long
Sorley      13   11    0   105   0    22
T. Smith     1    0    0     0   0     0
Garcia       3    3    0    56   2    34
TOTALS      17   14    0   161   2    34

RECEIVING   No.     Yds      TD     Long
Craig        4       53       1       19
T. Smith     4       78       1       34
Berns        2        9       0        5
Hipp         2        6       0        3
Miller       1        3       0        3
Spaeth       1       12       0       12
TOTALS      14      161       2       34

PUNTING     No.     Yds     Avg.    Long
T. Smith     3      111      37       37

RETURNS     Punts     Kickoffs       Int
Brown       2-(-2)       0-0         0-0
DuFresne    0-0          1-13        0-0
Craig       0-0          3-58        0-0
Wurth       1-0          0-0         0-0
Cotton      0-0          0-0         1-1
TOTALS      3-(-2)       4-71        1-1

DEFENSE      T     A     FR    PBU    BK
Anderson     1     1      0     1      0
Valasek      2     3      0     0      0
Pillen       0     3      0     0      0
Carpenter    2     3      0     0      0
Kunz        11     7      0     1      0
Vering       5     5      0     0      0
Hansen       1     0      0     0      0
Weinmaster   9     2      1     0      0
Davis        1     0      0     0      0
Cotton       3     4      0     0      0
Lee          1     2      0     0      0
Poeschl      4     3      0     0      0
DuFresne     1     0      0     0      0
Pensick      5     2      1     0      0
Young        0     1      0     0      0
Andrews     10     9      0     0      0
Barnett      1     2      0     0      0
Samuel       6     6      0     0      0
Sims         2     0      0     0      0
Fischer      1     1      0     1      0
Rick         0     1      0     0      0
TOTALS      66    55      2     3      0


NORTH CAROLINA

RUSHING    Att.      Net     TD     Long
Collins      2         8      0        4
Lawrence     8        35      0       13
Kupec       14        -3      0       16
Paschall    16        77      0       28
Loomis       8        33      0        6
Johnson      6        16      0        6
Lee          1        -2      0       -2
TOTALS      55       169      0       28

PASSING    Att. Com. Int.  Yds  TD  Long
Kupec       11    7    1    75   2    16
Lawrence     1    1    0    18   0    18
Lee          1    0    0     0   0     0
TOTALS      13    8    1    93   2    18

RECEIVING   No.     Yds      TD     Long
Williams     4       44       1       18
Paschall     1       16       0       16
Loomis       1       10       1       10
Finn         1       16       0       16
Collins      1        7       0        7
TOTALS       8       93       2       18


PUNTING     No.     Yds     Avg.    Long
Elam         3      121     40.3      48

RETURNS     Punts     Kickoffs       Int
Collins      1-0         0-0         0-0
Powell       0-0         3-61        0-0
TOTALS       1-0         3-61        0-0




DEFENSE      T     A     FR    PBU    BK
Menapace     3     4      0     1      0
Cale         3     1      0     0      0
Caldwell     7     4      0     0      0
Winters      5     1      0     0      0
Dowdy        4     4      0     0      0
Gay, B.      6     4      1     0      0
Curry        8    10      0     1      0
Rhames       4     3      0     0      0
Broadway     3     4      0     0      0
Hardison     7     3      0     0      0
Lancaster    2     0      0     0      0
Simmons      7     5      0     0      0
Sheets       2     1      0     0      0
Biddle       1     0      0     0      0
McDaniels    1     7      0     0      0
Taylor       1     0      0     0      0
Mack         1     0      0     0      0
Donnalley    1     0      0     0      0
Duncan       1     1      0     0      0
Mabry        0     0      1     0      0
TOTALS      67    52      2     2      0